Introduction
Many people like to build muscle and develop their physiques at the gym, but it is perfectly possible to get a dream body in the comfort of your own home if you buy the right equipment.
Indeed there are lots of different products you can buy that will help you build muscle mass, so in this article I want to provide you with a complete buyer's guide to all of the strength training equipment that is currently available.
Dumbbells
The best way to start your strength training program is to invest in a set of dumbbells because these will enable you to perform lots of different exercises that will not only work your arms, but will also work many different muscle groups as well.
A set of 20kg dumbells is more than adequate to begin with, and you should find that most of them will include a workout chart that will include as many as 30 different exercises that you can perform. So you will soon be able to increase muscle mass and increase your overall strength in no time at all.
Barbells
In addition to investing in a set of dumbbells, you may also want to consider buying a barbell as well because these can accommodate heavier weights, and will enable you to perform three of the best and most effective exercises you can do – the deadlift, the squat and the bench press.
You can still perform these moves with a set of dumbbells, but you can obviously go a lot heavier when you use a barbell, and you always have the option of adding your own weight plates as you get stronger.
EZ Bars
EZ bars, or EZ curl bars as they are sometimes called, are similar to barbells except that they have bends in the middle that enable you to adopt a more comfortable grip when doing bicep curls or tricep extensions, for example.
Subsequently you can lift just as much weight as you can with a barbell, but it will put a lot less strain on your wrists so that you are less likely to experience any pain or discomfort.
You will usually find racks full of EZ bars at the gym, all of different weights, but if you are working out at home, you are better off buying an adjustable EZ bar that you can add weights to if required.
Weight / Exercise Benches
A weight bench, or an exercise bench as they are sometimes referred to, is a very basic form of strength training equipment, but it is extremely useful because it will enable you to perform bench presses, shoulder presses and leg extensions, for instance, as well as many other exercises.
Plus you will sometimes find that they come with their own dumbbells and barbells so that you don't have to buy them separately.
Kettlebells
Kettlebells are generally made from cast iron or cast steel, and come with their own handles so that you can perform a wide range of different exercises. They are ideal for strength training and conditioning, and will even give you a good cardio workout as well.
Indeed you will find that many kettlebell exercises will engage a number of different muscle groups at the same time, such as the goblet squat, for instance, and will really help strengthen your arms, shoulders, legs and back in particular. However if you perform a variety of different moves, you can work your whole body using one of these kettlebells.
Pull-Up Bars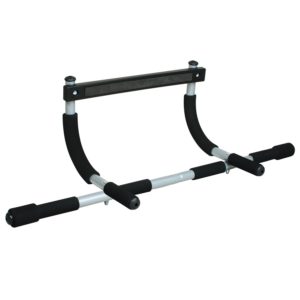 Many people think that you have to do endless rounds of bicep curls in order to get huge arms, but there are many compound exercises that can help you achieve similar results, one of which is the pull-up.
By investing in a pull-up bar, which you can easily attach to your doors at home and are very safe to use, you can develop your arms and get a really good back workout at the same time. Plus they will also help develop your chest, triceps and shoulders as well.
One of the best ones that you can buy is the Iron Gym Workout Bar (pictured above), but there are quite a few of these bars that you can buy for your home nowadays.
Resistance Bands
Resistance bands seem to be really popular at the moment, and although they not be quite as effective as traditional weight training, they can still help to build muscle to some extent, and will definitely help tone up many different parts of the body.
These are generally made from a very strong rubber material and have two handles at the ends, and you will find that although they are one of the cheapest items of strength training equipment, they do work really well because you can still vary the resistance and perform lots of different exercise routines in the comfort of your own home.
You should find that most will come with a free workout chart, but if not, there are lots of YouTube videos and instructional videos online that will help get you started.
Home Gyms / Multi-Gyms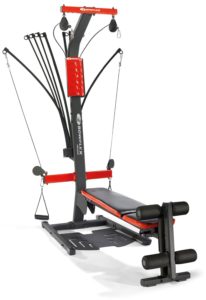 A weight bench can be a great investment because this will enable you to perform some of the most effective strength-building exercises using dumbbells or barbells, for instance, but a multi-gym / home gym is an even better investment because this will basically enable you to work every single muscle group and perform any exercise that you like using a single machine.
It is essentially a multi-functional machine that you can use instead of visiting the gym, and because of this, they are also one of the largest and most expensive exercise machines that you can buy.
Nevertheless they are still a great investment if your budget can stretch this far, and if not, you can always buy one of the more basic ones that are a lot more affordable, such as the Bowflex PR1000 (pictured right), for example, which will allow you to perform more than 30 different exercises, or the Bowflex Blaze, which will enable you to perform over 60 muscle-building exercises.
The Weider Ultimate Body Works is also worth considering because this home gym equipment allows you to perform more than 50 different exercises.