If you are looking to lose weight and get in shape, but don't necessarily like the idea of joining a gym, then you might want to think about investing in a fitness DVD because these can be extremely effective at helping you achieve these goals.
Many of these workout videos are presented by female celebrities these days, but don't let that put you off because you can rest assured that all of the workouts will have been devised by a professional trainer, and are designed to produce maximum results.
They are generally devided into a number of different sections, which will often target different parts of the body, and are usually performed to a high-tempo dance track so that you don't get bored too easily and actually have a bit of fun performing these routines.
In addition, many of the modern ones are based on high intensity interval training, which a lot of women prefer because it involves short, intense bursts of exercise followed by rest periods in between.
So these DVDs will certainly help you burn lots of calories whilst working many different areas of your body, which makes them ideal for fitness, toning and weight loss.
Best Workout DVDs In The US
If you live in the United States, Jillian Michaels is probably the first name you think of when thinking about fitness DVDs because she has been producing a number of effective workout videos for a number of years now, and has helped lots of women lose weight over the years.
Indeed at the time of writing this article, I have just been looking at some of the top-selling fitness DVDs on Amazon.com and noticed that not only is the Jillian Michaels 30 Day Shred DVD from 2008 still the top-selling workout DVD even now in 2016, but she also has four others in the top 10, including Jillian Michaels Killer Buns & Thighs, Jillian Michaels Beginner Shred, Jillian Michaels Ripped In 30 and 6 Week Six Pack.
However there are other many titles available from the likes of Jane Fonda and Tracy Anderson, for example, which are also very popular, and you will find that there are lots of yoga workouts available as well.
Best Workout DVDs In The UK
In the UK, it is Davina McCall who is regarded as the queen of fitness DVDs because she has been releasing a new workout routine every single year for quite a few years now, and always seems to have one of the top-selling fitness DVDs in January and February, which is obviously the peak weight loss season.
That's certainly the case this year because her 7 Minute Fit DVD has received lots of positive customer reviews and is one of the best-sellers right now, and in 2014 it was her Fit In 15 DVD that was proving to be very popular with a lot of women.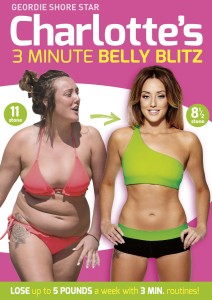 However more and more celebrities are starting to jump on the bandwagon because in the last 5 years or so we have seen lots of reality TV stars and TV presenters come out with their own DVD, usually after they have lost a large amount of weight.
Therefore at the current time it is Charlotte Crosby, who is one of the stars of the reality TV show Geordie Shore, who is topping the best-sellers list with her 3 Minute Belly Blitz DVD, with other reality TV stars, such as Vicky Pattison and Josie Gibson also having two of the most popular titles (Vicky Pattison's 7 Day Slim and Josie Gibson's 30 Second Slim respectively).
2016 Update:
As it always the case just after Christmas, there are a new set of fitness DVDs being released in time for the 2016 weight loss season, and this year sees some exciting new workout DVDs from the likes of Davina McCall, Lorraine Kelly, Lauren Goodger, Kym Marsh and Charlotte Crosby.
If you would like to find out more about any of these new releases, simply click on one of the links below to read a full review:
2017 Update:
This year seems to be a little quieter than previous years with regards to new fitness DVD releases in the UK, but there are still a few notable releases.
As always, Davina McCall has a new workout DVD coming out in time for the new fitness season – 30 Day Fat Burn – which features six brand new 10-minute workouts that will help you lose weight and get in shape. This includes three powerful fat-burning workouts, as well as two muscle-toning workouts and a 'buddy workout' that you can do with your partner.
However the one DVD that many people are excited about is the Body Coach Workout DVD from Joe Wicks because after writing some best-selling books and presenting his own TV program, he has now created a fitness DVD that has two and half hours worth of fat-burning HIIT workouts to help you successfully lose weight.