Introduction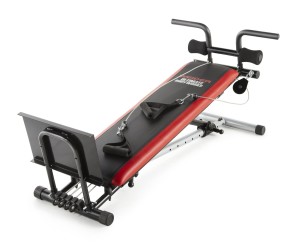 There are lots of exercise machines that will work individual groups of muscles, but if you want to save yourself some money (or if you have limited space in your home), you can also buy machines that will work your whole body.
One such machine is the Weider Ultimate Body Works Home Gym, which gives you a full upper and lower body workout because it enables you to perform over 50 different exercises that will help strengthen and tone your muscles, and improve flexibility.
Here are some of the main features and benefits of this product:
Features And Benefits
works upper and lower body
ideal for toning and strengthening
improves flexibility
helps with fat burning and weight loss
supports over 50 different exercises
adjustable incline bench
cable and pulley system
telescoping design
free motion cables
includes 4 additional resistance bands
folds away for easy storage
easy to assemble
suitable for anyone up to 250 lbs
90-day parts and labor warranty
Product Dimensions / Weight
This home gym machine has a total footprint of 71 (L) x 26.5 (W) x 49.5 (H) if you are wondering how much space it will take up in your home, and the good news is that you can fold it away when you are not using it. Therefore you can keep it under your bed or up against a wall, for example.
The only downside is that this is quite a heavy piece of kit because it weighs around 75 lbs when it is fully assembled.
Positives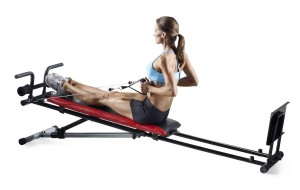 The main benefit of the Weider Ultimate Body Works is that you can perform over 50 different exercises on this one machine. Therefore if you are looking to strengthen and tone up your entire body, or if you just want to lose a few pounds, you don't really need to go to the gym any more after you buy this product.
All of the exercises are essentially bodyweight exercises, which means that there is always an upper limit because you can't keep on adding additional weights as you get stronger.
You can, however, increase the weight resistance by up to 50 pounds if you use the optional resistance bands that are included with this machine.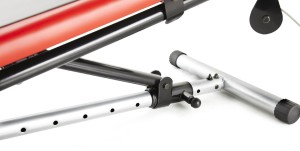 With regards to how it works, it basically employs a cable and pulley system so that you have a much greater range of motion to perform all of these moves, and includes a fully adjustable incline bench on wheels that has pulleys on each side. In order to adjust the resistance, you simply need to adjust the bench to a steeper incline (or adjust the resistance bands if you are using them).
Some of the most popular exercises that you can do include bench presses, leg squats and butterflies, but there are so many other workouts that you can do, regardless of whether you want to target certain areas or if you want to work your whole body.
It doesn't matter how tall or short you are either because this Weider Ultimate Body Works will accommodate men and women of all sizes (up to a maximum of 250 lbs).
Negatives
There are a few slight issues with this particular home gym. For example, it is not exactly a lightweight machine because it weighs approximately 75 pounds, which could make it a little tricky to move around if you want to move it from one room to another.
In addition, although this product is very easy to assemble, the instructions are not as clear as they could be. So you might want to consider asking someone to help you if you are having difficulties.
With regards to the workouts, you may find that you suffer from dizziness or light-headedness because of the inclines and declines, but these feelings will generally subside once you have done a few workouts and got used to some of the routines.
Finally, it has to be pointed out that although there are as many as 50 different exercises that you can do, there is no workout chart included with this machine that lists all of these moves. All there is is a diagram on the side of the box showing some of the exercises that are available to you.
Subsequently you will have to buy a workout chart when you order this product, or watch some of the YouTube videos if you want to check out some of the routines that you can do on this particular home gym.
Final Thoughts
When you consider the ridiculously low price of this Weider Ultimate Body Works and the fact that you can do a number of different exercises that will help build muscle, tone your body, boost your fitness and improve your flexibility, it really does represent excellent value for money.
Of course if you want to bulk up and build huge muscles, it's probably not for you. However if you want to burn fat, become a lot fitter and develop a stronger and more defined physique, then this product could easily help you achieve all of these goals.
Where To Buy The Weider Ultimate Body Works
If you would like to buy this particular workout machine, you can buy it from a number of different retailers, including Walmart and Wayfair.
However if you buy it from Amazon, you can also buy a workout chart for this Weider Ultimate Body Works at the same time, such as the Total Gym exercise chart pictured below, which lists many of the exercises that you can do on this machine:
→ Click here to buy the Weider Ultimate Body Works Home Gym