If you are looking to buy an exercise machine for your home, or are looking to set up your own home gym and want to know which product(s) to buy, you have come to the right place because we continue to review all of the best home fitness equipment on this website.
This includes the popular cardio machines such as exercise bikes, treadmills, elliptical trainers and rowing machines, as well as strength training equipment such as benches, home gyms, pull-up bars, dumbbells and barbells.
Plus if you enjoy performing high intensity workouts at home that don't require any equipment, we also review many of the most popular fitness DVDs that are being released each year because these are ideal if you want to lose weight and improve your overall fitness level.
You can find reviews of all of these products and see which ones we most recommend by clicking on one of the drop-down menus at the top of this page.
However here is a quick guide to all of these products, and why you should consider using them:
Exercise Bikes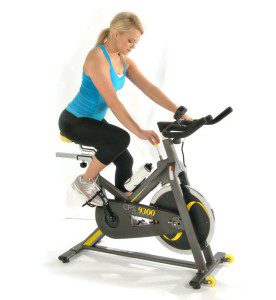 Exercise bikes are widely considered to be the most popular exercise machine, and it is easy to see why because they provide a low impact workout that is easy on the joints and are very easy for anyone to use, whilst offering a range of health and fitness benefits.
Each 25-30 minute workout can burn upwards of 250 calories, so they are great for those people who want to lose weight, but they also offer a good cardiovascular workout that will help improve your overall fitness levels and help lower blood pressure, regulate blood sugar and prevent any heart problems.
If you would like to buy one of these machines, you can choose from a traditional upright bike, a recumbent bike or an indoor cycling / spin bike.
→ Click here to read our exercise bike buyer's guide
Rowing Machines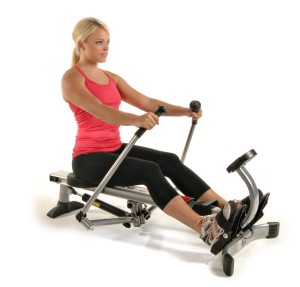 Another machine that offers a really good cardiovascular workout, and is also easy on the joints, is the rowing machine.
A rowing machine will also help you burn lots of calories (up to 13 per minute), which makes them ideal for weight loss, but unlike an exercise bike that primarily works your leg muscles, this machine will help to tone up and strengthen many different muscle groups, including your arms, shoulders, back and legs, as well as your core muscles.
The cheapest rowing machines will tend to use hydraulic resistance to vary the intensity, but you can also pay a little more for an indoor rower that uses magnetic, wind or water resistance.
→ Click here to read our rowing machine buyer's guide
Elliptical Trainers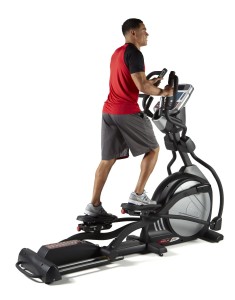 Elliptical trainers are nowhere near as popular as rowing machines or exercise bikes, for example, but lots of people do still buy one of these machines that they can use at home instead of in the gym.
That's because they offer a total body workout (working the arms, legs, shoulders, chest and back), whilst still offering quite a low impact form of exercise.
So they are great for toning up and improving overall fitness levels, and because you can burn around 400 calories in one 30-minute workout, they are also great for weight loss as well.
→ Click here to read our elliptical trainer buyer's guide
Treadmills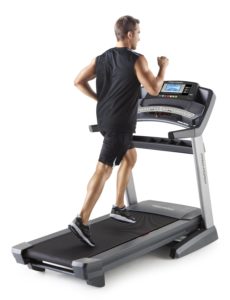 Treadmills can take up quite a lot of room in your home and can be quite expensive, but they are still worth adding to your home gym if possible because these also offer a range of health and fitness benefits.
These machines allow you to walk or run at your own pace, and will help tone up and strengthen your core abdominal muscles, as well as your calves, glutes, quadriceps and hamstrings.
Treadmills can be a little tougher on your joints than some of the exercise machines listed above if they don't have a well-cushioned running track, but they can nevertheless help you burn lots of calories, lower cholesterol levels, improve your aerobic capacity and boost your general fitness levels.
→ Click here to read our treadmill buyer's guide
Strength Training Equipment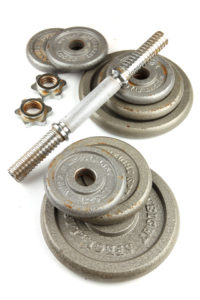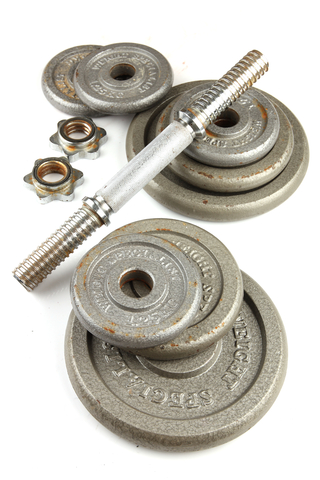 Many people like to buy some kind of cardio machine for toning, fitness and weight loss purposes, but if you want to build muscle, then you will require some form of strength training equipment.
The quickest way to get started is to invest in a pair of dumbbells because you can perform a wide range of different muscle building exercises using these dumbbells, and you will start to see results fairly quickly.
Then later on you might want to think about investing in a weights bench and a barbell because this will enable you to perform the bench press, one of the most popular upper body exercises, and a range of other exercises.
Finally, if you are serious about building muscle, you might want to consider buying a professional multi-functional home gym because this will enable you to work your entire body and perform all of the same muscle building exercises that you can do at your local gym without having to set foot outside your front door.
→ Click here to read our strength training equipment buyer's guide
Fitness DVDs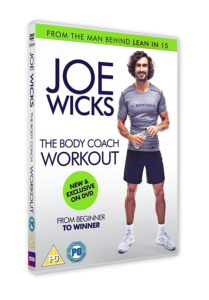 Workout DVDs have really grown in popularity in recent years, and seem to be particularly popular around Christmas and the New Year, when you will often find new DVDs being released from various different celebrities.
With that being said, they can still be ideal if you want to lose weight and get in shape because these workouts will have been devised by a personal trainer, and will therefore be very effective, and they are generally fairly enjoyable because they are often performed to some high-tempo dance tracks.
If you have ever tried doing one of these workouts, you will know that they are very hard work, but as I say, they are very effective and you will get results from them if you perform them regularly and try to eat sensibly.
The major benefit of these DVDs is that you don't generally need any exercise equipment (other than an exercise mat), so this is one of the cheapest ways to get fit.
→ Click here to check out the best fitness DVDs from the US and the UK
Exercises and Workouts
This website features lots of product reviews, but it is not purely a review site. We also have a growing list of articles that have lots of different exercises and workouts for you to try.
For example, we have included some of the most effective 30-day challenges that will help you get in shape in a short space of time, and have a range of workouts that will tone up and strengthen various different parts of your body, including your abs, arms, chest, back and legs, for example.
We also have a number of HIIT workouts that will help you burn fat and lose weight, and explain how to get the most out of your home exercise equipment.
Plus we also have some articles that cover many different aspects of gym life if you are someone who likes to go to the gym on a regular basis.
All of these articles can be found here, and there are links in the sidebar that have the 10 latest articles (and the 10 latest product reviews) that have been posted to this website.
What's New?
In recent weeks we have discovered two cool new inventions that may be of interest to cyclists and exercise bike users. The first is a special road bike that is capable of providing you with an upper body workout while you cycle, and the second is a device that will motivate you to cycle on your exercise bike in order to continue watching Netflix.
We have also created an exercise bike FAQ page that features many of the most common questions that we get asked about exercise bikes, and have just added a few new questions in the last week.
In addition, we have written a feature post on the high knees exercise, which includes the main benefits of doing this exercise and the muscles that you can work, as well as a few fat-burning HIIT workouts that will help you to lose weight.
Finally, we have written one final article before Christmas that looks at the hottest fitness trends of 2017 using Google's latest Year in Search data. As you will see, yoga and indoor cycling workouts are out, and bungee, CrossFit, TRX, PiYo and tabata workouts are in.
Product News
The Keiser M3i Indoor Cycle (reviewed here) is one of the top indoor cycling bikes for gyms and cycling classes, and it now comes with a free floor mat, media tray and stretch pads for a limited time only.
The latest FitDesk model, which is an exercise bike and a workstation all-in-one, now includes a free desk extension kit that makes the desk twice as big and gives you even more space in which to work.
Davina McCall has released a new fitness DVD for 2018 called Toned in 10, which features a number of 10-minute workouts that will help you to tone up all of your muscles, improve flexibility and burn fat. A full review can be found here.
Our list of the top upright exercise bikes has recently been updated for 2018, and now includes a few really useful desk exercise bikes, such as the one listed above, as well as a few of the very latest models.
We have also updated our list of the best indoor cycling bikes for 2018 to include a few new models that have received a lot of positive customer feedback, and to replace a few of the older models that are no longer available.
Workout of the Week
Every week we will be featuring a really effective workout that has recently been posted online, and this week we have found a 10-minute abs workout that you can do at home to develop your six-pack abs muscles in time for summer.
The exercises featured in this workout are not particularly unusual because there are leg flutters, crunches, side to side twists, leg raises, bicycles, side plank and plank exercises, but these will hit all of your core abdominal muscles, including your obliques, and so it should deliver some excellent results:
Just remember that you need to be doing some cardio workouts as well in order to lower your body fat percentage because otherwise your abs will be covered by a layer of fat, no matter how many times you do this abs workout.
Be sure to check out Jeff Cavaliere's abs workout as well because is another intense workout that will help you develop your abs in just 22 days of regular training.