Introduction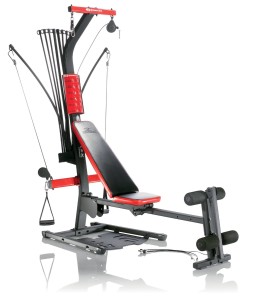 The Bowflex PR1000 Home Gym is not exactly a new product because it has been available for a number of years now. Nevertheless this is still one of the top-selling home gyms right now, and is one that continues to receive a lot of positive reviews.
This particular home gym enables you to increase strength and build muscle because there are more than 30 strength-building exercises that you can do on this machine, but it is also good for cardio training and toning because it comes with a built-in rowing station.
So let's take a closer look at this Bowflex PR1000 Home Gym, starting with some of the main benefits and features of this machine:
Features And Benefits
provides total body strength workout
over 30 different strength-building exercises
works the abs, arms, back, chest, shoulders and lower body
can be used for muscle building or toning
cardio workout also available via the built-in rowing station
up to 210 lbs of Power Rod resistance (minimum = 5 lbs)
includes horizontal bench press and lat pull down
accommodates users up to 300 lbs
can be folded away for easy storage
Product Dimensions
The exact dimensions of this home gym are 81 inches (H) x 84 inches (L) x 38 inches (W), although if you are planning on setting this up in your home, you will require a minimum workout area of 100 x 78 inches.
Pros And Cons Of The Bowflex PR1000 Home Fitness Gym
On first impressions, there are lots of good things to say about this particular home gym.
For a start, it is ideal for muscle building and strength training because of the Power Rod resistance that goes from 5 lbs all the way up to 210 lbs, and the fact that there are more than 30 different exercises available that will work every area of your body.
These are all listed on this page and include many of the most popular exercises such as bench press, seated shoulder press, stiff arm pull downs, seated lat rows, standing bicep curls, triceps extensions, seated abdominal crunch and leg extension, as well as lots of other exercises that you may find useful.
There is even a built-in rowing station that enables you to get a full cardio workout as well. So it doesn't have to be used purely for strengthening and building muscle.
Finally, I also like the fact that it can easily be folded away when not in use, and comes with a 1-year warranty on the frame and a 5-year warranty on the Power Rods in case anything goes wrong.
With regards to the negatives, the only real drawback is that 210 lbs is literally the maximum resistance available. No more rods can be added and it is not possible for the machine to be modified or upgraded in any way.
This shouldn't be a problem for the vast majority of people, but if you are a serious weightlifter or bodybuilder, then you might want to consider paying a little more for one of Bowflex's more advanced models such as the PE3000, the Blaze Home Gym or the Xtreme 2SE, for example, because these can all be upgraded to 310 lbs resistance (and 410 lbs in the case of the Blaze and Xtreme home gyms), and enable you to perform a lot more exercises as well.
User Comments
People seem to like the fact that it is relatively easy to put together, offers a range of different exercises that work the entire body, and includes a cardio option, ie the rowing facility, for a little bit of variation.
It has also received praise because it is excellent value for money compared to some of the top-end multigyms, and is more than sufficient for most people to give up their gym membership and save themselves a lot of money in the long run by using this home gym instead.
As I mentioned above, the only slight issue that a few people have is the maximum resistance of 210 lbs because this cannot currently be increased.
Where To Buy The Bowflex PR1000 Home Gym
If you would like to buy the Bowflex PR1000 Home Gym, or would like to find out more about this product, read some of the customer reviews and compare it with similar models, you can do so by visiting this product page at Amazon.com:
→ Click here to buy the Bowflex PR1000 Home Gym
Bowflex PR1000 Exercises And Workouts
If you do decide to buy this PR1000 home gym, but don't really know what exercises you can do on this equipment or what workouts you should do to work certain muscle groups, I suggest you consult your user manual (click here to download the pdf version).
That's because this will show you all of the different exercises that you can do (and how to do them with correct form to prevent injury), and has lots of different workouts for you to try, which include the following;
20 Minute Better Body Workout
Advanced General Conditioning
20 Minute Upper / Lower Body
Body Building
Circuit Training – Anaerobic / Cardiovascular
True Aerobic Circuit Training
Strength Training