Introduction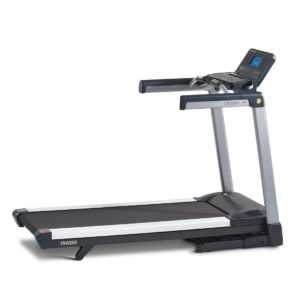 A treadmill can be a great investment because a typical 30-60 minute workout on one of these machines can burn up to 500 calories or more (depending on various different factors). Therefore not only can they help you improve your fitness level, but they can also help with weight loss as well.
Alternatively if you don't like the idea of running or jogging, you can use a treadmill to work out at a slower walking pace if you just want to increase your activity level, for instance.
The only problem with these treadmills is that the price of these machines can vary quite considerably. For example, a top-of-the-range commercial treadmill with all the mod-cons can cost several thousand dollars, whereas a very basic model can cost less than $300, as you will see for yourself if you read our guide to the best treadmills for 2018.
So hopefully this treadmill buyer's guide will help you find one that's right for you because listed below are some of the main factors that you should take into consideration when buying one of these machines:
Motor
A treadmill is often measured by the quality and design of its drive system, which includes the motor and the individual components that make up this drive system. A larger motor does not necessarily suggest that it's a better machine, it's the design of the motor and all of the different components that really matters more than anything else.
Nevertheless it's still best to avoid some of the cheaper machines that have as little as 1.25 HP (horse power) and instead focus on those that have at least 1.75 – 2 HP if you are a walker or jogger, or look for one that has continuous horse power (CHP) of 2.5 – 4.0 if you are a heavy user and like to run at a decent pace.
Personal Goals
Your choice of treadmill will depend to a large extent on what your personal goals are. If you just want a machine that you can walk on for 30 minutes, or if you want one that you can use for rehabilitation after an injury, then it's obviously not worth spending thousands of dollars on a commercial machine, for example, because a good quality model that is under $500 or in the $500-$1000 price range should be more than sufficient.
However if you are a serious fitness fanatic and are looking to maintain your fitness and maybe lose weight over a sustained period with plenty of high intensity workouts, then it may be worth spending $1000 or more on a top quality machine that is well-made, comfortable to use and likely to last a long time.
Number Of Users
When buying a treadmill for your home, it is always worth taking into consideration the number of people who are likely to use it. If it's just you, then you might be able to get away with one of the cheaper models, but if it's likely to be used by several people in your household, then you should obviously look to buy one of the more expensive commercial models because these are better equipped to withstand regular use.
Size / Portability
Treadmills take up quite a lot of space in your home, regardless of which one you decide to buy. However if space is at a premium in your home, or if you are just a casual user, for example, you might want to think about buying a less expensive folding treadmill rather than a top-of-the-range model that cannot be folded away for storage when it is not being used.
Walking / Running Belt
One of the key components of any treadmill is of course the running belt. You might assume that this is pretty much the same on all machines, but that's not the case at all. The commercial models will generally be ultra-smooth and completely firm and stable with no vibrations at all, whilst some of the low-end machines are perfectly okay at walking pace, but can wobble from side to side and vibrate horribly when you start running on them.
You will also find that some of the more expensive models will have running decks with better cushioning, and will have more shock absorbers than some of the cheaper models, which will help to prevent any foot or joint pain.
In addition, it is worth pointing out that the width and length of this running belt can vary from one machine to another (as indeed can the overall thickness of this belt). So if you are quite a tall person, you should look for one that has quite a long running belt in order to accommodate your longer stride length.
Speed
The speed of the running belt can vary from one machine to another because whilst many of the ones that are designed for home use will have a top speed of about 10 mph, some of the more expensive ones will be more suitable for seasoned athletes because they may well have a more powerful motor and a slightly higher top speed of around 12-15 mph.
Noise
Most treadmills will have some degree of noise when you are walking or running on them, but it's generally the case that the commercial machines are a lot quieter than the cheaper models. So this is something to bear in mind if you are worried about upsetting your housemates or neighbors.
LCD Display
You will find that virtually all treadmills come with some kind of LCD display nowadays, but as is so often the case, some are better than others. For example, a basic treadmill may only have a small display unit with just a few basic readings, whilst a commercial machine might come with a large multi-window console that is much easier to read, has a range of one-touch electronic controls and provides you with a lot more information about your performance.
Programs
Following on from the last point, a lot of treadmills now come with their own programs that you can use to get more out of your workouts. So for example, they may include programs that are suitable for interval training, heart rate training and weight loss training. However this doesn't necessarily apply to all machines, so it's worth looking to see whether or not these are included if this is something that you require.
Pulse Monitoring
If you like to keep an eye on your pulse rate during your workout, you should consider buying one that comes with its own chest strap monitor, or at least has the capability to connect to one of these monitors because these are generally a lot more accurate than the built-in hand grip monitors. You might also want to buy one that comes with its own heart rate programs if this is really important to you.
Incline
The amount of incline that is available from a particular treadmill can greatly affect the intensity and difficulty of your workout. Many of the low-end machines will only have a few incline settings, which may well be sufficient for most people, but you might want to pay a little more for a mid-range or a top-end machine that has a maximum incline of 15% or more if you really want to push yourself.
Additional Features
One thing you will notice about some of the more expensive models is that they will have a lot more additional extras, such as a water bottle holder, an MP3 port, a USB port, built-in speakers, a TV monitor and a cooling fan, for instance. They may even have wireless capabilities and the ability to connect to various different fitness apps. So you might want to buy one of these machines if you require some of these features.
Weight Capacity
Most treadmills are designed to accommodate the majority of people, but you should bear in mind that if you are heavily overweight and looking to use one of these exercise machines to lose some of this excess weight, some of the cheaper models might be too unstable and too flimsy to use on a regular basis, and are more likely to break. Therefore it is often worth paying more for a really strong, well-made machine right from the start.
Safety Features
I'm sure you've seen a few funny videos of people falling off a treadmill, but in all seriousness you can seriously injure yourself if you do happen to fall over or stumble during your workout. Therefore it's always a good idea to look at the safety features that are included with a particular treadmill. At the very least, they should have a safety key that will detach itself and switch the machine off if you do happen to fall over, as well as wide foot rails to the side so that it is easy to get on and off.
Warranty
The final factor to consider is of course the warranty. You will find that every treadmill will come with some kind of warranty, but this is generally a pretty good indicator of quality because the cheapest models might only have a 3-6 month warranty, whereas the more expensive models might have a 5 or a 10-year warranty, or even a lifetime warranty in some cases.