I have already discussed some of the benefits of exercise bikes on the home page of this website, so on this page I want to actually help you find one that's right for you, and provide you with a comprehensive exercise bike buying guide.
The important thing to bear in mind is that there are basically four different types of exercise bike that you can choose from, which are as follows:
Upright Bike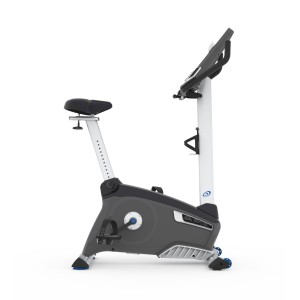 The upright exercise bicycle is the one that many of us will be most familiar with because these have been around for a very long time, and are the ones that you are most likely to see in people's homes.
They basically enable you to work out in an upright position, as the name suggests, and are designed to be used in a seated position at all times.
These ones don't tend to come with any back rests, but unless you have any kind of back problems, they are pretty much suitable for everyone to use.
Upright bikes are available for as little as $100 (or less) nowadays, but if you're prepared to pay a little bit more, you can get yourself a really good one, such as the Nautilus U616 (pictured above), which has 25 resistance levels, 29 workout programs and a whole host of extra features.
You can also buy yourself a top-end gym-quality bike if you have $1000 or more to spend on one of these machines.
→ Click here to view all of the top upright exercise bikes in 2018
Recumbent Bike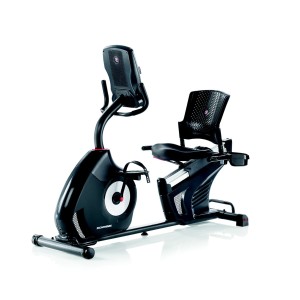 If you are buying an exercise bicycle for the very first time, then a recumbent bike is a pretty good option because these enable you to get fit and lose weight in a much more relaxed and comfortable position.
That's because the seat is closer to the floor and will include a back rest so that you can perform your workouts in a reclining position instead of an upright position.
This makes them ideal for those people who tend to experience some degree of back pain when using an upright exercise bike, and because they tend to have a walk-through design, they are perfect for elderly people and those people who have kind of mobility problems because they are much easier to get on and off.
If you are looking to buy one of these bicycles, Schwinn make some of the best recumbent bikes, and the Schwinn 270 (pictured) is one of the best ones you can buy in terms of value for money because it has numerous workout options and is loaded with extra features.
However you should find that there are quite a few of these recumbent bikes to choose from nowadays if you don't like this particular model.
→ Click here to view all of the top recumbent exercise bikes in 2018
Spinning / Indoor Cycling Bike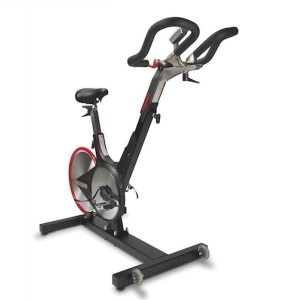 Spinning is a form of group exercise that was originally developed by a company called Mad Dogg Athletics back in the 1990s, who actually own the 'spinning' and 'spin' trademarks.
So strictly speaking, the exercise bicycles that are suitable for this type of group exercise should be referred to as indoor cycling bikes rather than spinning bikes (unless they have actually been produced by Mad Dogg).
Anyway the point is that these bikes are similar to upright bikes, except that these ones are suitable for cycling in both a seated and standing position (which is why they are ideal for spinning), and offer a much more realistic riding experience in terms of the positioning of the seat and handlebars.
Therefore you can use them for fitness and weight loss, or to perform your own custom workouts set to music, but if you are a keen cyclist, you can also use them for indoor road training during the winter because this is the next best thing.
There are many different companies that produce this type of bicycle, but the Keiser bikes, such as the latest M3i model (pictured above), are widely considered to be the best on the market.
However there are cheaper models available that will give you a fantastic workout, such as the GS II Indoor Cycle, for example, which is a good quality machine from Bladez Fitness that offers a smooth and realistic riding experience, and is ideal for performing spinning workouts.
The Pro Indoor Cycling Bike from Sunny Health & Fitness is also a solid, well-made machine that is excellent value for money.
→ Click here to view all of the top indoor cycling bikes in 2018
Mini Exercise Bike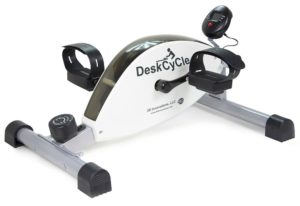 One final option is to buy a mini exercise bike because these are a lot cheaper than the ones featured above, and will take up a lot less space in your home.
A lot of these machines will fit underneath your desk so that you can work and exercise at the same time, and because they are relatively small, you could even take it into the office with you if you so wished.
Sitting down in the same position all day is not good for your health in the long run, so this handy little machine will help to prevent any future problems, whilst at the same time improving your fitness and helping you to stay slim.
There are quite a few of these machines to choose from, but ideally you want to find one that has an LCD monitor to help you track your performance, and variable resistance to help you vary the intensity of your workouts should you wish to burn more calories.