Introduction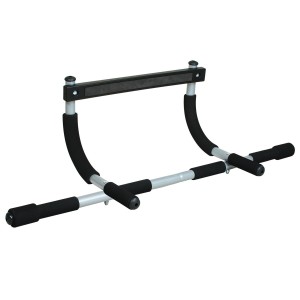 Pull-up bars are very popular at the moment because a lot of the modern designs can be attached to door frames, walls or ceilings, and will stay firmly in place without causing any kind of damage whatsoever.
The most popular pull-up bar at the present time is the Iron Gym Total Upper Body Workout Bar, and it is this product that I want to review today.
This product has been available for several years now, and in that time thousands of people have used this useful piece of equipment at home, and it appear that many of these people have been pleased with their purchase based on the comments that have been posted online.
So before I discuss why you should consider buying this training bar, let me give you a quick run-down of some of the main benefits of this particular item.
Key Features And Benefits
can be attached to doorways between 24 and 32 inches
quick and easy to set up
uses leverage to stay firmly in place without any screws
doesn't cause any damage
can be used to perform pull-ups and chin-ups
can also be used to perform push-ups, dips and crunches
3 grip positions – narrow, neutral and wide
targets arms, shoulders and back muscles
provides you with a total upper body workout
suitable for users up to 300 pounds
Positives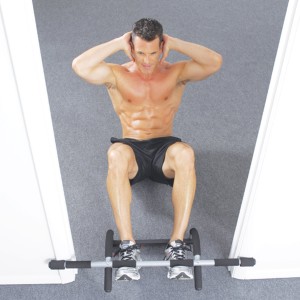 There are several reasons why this particular Iron Gym workout bar has been the top-selling pull-up bar for many years now.
For a start, unlike some of the really cheap bars, this one is more than just a pull-up / chin-up bar. If you use it on the floor, for instance, you can also use it to perform dips, crunches, sit-ups and push-ups.
It is also an excellent design that is very easy to use. There are no screws needed because as mentioned above, it uses leverage to attach itself firmly to your doorway. So you can set it up straight away, and you don't need to worry about damaging your door frame.
Finally, the real benefit is that it enables you to get a complete upper body workout in your own home any time you want.
It targets all of the major muscle groups in your upper body, including your arms, shoulders and back, and will help you increase your strength and build lean muscle mass in no time at all.
Doorway Requirements
Before you rush out and buy this workout bar, it is worth mentioning that although this bar can be used on the vast majority of doorways, it cannot be attached to all doorways.
To expand on this point, it can only be used on doorways that are between 24 and 32 inches, and doorway trims up to 3.5 inches wide.
User Comments
As I mentioned earlier, this product has received a lot of very positive comments since it first went on sale. The general consensus is that it is really easy to assemble out of the box, and is also really easy to attach to your doorway.
People have commented that it is very strong and sturdy, even though some people admit to being slightly nervous when they first used it, and a lot of people have praised the three different grips because this enables you to vary your workouts and target different muscle groups when performing chin-ups and pull-ups.
There are a few negative comments, as there are with most products. For instance, a few people have pointed out that it could benefit from having a slightly wider grip so that you could really target the lats.
However it has to be said that the positive comments far outnumber the negative ones.
Product Demonstration
Where To Buy The Iron Gym Upper Body Pull-Up / Workout Bar
If you would like to buy this multi-function training bar, you should be able to find it in a number of different stores in the United States.
However it is also available from Amazon if you would like to buy it online, where you can also read more about this product, watch the promotional video and check out all of the customer reviews that have been posted so far: