Introduction
The Sunny Health & Fitness Pro Indoor Cycling Bike (SF-B901) has been available for several years now, but it is still one of the top-selling exercise bicycles at the current time because it is a strong and sturdy machine that represents good value for money.
Therefore if you enjoy training indoors during the winter or performing spinning-type workouts, or indeed if you just want a good quality home exercise bike that can help you burn a few hundred calories, you may want to consider buying this particular machine.
Here are some of the key benefits and features of this Sunny Health & Fitness Pro Indoor Cycling Bike:
Features And Benefits
perfect for indoor road training and spinning
large 40-pound flywheel
heavy duty crank
smooth chain drive mechanism
solid steel frame
adjustable seat and handlebars
adjustable resistance levels
quiet in operation
includes transport wheels
easy to assemble
accommodates users up to 275 pounds
Dimensions And Weight Of The Sunny SF-B901 Exercise Bike
This exercise bike weighs 108 pounds, so it is clearly a very solid and stable machine, and has dimensions of 20 inches (W) x 46.5 inches (H) x 48.5 inches (D). Although it is a little on the heavy side, there are transport wheels attached that makes it a little easier to move from one room to another.
Positives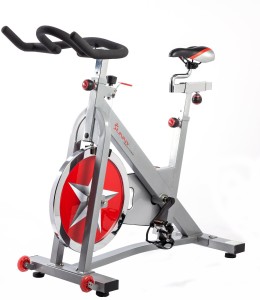 As you might expect from a top-selling exercise bike such as this one, there are many reasons why this SF-B901 model is worth buying, and why it is such good value for money.
For a start, you only have to look at the appearance of this bike because this is easily one of the most attractive models on the market, and will look great in anybody's home.
However I would have to say that the build quality is its biggest asset because it really is a strong and sturdy bike that should last you a very long time, unlike many other indoor exercise bikes in this price range.
In addition, it is also very comfortable to use because it has a heavy duty 40-lb flywheel, a heavy duty crank and a smooth chain drive mechanism that combine to help provide you with a smooth and quiet workout, with no side to side movement during your workout, even at higher resistance levels.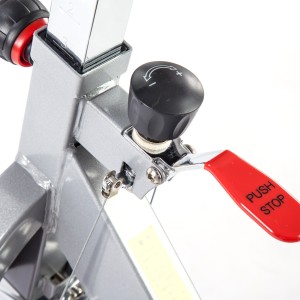 The resistance is easy to adjust because there is an adjustable resistance knob (pictured right) that you can use to make your workout as challenging as you like, and because both the seat and the handlebars are fully adjustable, it can accommodate people of all heights (up to a maximum weight limit of 275 lbs), and it is very easy to find a comfortable (and realistic) riding position in both a seated and standing position.
It is not hard to assemble either because it includes all the tools that you need to assemble all of the parts, and if you follow the instructions, it should take you no longer than about 20-30 minutes, particularly as it is already partly assembled to begin with.
So when you consider that many users (including a few spinning instructors) have commented that this particular bicycle from Sunny Health & Fitness is just as good as those bikes costing $1000+, it is easy to see why so many people continue to buy this low-cost indoor exercise bicycle several years after it first went on sale.
Negatives
Of course considering the low price of this machine, there are little in the way of extras. For instance there is no LCD display, which you don't really need on this type of exercise bike anyway, and there are no electronics at all.
So you can't hook it up with a fitness app, for example, like you can with the new Keiser M3i model, and you can't export performance data to your phone or iPad, like you can on some of the more advanced models.
However this is a solid, low-cost indoor cycling bike that is exceptionally well-made and delivers an excellent workout that is smooth, quiet and realistic thanks in no small part to the large 40-lb flywheel and the smooth chain drive mechanism.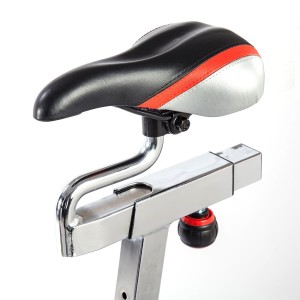 Subsequently the only thing that some people have complained about is the seat because as you can see from the photo, there is little in the way of padding and it can be a little uncomfortable, but this can easily be replaced with a more comfortable one if necessary.
There is no water bottle holder either which is a feature that could easily have been included, but shouldn't necessarily be a deal-breaker because you can always place your water bottle on a table or a desk beside your bike, for instance.
Closing Comments
If you don't necessarily want to spend a lot of money on a spin bike, but still want to buy one that will give you a good all-round workout and is unlikely to fall apart after a few months of regular use, then the SF-B901 bike from Sunny Health & Fitness is an excellent choice because it is really well-made and will certainly give you a good workout.
It is ideal for indoor road training during the winter months because you can pedal standing up if you so wish, and you will find that the riding position, along with the large flywheel makes for a very realistic riding experience.
You can also use it for interval training or for spinning-type workouts if you prefer, or you can simply use it for fitness and weight loss purposes if you are more of a casual user.
Click here to buy the Sunny Health & Fitness Pro Indoor Cycling Bike
Video Demonstration
Other Models Worth Considering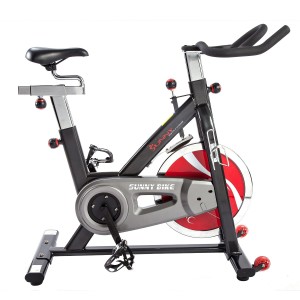 It is also worth mentioning that there is a slightly more expensive model available from Sunny Health & Fitness that has also been getting a lot of positive reviews.
This particular model is the Sunny Health & Fitness Belt Drive Indoor Cycling Bike, and is not only slightly different in appearance, but also has a larger 49-pound flywheel and a slightly quieter belt drive mechanism (instead of a chain drive mechanism), which are the two biggest differences.