Introduction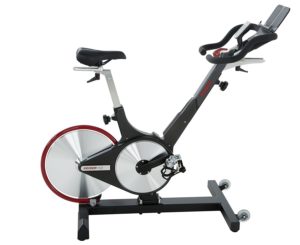 Every time that Keiser develop a new top-of-the-range exercise bike, there is always a great deal of excitement, and that was certainly the case when the new Keiser M3i Indoor Cycle was officially launched back in 2014.
This new model, which has recently been updated, has all the style and functionality of many of the previous Keiser exercise bikes, such as the M3 Plus, for example, but the key difference is that this one is a lot more technologically advanced than the previous models because it has bluetooth and wireless capabilities, and has a few cool new features.
Therefore it is ideal for a group exercise class, for example, but it also appears to be a top quality bike that should last you many years if you choose to buy one of these bikes for your home.
Key Features
24 magnetic resistance levels
bluetooth wireless display
easily connects to your phone or tablet device
track time, distance, power, RPM and pulse
4-way adjustable seat
4-way adjustable handlebars
includes water bottle holder and transport wheels
includes media tray for phone or tablet device
smooth and quiet in operation
ideal for home users, gyms and group cycling classes
rust-proof design
easy to assemble
accommodates users up to 350 pounds
Product Dimensions / Weight
This exercise bike weighs approximately 85 lbs when it is fully assembled, and its exact dimensions (in inches) are 45 x 26 x 49 (H x W x L).
Positives
As with all Keiser exercise bikes, this is designed to be a top-end gym-standard bike, so there are obviously a lot of positives.
For a start, the latest Keiser M3i model guarantees a varied and challenging workout that will satisfy people of all fitness levels because there are 24 geared resistance levels that are quick and easy to adjust using the red resistance lever.
It is also comfortable to use because there is a four-way adjustable seat, which is a lot easier to adjust than it was on previous models, as well as fully adjustable handlebars that can now be adjusted upwards, downwards, forwards and backwards (unlike older models) to help you find the most comfortable riding position. There is also a water bottle holder attached to the bike, as well as transport wheels at the front that make it easy to move around, if required.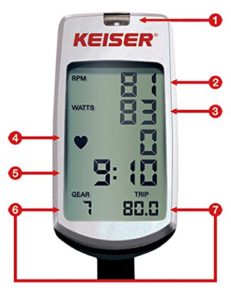 Plus just like previous models, it has an LCD display with clear, easy-to-read numbers so that you can monitor time, distance, pulse and power output during your workout, but the key difference here is that this display unit now has bluetooth and wireless capabilities.
Therefore group instructors can hook it up to a receiver and project it on to a big screen at the front of the class, for example, and individual users can connect it up to an app on their tablet or phone, for instance, to monitor every single aspect of their workouts.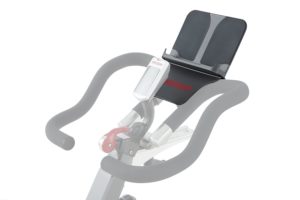 In addition, the very latest 2017 model now includes a media tray for your phone or tablet device that is conveniently located just above the display unit.
Therefore you can watch TV shows or movies whilst you are working out, for example, or you can connect some headphones and listen to some of your favorite music in order to make your workouts less boring.
Finally, I have to mention the smoothness of the workout because having tested this bike out in the gym, I can assure you that your workout is guaranteed to be silky smooth and extremely quiet, regardless of how hard you work out or how high you set the resistance.
Negatives
As I mentioned above, the key benefit of this latest model is the wireless and bluetooth functionality, but this is also one of the main drawbacks as well because from an individual user's point of view, there are still very few apps that actually support this feature at the time of writing.
Whilst the makers of this product claim that an app for the bluetooth function will be available very shortly, this app should have been available as soon as this product was launched.
So you may have to wait for this app if you buy this bike now, but other than this, there are very few faults with this bike because it looks absolutely amazing, is smooth and comfortable to operate, offers a varied and challenging workout and feels just like you are riding a road bike.
Keiser M3i Compatible Apps (2017 Update)
According to the Keiser website, some of the apps that ARE now supported include the Keiser M3 Series and Keiser M3 Series Pro apps (iOS and Android), as well as GOInd (iOS), Ride Buddy Buckets (iOS), Impowered BeTested (Android) and Impowered BeTrained (Android).
Customer Reviews
This Keiser M3i bike has only been on sale for a few years, so there aren't a great deal of customer reviews, however the ones that have been posted online have largely been very positive.
Indeed one person described it as the most perfect riding machine they had ever ridden, whilst another user described it as the best investment in their health that they had ever made.
People don't seem to have any complaints with the actual look and feel of this bike because many people agree that it offers a really smooth, quiet workout and is very strong and sturdy.
The only real issue, as I alluded to above, is the bluetooth functionality and the lack of an iPhone app to support this facility, but I understand that it is now compatible with various iOS and Android apps, as well as Keiser's own apps. So this is hopefully no longer an issue.
Video Overview
This video demonstrates some of the main benefits of this new indoor cycle, and shows you how easy it is to use:
Where To Buy The Keiser M3i Indoor Cycle
If you would like to buy the new Keiser M3i Indoor Cycle, it is available from this page at Amazon.com, where you can also find out more about this particular machine, and read some of the latest customer reviews.
You will discover that it is certainly not a cheap bike by any means, but it really is a stunning-looking machine that will give you an exceptionally smooth and quite workout with as much resistance as you could possibly want, and is strong enough to be used every day either at home or in a commercial setting.
Alternative Exercise Bikes From Keiser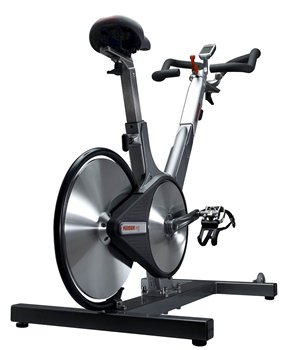 If you don't really require the bluetooth and wireless facilities that this new Keiser M3i model offers, then I would suggest that you save yourself a few hundred dollars by investing in the previous model, ie the Keiser M3 Plus Indoor Cycle (pictured right) because this is a truly outstanding machine that many people consider to be the best indoor cycle on the market.
2017 update: unfortunately this previous M3 Plus Indoor Cycle doesn't appear to be available any more.