Introduction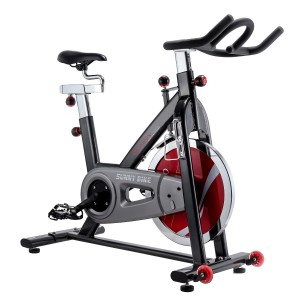 The SF-B901 model from Sunny Health & Fitness has long been one of the most popular low-cost indoor cycling bikes because it represents excellent value for money, and continues to receive a lot of positive customer reviews.
However whilst this, and indeed many of the other models from Sunny Health & Fitness, come with a chain drive system, you can buy a slightly more expensive model that has a quieter and smoother belt drive mechanism, and requires less maintenance.
The model in question is the Sunny Health & Fitness SF-B1002 Indoor Cycling Bike, and it is this bike that I want to review in this article.
Features And Benefits
large 49-pound flywheel
belt drive mechanism
smooth and quiet in operation
knob turn adjustable resistance
fully adjustable seat and handlebars
press down brake system
transport wheels
heavy duty steel frame
suitable for anyone up to 275 pounds
Product Dimensions / Weight
This particular model from Sunny Health & Fitness has exact dimensions (in inches) of 50 (L) x 20 (W) x 44 (H) when fully assembled, and weighs 115 pounds, which is admittedly pretty heavy, but it does at least give you an idea of the strength and sturdiness of this machine. Indeed it can actually accommodate anyone up to 275 pounds because of its heavy duty steel frame.
Positives
In addition to being a very strong and sturdy machine, this SF-B1002 Belt Drive Bike has a few key advantages over some of the cheaper alternatives.
The main benefit is that it comes with a belt drive mechanism instead of a chain drive, which means that you are guaranteed to get a smoother and quieter workout. Plus it will of course require less maintenance, as I mentioned earlier.
Another positive feature of this bike is that it comes with a large 49-pound flywheel, which is 9 pounds heavier than the SF-B901 model, for example, and ensures that you will get a fluid, non-jerky workout that is smooth and comfortable.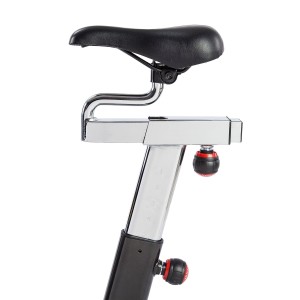 Talking of comfort, you will find that this machine has a fully adjustable seat that can be adjusted upwards and downwards as well as forwards and backwards to accommodate people of varying heights. The handlebars can also be adjusted upwards and downwards to find the most comfortable riding position.
So you should find that you will get a really comfortable workout in both a seated and standing position, and you should also find that you can get a really intense workout as well because the 49-pound flywheel requires some initial effort to get started, and you can always adjust the resistance to make your workout even harder if you so wish.
Negatives
One slight problem with this SF-B1002 model is that the handlebars cannot be adjusted forwards and backwards. They can only be adjusted upwards and downwards.
Furthermore, although it has transport wheels attached, it is quite a heavy machine with a total weight of around 115 pounds. Therefore it might be a little hard to move it from one room to another, for instance.
Another drawback of this machine is that it doesn't come with its own LCD display, just like many of the other bikes in this price range. So although many people find that they don't really need one on an indoor cycling bike, you will have to purchase one separately if this is something that you require.
Final Thoughts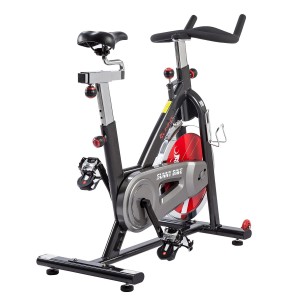 To sum up, I would say that the Sunny Health and Fitness Belt Drive Indoor Cycling Bike is well worth considering if you are looking for a good quality exercise bike for your home and don't necessarily want to spend $500, $1000 or even $2000 on a top-end model.
This one can easily be used for spinning-type workouts in both a seated and standing position (and for standard indoor cycling workouts) because it is extremely stable and well-made, and also provides you with a very smooth, comfortable and quiet workout thanks to the impressive belt drive mechanism and the 49-pound flywheel.
The more popular SF-B901 bike is still a very good machine in its own right, but considering that the belt drive SF-B1002 is only a little bit more expensive, I would say that this is the one to go for out of the two (if your budget can stretch this far).