Introduction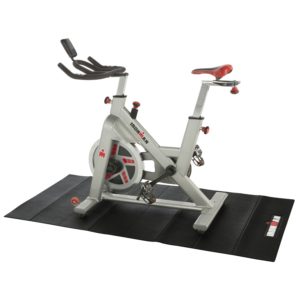 There are many indoor cycling bikes that you can buy for your home nowadays, but I have just discovered an impressive looking bike from Ironman Fitness that has been getting some good reviews.
The Ironman name is synonymous with cycling because cycling is one of the three events included in the gruelling Ironman triathlons (along with swimming and running), and so with that in mind, they have set about designing a top quality machine that reflects the Ironman brand.
Therefore I want to take a closer look at this Ironman H-Class 510 Indoor Training Cycle to see how good this bike is in reality, and to see if it compares favorably to some of the other bikes in this price range, such as the Sunny Health & Fitness bikes, for instance.
Features And Benefits
solid steel frame construction
smooth and consistent 44-pound flywheel
LCD computer display
track speed, distance, RPM, calories, watts and pulse
adjustable multi-grip handlebars
four-way adjustable seat
realistic chain drive mechanism
dual pulse sensors
three-piece crank system
steel pedals with toe cages and straps
includes water bottle holder and transport wheels
comes with free equipment mat
suitable for users between 5'0 and 6'4
can be used by anyone up to 275 pounds
Product Dimensions / Weight
This indoor cycling bike has exact dimensions (in inches) of 48 (L) x 20 (W) x 40 (H) when it is fully assembled, and has a total weight of 121 pounds, which reflects its strong solid steel construction.
As mentioned above, this bike comes with a free equipment mat to protect your floor and reduce any noise and vibrations, and this mat has dimensions in inches of 79 (L) x 35.4 (W) x 24 (H).
Positives
The first thing to say about this Ironman 510 bike is that unlike some of the other bikes in this price range, this one comes with its own LCD display.
Some people find that they don't really need a computer display on an indoor road bike, but if you are someone who likes to analyse your performance data, this digital computer display will indicate speed, distance, calories burned, RPM, watts and pulse.
The pulse rate is taken from the dual pulse sensors on the handlebars, which have multiple hand and arm positions and can be adjusted up, down, forwards and backwards so that you can find the most comfortable riding position.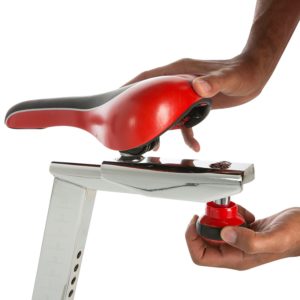 It is the same with the seat because this can also be adjusted in four directions (up, down, forwards and backwards), and subsequently you will find that this machine can be used by anyone between 5'0 and 6'4.
With regards to the build quality, the solid steel frame construction (which is backed by a lifetime warranty) is strong enough to accommodate anyone up to 275 pounds, which makes it stronger than some of the other indoor cycling bikes in the same price range.
It is also worth mentioning the flywheel because this bike has a heavy 44-pound flywheel that delivers a smooth and consistent pedal motion, and has a chain drive that replicates the feel of an outdoor road bike without being particularly noisy.
The pedals on this Ironman 510 machine are similar to a conventional road bike as well because they have toe cages and straps to prevent any slippage, and the upgraded three-piece crank system will help to prevent any maintenance issues.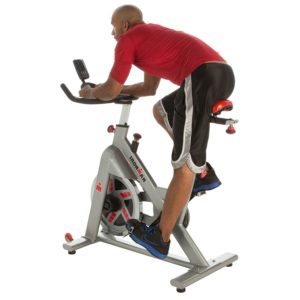 Finally, it is worth discussing the workout options that are available to you because this is obviously one of the most important factors.
You will find that there are no fixed resistance levels, as it the case with most indoor cycling bikes, but there is a resistance knob that you can turn to make your workouts as easy or as hard as you like.
In addition, this bike is strong enough and stable enough to enable you to cycle in both a seated and a standing position (thanks to the adjustable floor stabilizers), and you can also pedal backwards as well as forwards if you really wanted to.
So you will get some decent workouts on this bike, and because it is such a strong well-made machine, it should last a long time without developing any problems.
Negatives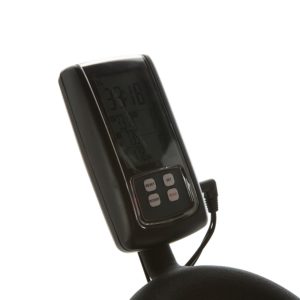 As with most other indoor cycles, there are a few negative points that are worth mentioning in order to provide you with a balanced review.
The first issue concerns the LCD display because as some users have pointed out, this display has relatively small numbers and is not backlit, which makes it quite hard to read, as you can probably tell from the photo.
In addition, as with so many road bikes and indoor cycling bikes, the seat on this bike is not very comfortable to sit on for long periods. This may not be an issue if you plan on alternating between seated and standing positions, but you may need to buy a gel seat cover or purchase a replacement seat if you are going to be sitting down for long periods.
Final Thoughts
Despite having a few minor faults, this Ironman H-Class 510 Indoor Training Cycle is a very strong machine that will enable you to do indoor road training and interval workouts at home.
Yes it is a little more expensive than the Pro Indoor Cycling Bike from Sunny Health & Fitness, for example, which is an excellent bike for people on a budget, and is more expensive than the belt drive version of this bike as well, but it does come with its own LCD display and a free equipment mat, and is backed by a lifetime warranty on the frame.
So if you can afford to pay a little bit more, it is probably worth going for this Ironman bike because this is a quality machine that has been getting some excellent customer reviews, but ultimately it depends on how much money you are prepared to spend.
→ Click here to buy the Ironman H-Class 510 Indoor Training Cycle