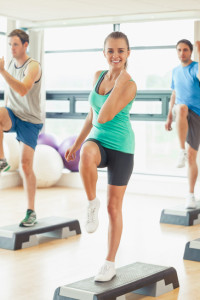 One of the first articles I ever published on this site discussed how to prepare for your first spinning class because I know that it can be quite a daunting prospect at first. You can read the article here if you haven't already done so.
So because this has proven to be one of the most read articles on this site, I thought I would write a follow-up article that will help you prepare for any type of fitness class, whether it's yoga, aerobics, zumba, pilates or crossfit, for instance, because there are a few other factors to consider.
Here are some of the things that I recommend you do before you attend your first class:
Watch YouTube Videos
One of the best things you can do in the days and weeks leading up to your first fitness class is to watch plenty of videos on YouTube. Here you will find many different types of exercise classes, so you can see what to expect from your own class.
Practice At Home
Following on from the last point, it is also a good idea to practice some of the moves in your living room if you will be attending a class that involves some tricky exercises and positions. This would apply to technical activities such as tai chi or yoga, for instance.
Wear Suitable Clothes
Before you attend your first fitness class, it is imperative that you do some homework beforehand and find out what type of workout clothes will be most suitable. In most cases a workout vest, sports bra, shorts and trainers will suffice if you a woman, or a t-shirt/vest, shorts and trainers if you are a man, but some activities might require specialist clothing or equipment, such as boxing or kick boxing for example.
Avoid Large Meals
Some people assume that they should fuel their workouts by eating a large meal shortly before a fitness class, but this is never a good idea because you will just end up feeling bloated and sluggish. Instead you should eat a light meal at least 45-60 minutes before your class, and ideally one that is full of protein and carbs.
Bring Your Own Water
It is absolutely imperative that you keep yourself hydrated during your fitness class (if it is a high intensity activity), and therefore you should always bring your own water along with you. If you are going to be sweating a lot, then you obviously need to replace this lost fluid throughout your workout and immediately afterwards.
Get There Early
If you are attending a fitness class for the very first time, you should always try to get there early so that you have plenty of time to change into your clothes if you haven't already done so, and prepare fully for your class. This is also a good time to talk to other participants, and chat to the instructor about any worries that you might have, such as any existing injuries, for instance.
Don't Be Afraid To Fail
Some fitness classes can be a lot more challenging than others, and therefore it can be really hard to keep pace with the instructor and do exactly what they are doing. Indeed if you are the only newbie there, you can be made to feel completely useless if everyone around you is making it look really easy. However it really doesn't matter if you are struggling to keep up. Just do your best and keep gong to the end because everyone has to start somewhere, and it will get easier over time.
Bring A Friend
As with anything you do in life, it is always more scary if you are doing it on your own. So if you are a little bit nervous about attending your first fitness class, you should seriously consider taking a friend along with you for some added support. Once you have completed your first class, you probably won't be afraid to go on your own after that because the first one is always the most scary one.