It is always quite exciting when you join a new fitness group and start taking up a completely new form of exercise, and this is generally the case with group spinning classes because most people are excited by the thought of getting fit and losing weight.
However it can also be quite a frightening prospect because unless you are already really fit, you will be turning up and taking part in a class full of people who will probably be in much better shape than you are, and will undoubtedly make it look really easy.
So as I have been through this process myself, I thought that it would be a good idea to offer you some tips and advice that will help you prepare for your first spinning class, and give you some insight into what you can expect from one of these high intensity spinning classes.
Blend Into The Crowd
The first stage in the whole process is booking a place in a spinning class, which is fairly straight forward. However there is one thing you should do and that's to avoid booking a place on the front row (if this is an option). The last thing you want is for everyone to be staring at you and watching you struggle on your first attempt. So anywhere away from the front row, and ideally near the back is ideal because you can watch everyone else and won't be the center of attention.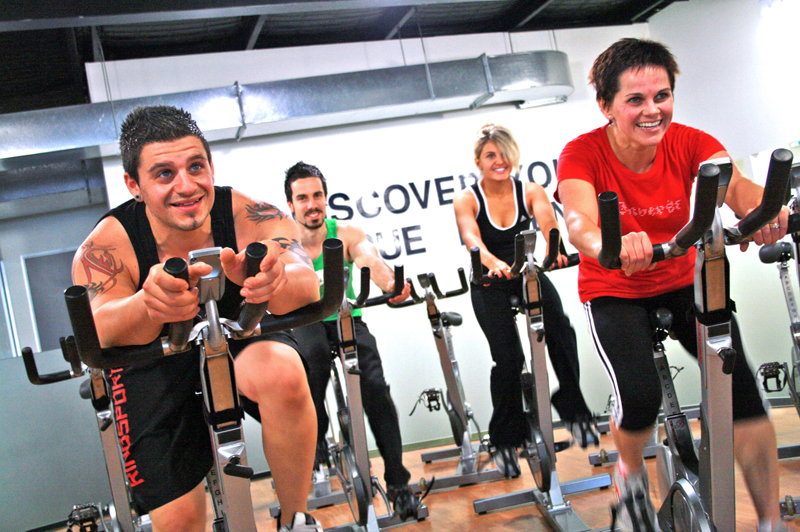 (Photo by www.localfitness.com.au)
Eat Light
As you build up to your first group spinning class, you should avoid eating a heavy meal that will sit in your stomach for a long time. A light meal that is full of protein and carbs is perfect because this will fuel your workout, but any kind of light meal is more than adequate to begin with.
Wear The Right Clothing
If you are male, then it is easy to choose the appropriate clothing because a t-shirt or vest and a pair of shorts is suitable for one of these classes, and for women a crop top, t-shirt or vest and a pair of shorts is perfect. If they are sweat-resistant, then even better. With regards to footwear, a standard pair of comfortable trainers is absolutely fine to begin with, although you might prefer to invest in a pair of cycling shoes if you are serious about taking up spinning.
Don't Be Late
When you turn up to your first spinning class, it's always a good idea to get there with plenty of time to spare so that you can change into your workout clothes and grab a decent spot near the back (it if works on a first-come first-served basis). You can also chat with some fellow participants and make some new friends whilst you wait for the class to begin.
Bring Towels And Water
Some classes will have a water dispenser that you can use beforehand and may even be able to supply you with towels and water bottles if you don't have them yourself, but for your very first class it's a good idea to bring your own just in case. As you probably know, spinning workouts are very intense and will make you sweat a lot, so you will obviously need both of these things.
Learn How The Bike Works
Many of the best spin bikes are pretty straight forward to use, but once you are actually in the class and have jumped on your bike, you should play around with the resistance before the class gets going so that you know exactly how to increase and decrease the resistance.
Adjust The Seat And Handlebars
It's important to point out that both the seat and the handlebars can be adjusted on most spin bikes. So don't be afraid to move the seat and / or the handlebars forwards or backwards until you find the most comfortable riding position. If you don't know how to do this, simply ask one of your fellow class members or request help from the instructor before the class starts.
Pay Attention To The Instructor And Other Class Members
As this is your first spinning class, you cannot be expected to keep up with the rest of the class right the way through to the end. However whilst there may be times when you are staring at the floor or the ceiling begging for mercy, you should still try to watch the instructor throughout the workout, or keep an eye on some of the more experienced members of the group in order to stay in sync with the rest of the class and to get your technique right so that you maintain good posture throughout.
Lose Yourself In The Music
Whilst you may well be concentrating like mad at the beginning of your first class, it's worth remembering that you volunteered for this class, so try to enjoy it. You should find that the backing track is upbeat and high-tempo, so lose yourself in the music and try to think positive thoughts, such as the number of calories that you are burning, for example, because this will help see you through to the end of the class.
Go With A Friend
Finally, if the thought of attending your first spinning class still terrifies you, even after reading all of the tips and advice above, then you should consider dragging a friend along because this will make this a much more relaxing and enjoyable experience, and will definitely help to calm your nerves. Remember that everyone in your class will have been in your shoes at some point, and there will always be new people joining after you. So if you can just get through your first class, it will become a lot easier and a lot more enjoyable in the future.