Introduction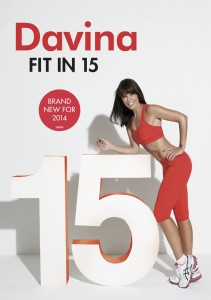 Davina McCall always releases a new workout DVD every year, but the Davina – Fit In 15 DVD, which first went on sale back in December 2013, is still one of the top-selling fitness DVDs in the UK.
Indeed the last time I looked, it was even outselling her latest DVD for 2015 (Davina – 7 Minute Fit) that we recently reviewed here, and continues to receive lots of positive customer reviews.
It is supposed to be ideal for toning, fitness and weight loss, so let's take a closer look at this new DVD to see whether or not it is worth buying.
The Davina – Fit In 15 Workouts
As the title suggests, the workouts included here will help you get fit in just 15 minutes per day.
There are four 15-minute workouts in total (along with cool down stretches and relaxation stretches), and the good news is that you only need to do one of these workouts per day.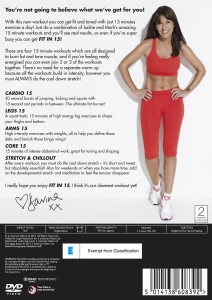 The most effective from a fitness and weight loss point of view is the Cardio Workout because this features 30-second bursts of high intensity training exercises followed by a 15-second rest period, and over 15 minutes this will really help you burn lots of calories.
However there is also an Arms Workout and a Legs Workout which really help tone up these two areas and are equally as intensive, as well as a Core Workout that is focused on toning up your abdominal muscles and helping you maintain a good shape after losing weight.
Most of the exercises included on this DVD don't require any kind of equipment, which is always beneficial, but a few of them do require you to use some light weights (or some household objects that can be used as weights such as water bottles, for instance). So you should have no problem doing any of these four workouts.
As I mentioned above, you only need to do one of these 15-minute workouts per day, but you can of course combine them, or even do them all at once if you have time, in order to enhance your toning and weight loss results even further.
Preview Video
If you would like to get an idea of the kind of exercises that are included in these workouts, here is a preview video of Davina McCall's Fit In 15 DVD:
User Feedback
As is often the case with many of Davina McCall's DVDs, Davina- Fit In 15 has been receiving lots of positive comments from people who have tried doing some of these workouts at home.
Many seem to like the fact that it is good for women of all fitness levels, and is easy to stick to because anyone can find at least 15 minutes per day to do one of these workouts.
A lot of people have reported that it appears to really help with toning and definition, and as can be expected from a series of high intensity exercises, it also appears to help with fitness and weight loss because several women have reported that they have already started losing a few pounds.
In addition, several women have pointed out that although each of the four workouts are quite intense and hard work to start off with, after a while it becomes quite easy to combine two or more workouts in a single session for even better results.
One or two people have suggested that this is not quite as challenging as the Davina – Intense DVD, which is certainly her most intensive workout, whilst others have said that this is her best one yet. So ultimately it is down to personal preference, but it should be pointed out that the vast majority of people have had good things to say about these routines.
Where To Buy The Davina – Fit In 15 Fitness DVD
As always, you should be able to find this DVD in supermarkets and a number of high street stores. However you may well prefer to buy it from sites such as Amazon, where you can also read lots of customer reviews. Here's the product page if you would like to check the latest price, or find out more about this DVD: