Introduction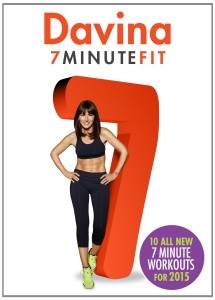 Davina McCall seems to produce a new workout DVD every single year, but to be fair, these workouts are all really effective if you want to lose weight and get in shape, and her latest Davina: 7 Minute Fit DVD, which is new for 2015, looks to be every bit as good as her previous DVDs.
That's because Davina has joined forces with a new fitness trainer (Ed Lumsden) to create 10 new workouts that will help with toning, fitness and weight loss, all of which are just 7 minutes long, hence the title.
So let's take a closer look at this DVD, starting with the actual workouts:
The Workouts
All of the 7-minute workouts were devised by top personal trainer Ed Lumsden, and they include the following:
Fat Burner
Ultimate Fat Burner
Box Fit
Ultimate Legs
Tone & Sculpt
Tone & Burn
Abs
Advanced Abs
Fitness Challenge
Total Stretch
You should start off by combining a few of these workouts together, and then start adding in a few more once your body is ready.
Alternatively you could start off by doing those workouts that target your biggest problem areas, such as your abs or your legs, for example, before incorporating some of the other workouts as time goes on.
You should find that as you become a lot fitter, you will find yourself doing several of these workouts in one session, or maybe even all ten, by which time you should really start to see some impressive results with regards to toning and weight loss.
Bonus Features
As well as the main workout section, Davina and her personal trainer have also included a few extras on this 7 Minute Fit DVD.
For example, Ed is very keen on making sure that people perform these workouts with the right technique in order to prevent any injuries. So there are five tutorials that show you the correct way to perform all of these exercise routines.
In addition, there is a behind-the-scenes look at how this DVD was produced, including a look at some of the training sessions involving both Davina and Ed.
So as a result of all of this, the actual DVD is approximately 105 minutes long in total.
Customer Reviews
The key question that everyone wants to know is – are these workouts effective and will they help me lose weight?
Well if you read some of the comments that have been posted online, many people have said that the workouts are indeed physically demanding, and will leave your body aching the next day in many cases, which is always a good sign.
However the general consensus seems to be that you really need to be doing several of these workouts in one session in order to see results.
Indeed some people have commented that these workouts seem to be a little easier than some of Davina's previous workouts, such as those included in the Davina Intense DVD, for example, which many women regard as her best and most effective fitness DVD.
Nevertheless they should still produce good results because they target specific areas of the body, such as your arms, abs and legs, which will help with toning, and because there are several fat-burning workouts that will help burn hundreds of calories, they will inevitably help with fitness and weight loss as well.
It is worth mentioning that a few people have commented on Ed Lumsden, saying that there is less chemistry between him and Davina than there was between Davina, Jackie and Mark, who she worked with on previous DVDs.
However he does seem to have come up with a series of ten highly effective workouts, which is all that really matters.
Where To Buy The Davina: 7 Minute Fit DVD
If you would like to buy this Davina: 7 Minute Fit DVD, you should be able to find it in your local supermarket and in various different high street retailers.
However if you live in the UK, it is often quicker and easier just to buy it from Amazon, where you will also find lots of customer reviews, as well as a preview video that demonstrates some of the exercises that are included in each section:
→ Click here to buy the Davina: 7 Minute Fit DVD
Also Available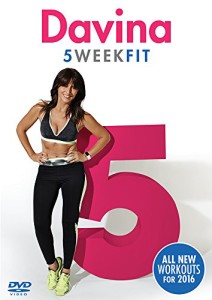 Davina has recently released a new fitness DVD that builds on the foundations of 7 Minute Fit because it not only includes a series of brand new 7-minute workouts, but also includes 3 minutes of additional exercises at the end of each one for those people who want to push themselves even harder.
This Davina: 5 Week Fit DVD also takes a different approach because it basically provides you with a 5-week training program that will help you tone up, lose weight and improve your fitness in just 5 weeks, as the title suggests.
More details can be found here if you would like to check out this new DVD for 2016.