Introduction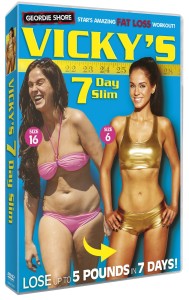 Vicky Pattison's 7 Day Slim DVD first went on sale back in December 2013, and quickly became the best-selling fitness DVD in the UK in January 2014. In fact it is still one of the top-selling workout DVDs even now in July 2015.
So today I thought it would be a good idea to take a closer look at this Vicky Pattison DVD, and see if it really can help you lose weight and get fit.
If you're not familiar with Vicky Pattison, she is one of the stars of the reality TV show Geordie Shore.
However she made headlines for her weight loss rather than her TV appearances because she lost 3 stone in weight and dropped 5 dress sizes back in 2013, and it was primarily thanks to this workout, which can reportedly help you lose up to 5 pounds per week.
The Vicky Pattison 7 Day Slim Workout
This workout has been devised by a team of fitness experts, including the British long jumper Chris Kirk, personal trainer Robbie Thompson and fat-loss expert David Souter, and as mentioned above, this 7-day plan is designed to help you shed as much as 5 pounds per week when performed on a regular basis.
The good thing about these routines are that they are very short, but very intense at the same time.
If you take a look at the preview video, you will see that there are 6 workouts in total, with each one around 10 minutes long. Therefore as you only need to do one per day to start off with, they should be easy enough to fit into your day.
This is a 7-day plan, so you are supposed to do workout 1 every day in week 1, then workout 2 every day in week 2, and so on until week 6 when you will have completed all 6 workouts. At this point you can start combining them together, or maybe even perform the whole workout once you are ready because by now you should have a slimmer, fitter body and improved fitness levels.
The workouts target every area of the body and get progressively harder, and the real benefit is that you don't need to use any kind of equipment at all because they include exercises such as lunges, gorillas, planks, squat jumps, hip lifts, punches, sprints and burpees, for example, which are all based on bodyweight resistance.
In addition, each workout has its own warm-up and stretch section to help prevent any injuries or cramping of the muscles.
Free 1250-Calorie Diet Plan
Unlike many workout DVDs, Vicky Pattison's 7 Day Slim DVD also includes a diet plan that you can follow. Whilst it doesn't go into a great deal of detail, it does at least provide you with a large choice of different meals, as well as healthy snacks that you can eat if you want to stick to a 1250-calorie diet, like she has.
This is not absolutely necessary, of course, because each 10-minute workout will really make you sweat, and will inevitably help you burn lots of calories, but you should find that you will lose even more weight if you follow this advice and make an effort to reduce your calorie intake whilst performing these workouts.
User Feedback
If you take a look at some of the comments that have been posted online, you will see that this fitness DVD has received a lot of good reviews over the last couple of years.
People seem to like the fact that the workouts are really intense considering that they are just 10 minutes long, and work many different areas of the body.
One clear sign that the exercises are effective and make a real difference is that they leave you with aching muscles immediately afterwards and sometimes the next day, which is exactly what many people have reported after performing these exercises.
From a toning and weight loss point of view, which is what many women will be most interested in, these workouts do seem to deliver excellent results because quite a few women have reported that they started noticing results after just one or two workouts, with one woman reporting that she lost 7 pounds after just one week.
Where To Buy The Vicky Pattison 7 Day Slim DVD
You should be able to find this fitness DVD in any high street store that sells DVDs because this is still one of the most popular titles.
However if you would like to buy the Vicky Pattison 7 Day Slim DVD online, it is available at Amazon.co.uk (and other online retailers), where you can also read some of the customer reviews that have been posted so far and watch a preview video showing all the workouts that are included in the DVD: