Introduction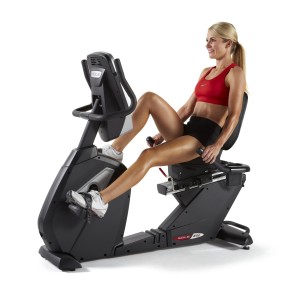 Recumbent bikes are becoming increasingly popular with people of all ages, and particularly those with mobility issues and back pain because they come with a supportive back rest and are easy to get on and off. Subsequently you will now find that you can spend as little or as much as you want on one of these machines.
However some of the cheaper models are not particularly well-made and are not really suitable for regular use in the home, but one machine that definitely can cope with regular use is the Sole Fitness R92 Recumbent Bike.
This top-end bike is suitable for home use and light commercial use because of its high quality build construction, and has a number of resistance levels and workout programs to provide endless workout possibilities.
Features And Benefits
strong durable frame
20 magnetic resistance levels
10 workout programs
9-inch LCD display
grip and chest strap pulse monitors
adjustable seat with back rest
ergonomic foot pedals
sound system and speakers
built-in cooling fan
suitable for anyone up to 300 pounds
Product Dimensions / Weight
This recumbent bike is quite a compact machine with dimensions (in inches) of 57 (L) x 30 (W) x 50 (H), but with a total weight of 153 pounds, it is still a pretty heavy machine. So if you are buying this for your home, you should probably decide where it is going to go, and keep it there all the time.
Positives
Of course one of the main benefits of this R92 recumbent bike is that it is exceptionally strong and sturdy and can be used by multiple users without any problems. Indeed it actually comes with a lifetime warranty on the frame, which is an indication of how strong it is.
It can be used by anyone up to 300 pounds, and is suitable for both tall and short people because the seat can be adjusted forwards and backwards really easily.
This bike also provides you with a range of workout options because there are 20 magnetic resistance levels altogether, and 10 individual workout programs. This includes 6 standard programs, 2 heart rate programs and 2 custom programs that you can set yourself.
Talking of heart rate programs, this bike can monitor your pulse rate using the hand grip sensors on the handlebars or the chest strap, which is also included with this machine.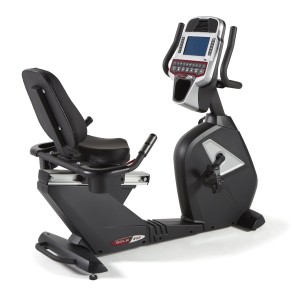 It will then display this information on the large 9-inch LCD screen, along with other useful data such as time, speed, distance and calories burned, and you will find that this console unit also has built-in cooling fans and speakers that can connect to your personal music device, as well as a conveniently placed water bottle holder.
Therefore it is easy to entertain yourself and to stay cool and well hydrated whilst you are working out, and extra comfort is provided by way of the padded back rest and ergonomic foot plates. These oversized pedals have a patented 2 degree inward slant to prevent any knee or foot pain, which is a key feature that sets it apart from many other recumbent machines.
So when you also consider that this bike delivers a smooth and quiet workout, it is easy to see why this R92 recumbent bike is one of the more expensive recumbent bikes on the market.
Negatives
This machine is obviously a very highly rated machine, but there are still one or two negatives that are worth highlighting.
First of all, although it is possible to set your own custom programs, you would expect a top-end bike such as this one to have a few more workout programs as standard.
In addition, it would be good if you could adjust the back support forwards and backwards because it is only possible to move the whole seat forwards and backwards and not the actual back rest.
Finally, the cooling fan is said to be a little weak and not really strong enough to cool you down that much, and it has been reported by some users that it took quite a long time to assemble out of the box, but this is understandable with a machine of this size.
Final Thoughts
This bike made our list of the best recumbent exercise bikes because it is exceptionally well-made and is suitable for the whole family to use.
Plus as well as offering a range of workout options with its multiple resistance levels and workout programs, it is one of the few recumbent bikes that is ergonomically designed to prevent any foot or joint pain, which is another key selling point.
Of course it does come with a large price tag, which will put many people off, but if you are looking to buy a top quality recumbent bike that will give you a smooth, quiet and comfortable workout and will last you many years, this is definitely one to consider.
→ Click here to buy the Sole Fitness R92 Recumbent Bike
Sole Fitness R92 Bike v Sole Fitness LCR Bike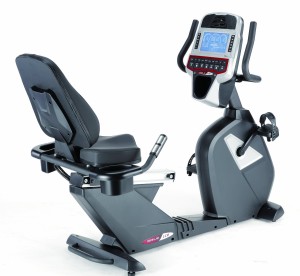 The Sole Fitness R92 Bike is undoubtedly a top-end model, but it is worth pointing out that the LCR (Light Commercial Recumbent) Bike is Sole Fitness' top-of-the-range model.
This one is similar to the R92 Bike featured above because it has a 2 degree inward slant on the foot pedals to prevent joint pain, and has the same kind of extra features, but this one has a larger weight capacity (350 pounds) and twice as many resistance programs (40). It also has a larger flywheel than the R92 model as well.
So you might want to consider buying this model if your budget can stretch a little further because this really is an outstanding machine.