Introduction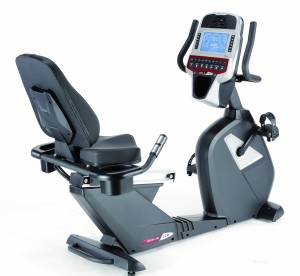 Recumbent bikes are said to be a lot more comfortable to use than traditional upright bikes because they obviously come with their own back support, and allow you to pedal away in a more relaxed position.
You can now buy one of these recumbent bicycles for less than $200 if you are on a really tight budget, but today I want to review one of the top commercial-grade machines – the Sole Fitness LCR Light Commercial Recumbent Bike.
As the name suggests, this machine is ideal for light commercial or home use because of its strength and durability, and with a huge range of resistance levels, it is said to be perfect for people of all fitness levels. So let's take a look at this particular bike in closer detail.
Features And Benefits
30-pound flywheel
40 levels of resistance
10 workout programs
large LCD console
built-in cooling fan
MP3 compatible sound system
self-generating power source
oversized foot pedals
fully adjustable seat
strong and durable frame
easy to assemble
suitable for anyone up to 350 pounds
Product Dimensions / Weight
This particular bike has exact dimensions (in inches) of 57 (L) x 30 (W) x 50 (H), so it is quite a compact machine, but with a total weight of 157 pounds (and a weight capacity of 350 pounds), it is clearly a strong and very well-made machine that has a solid and stable frame.
Positives
The main reason why this Sole Fitness LCR Recumbent Bike is considered one of the best recumbent bikes on the market is because it has more resistance levels and more features than most other models, and is basically stronger and more durable than most home exercise bikes.
This is precisely why it can be used in a light commercial setting such as a hotel, health club or physical therapy, for example, and why it is an ideal bike to buy for your home if your budget can stretch this far.
You will find that this bike will be suitable for people of all fitness levels because there are a total of 40 ECB resistance levels, and to add even more variety to your workouts, you can take advantage of the 10 workout programs that are included with this machine, which comprise of 6 standard programs, 2 custom programs and 2 heart rate programs.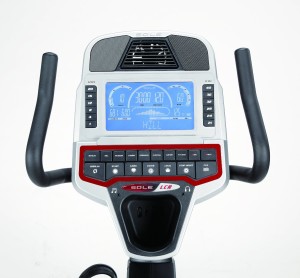 These are controlled very easily at the touch of a button using the large 9-inch LCD console unit (pictured right), which is one of the largest and easiest to read consoles that I have come across so far.
Another thing that I like about this console is that it includes a built-in cooling fan, and has an MP3-compatible sound system so that you can listen to all of your favorite music through the speakers, and you don't even need to plug anything into the wall because it generates its own power.
With regards to the comfort of the workout, you will see that there are handles to hold onto next to the seat (which is also where the pulse monitors are located), and the seat itself is fully adjustable so that you can find the most comfortable riding position.
This makes it ideal for public use because it can easily accommodate people of all shapes and sizes.
This LCR Recumbent Bike also comes with oversized foot pedals to provide a little bit of added comfort when it is going to be used for long periods, for example.
Finally, another positive aspect of this Sole Fitness recumbent bike is that it comes with a lifetime guarantee on the frame regardless of whether it is used for commercial or home use.
Negatives
With regards to the negatives, it should be pointed out first of all that if it is going to be used for commercial use, it is only guaranteed for 3 years on parts and electronics, as opposed to 5 years when used in a home environment.
I think this is fairly standard for commercial-grade machines, but it's worth pointing out nevertheless.
In addition, you will find that with a total weight of 157 pounds, it is one of the heaviest machines on the market, which may be a problem if you need to move it around quite a lot.
Plus it would be also be beneficial if the angle of the seat could be adjusted forwards and backwards slightly to provide even more comfort.
Finally, one final drawback is that it doesn't seem to be compatible with any fitness apps, which is a feature that many people expect to be included as standard in this day and age.
Final Thoughts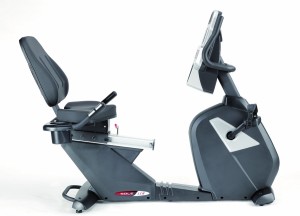 This Sole Fitness LCR recumbent machine obviously comes with a fairly large price tag, but if you are looking to buy a top-end recumbent bike for your home that should last you many years, then I personally think that this would be an excellent choice.
That's because it has an exceptionally strong and durable frame that can easily accommodate anyone up to 350 pounds, and provides a huge range of workout options with its 40 resistance levels and its 10 workout programs.
For this reason, it would also be an excellent choice of machine if you are looking to buy a recumbent bike for your hotel gym or physical therapy, for example, because it has been designed to be used by multiple people with its adjustable seat and tilting console, and its easy to use controls that enable the resistance and programs to be changed at the touch of a button.
If you would like to buy this machine, it is available to buy online from Amazon.com, for example, or you can buy it directly from Sole Fitness.
→ Click here to buy the Sole Fitness LCR Light Commercial Recumbent Bike