Introduction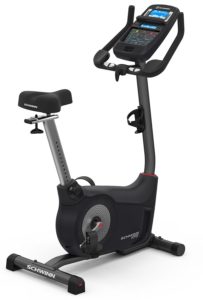 The Schwinn 170 upright exercise bike first went on sale back in 2013 if I remember correctly, but it has been upgraded since then with some new features, and is now a seriously impressive mid-range model that is ideal for home use.
This top-of-the-range upright bike from Schwinn has an impressive dual-window display and an easy-to-use console, and provides you with multiple workout options because it has 25 levels of resistance and 29 individual workout programs.
So let you tell you a lot more about this Schwinn 170 Upright Bike to demonstrate why you might want to buy this particular machine, and to highlight a few of the drawbacks.
Features And Benefits
25 computer-controlled resistance levels
29 workout programs
smooth and quiet in operation
large dual-window LCD display
13 different display readouts (speed, time, distance, etc)
full goal tracking capabilities
user settings for up to 4 people
export data quickly and easily via Bluetooth
built-in heart rate monitors
oversized pedals with toe straps
fully adjustable padded seat
adjustable padded handlebars
water bottle holder
charging USB port
built-in speakers
three-speed cooling fan
media shelf for phone or tablet
easy to assemble
accommodates users up to 300 pounds
10-year frame warranty
Product Dimensions / Weight
This Schwinn 170 exercise bicycle has exact product dimensions of 41.3″ (L) x 21.4″ (W) x 55.6″ (H) and weighs 58.4 lbs when it is fully assembled, according to the official Schwinn website.
Positives
You will generally find that this Schwinn 170 bike has received a lot of positive feedback since it first went on sale back in 2013, and the latest MY17 appears to be equally as popular because it is loaded with some impressive features and has so many different workout options that you simply don't find on a machine in this price bracket.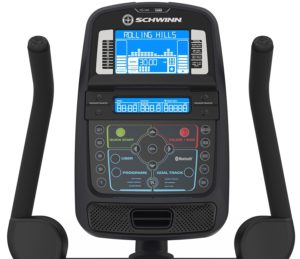 For instance, you will find that it is easy to keep yourself entertained during your workouts thanks to the USB port, the built-in sound system and the media tray for your smartphone or tablet that you can use to watch a TV show or movie or listen to music.
There is even an adjustable three-speed cooling fan built into the console that will help to keep you cool during your workouts.
This console unit has two LCD screens that will display 13 different pieces of data (speed, time, distance, calories burned, pulse, resistance level etc), and it is easy to track your performance over time thanks to the goal tracking component that is based on time, calories and distance.
Indeed the latest model now has a Bluetooth-enabled console that means you can transfer these metrics quickly and easily to the Schwinn Trainer app and many other popular fitness apps, such as GoogleFit, MyFitnessPal, Apple Health and MapMyRide.
You can also use this console unit to adjust the resistance setting and select your favorite workout program (if any) quickly and easily using the one-touch buttons. There are 25 resistance levels in total and 29 different exercise programs for you to choose from, including profile, heart rate, fitness test and custom programs, so you will never be short of workout options.
With regards to the quality of the workout and the overall comfort level, the Schwinn 170 has a high speed, high inertia drive system that delivers smooth and quiet workouts, and has a fully adjustable seat that is padded and contoured to enable you to exercise without any discomfort, as well as an upgraded pedal system with wider pedals and straps. You can also adjust the angle of the handlebars to find the most comfortable riding position.
Finally from a practical point of view, the Schwinn 170 is said to be really easy to assemble and easy to move around thanks to the transportation wheels. It also has a really strong frame that is guaranteed for 10 years, and is strong enough to support anyone up to 300 pounds, which means that it could easily be used by multiple people in your home, particularly as it can store user settings for up to four people.
Negative Points
As with most exercise machines, there are a few negatives that a few people have commented on.
Firstly, the seat on the MY17 model has been designed to be more comfortable than the one on previous models, but despite having extra padding and contouring for your legs, some people have still found it to be a little uncomfortable. Therefore you might find that you need to replace it with a comfortable seat if you are going to be using it for long periods.
Another minor issue concerns the LCD display screens because a few people have said that it is a little too bright, but at least you can clearly read the figures, which is not always the case with some of the non-backlit displays that you commonly find on many other upright bikes.
Final Thoughts – Schwinn 170 v Schwinn 130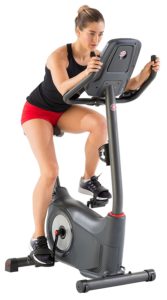 The 170 model is currently Schwinn's top-of-the-range upright bike at the time of writing, but they have also created the 130 bike, which is cheaper than the 170, but also has fewer programs and resistance levels.
It does have many of the same features, therefore it is still a pretty good bike, but the 130 model only has 20 resistance levels, 22 workout programs and user settings for just 2 people.
So the Schwinn 170 upright bike is arguably the model to buy if you are looking for a quality bike that will provide you with a constant challenge, and has all the features that you could possibly need from an upright exercise bike.
→ Click here to buy the Schwinn 170 Upright Bike
However the 130 model may also be worth considering if you are on a tight budget, or if you don't really need all these resistance levels and programs.
Additional Buying Options
If you are considering buying this exercise bicycle but are worried about damaging your floor, or don't like the idea of sweat dripping on to your carpet, for example, you can now buy a black 48 x 36 inch protective mat from Schwinn that you can place underneath this bike.