Introduction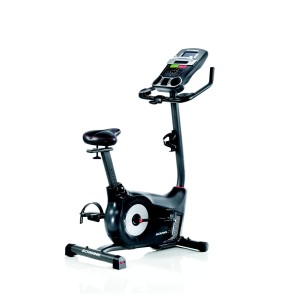 The Schwinn 170 upright exercise bike first went on sale back in 2013 if I remember correctly, and it is basically the upright version of the 270 recumbent bike that I reviewed a few weeks ago.
This top-of-the-range upright bike from Schwinn has many of the same features and specifications, including 25 levels of resistance, 29 workout programs and the same 2-window LCD display.
However it is still worth listing some of the main features of this Schwinn 170 bike because this is an impressive exercise bike in its own right.
Features And Benefits Of The Schwinn 170 Bike
25 resistance levels
29 workout programs
smooth and quiet in operation
large 2-window LCD display
13 different display readouts (speed, time, distance, etc)
full goal tracking capabilities (with data export)
stores user settings for 4 different people
built-in heart rate monitor
oversized pedals with toe straps
fully adjustable seat and handlebars
water bottle holder
USB port and speakers
3-speed cooling fan
easy to assemble
accommodates users up to 300 pounds
10-year frame warranty
2-year mechanical warranty, 1-year electrical warranty
Product Dimensions / Weight
This Schwinn 170 exercise bicycle has exact product dimensions of 41.3″ (L) X 21.4″ (W) X 55.6″ (H) and weighs 62.8 lbs when it is fully assembled.
Plus Points
If you take a look at some of the reviews online, you will see that the Schwinn 170 Upright Bike has received a lot of positive feedback since it first went on sale back in 2013, and it is easy to see why because it is fully loaded with some impressive features that you don't usually find on a machine in this price bracket.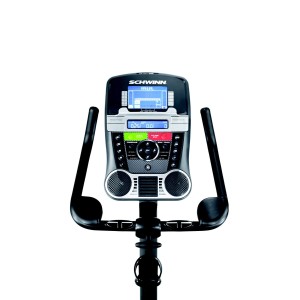 For instance, you will find that it is easy to keep yourself entertained during your workout thanks to the USB port, the media tray for your iPad or book and the built-in sound system, and there is even a 3-speed fan that keeps you cool during your workout.
The LCD display (pictured right) is also really impressive because it can tell you 13 different pieces of data (speed, time, distance, calories burned, pulse, resistance level etc), and it is easy to track your performance over time thanks to the goal tracking component and the ability to export data to Schwinn Connect and Myfitnesspal.com.
Finally from a practical point of view, the Schwinn 170 is said to be really easy to assemble and provides you with a smooth and very quiet workout, which is what you want from a home exercise bike. It also offers lots of variations with its 29 workout programs, and is suitable for people of all fitness levels as there are a total of 25 magnetic resistance levels.
Plus it comes with a lengthy 10-year warranty on the frame, a 2-year mechanical warranty and a 1-year electrical warranty should anything go wrong after you purchase this machine, which gives you peace of mind.
Negative Points
As with most exercise machines, there are a few negatives that a few people have commented on.
The biggest complaint seems to concern the actual packaging because several people have complained that some of the parts were broken on arrival, which is obviously disappointing. So there is a small chance that you will have to request replacement parts if this happens to you.
However if you read some of these customer reviews, you will see that this doesn't seem to be a problem any more because most of the recent reviews from the last few months have been overwhelmingly positive, and this no longer seems to be an issue.
Apart from this, a few people have complained about the quality of the parts and have complained about one or two issues with parts breaking, but the vast majority of reviews have been extremely positive, with many users pointing out that this bike represents good value for money on the whole because it is generally a solid and sturdy machine.
How The 170 Model Compares With Other Models
The 170 model is currently Schwinn's top-of-the-range upright bike at the time of writing. However they have also created the 130 bike, which is cheaper than the 170, but also has fewer programs and resistance levels.
It does have many of the same features, therefore it is still a pretty good bike, but the 130 model only has 20 resistance levels, 22 workout programs and user settings for just 2 people.
So the Schwinn 170 upright bike is arguably the model to buy if you are looking for a quality bike that will provide you with a constant challenge, and has all the features that you could possibly need from an upright exercise bike. However the 130 model may also be worth considering if you are on a tight budget, or if you don't really need all these resistance levels and programs.
Where To Buy The Schwinn 170 Upright Exercise Bike
If you would like to buy this impressive Schwinn 170 bike, it is still available to buy from Amazon, where you can also read all of the customer reviews that have been posted in the last couple of years since it first went on sale:
→ Click here to visit the Schwinn 170 product page
Additional Buying Options
If you are considering buying this exercise bicycle but are worried about damaging your floor, or don't like the idea of sweat dripping on to your carpet, for example, you can now buy a black 48 x 36 inch protective mat from Schwinn that you can place underneath this bike.