Introduction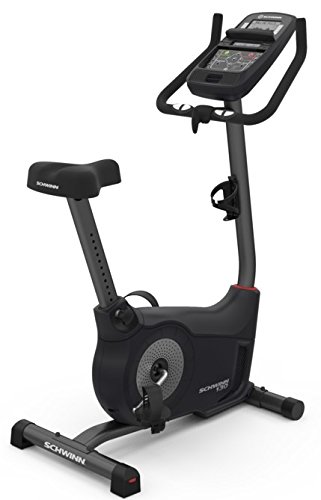 The Schwinn 130 Upright Bike has been one of the top-selling exercise bikes for quite a few years now because it features a number of resistance programs and workout programs and is loaded with extra features, despite being quite an inexpensive bike.
However Schwinn recently updated this model for 2016, and it is this new model that I want to review in this article.
In truth there is not much difference between the new model and the old model because they both have the same features and specifications, but the makers of this bike claim that the latest model has a more user-friendly console, with a different layout and color scheme.
So this new Schwinn MY16 130 Upright Exercise Bike would appear to be a slight improvement on the previous model.
Features And Benefits
20 electronic resistance levels
22 workout programs
high-speed high-inertia flywheel
padded contoured seat
adjustable padded handlebars
dual track 2-window LCD display
track time, distance, speed, calories, etc
2 user profiles
USB port and speakers
3-speed cooling fan
integrated levelers and transport wheels
media tray
smooth and quiet in operation
accommodates users of all heights
suitable for anyone up to 300 pounds
Product Dimensions / Weight
The exact dimensions of this updated Schwinn 130 bike (in inches) are 41.3 (L) x 21.4 (W) x 55.6 (H), so it has quite a small footprint, and although it has a very sturdy frame, it is not particularly heavy either as it has a total weight of 58.4 pounds when it is fully assembled.
Positives
As mentioned earlier, the key benefit of this new MY16 130 Bike is that it has a more user-friendly console with an improved layout and color scheme. Therefore it is now slightly easier to use and clearer to read.
Otherwise it is largely the same as the previous model, with the same mechanical components and the same specifications.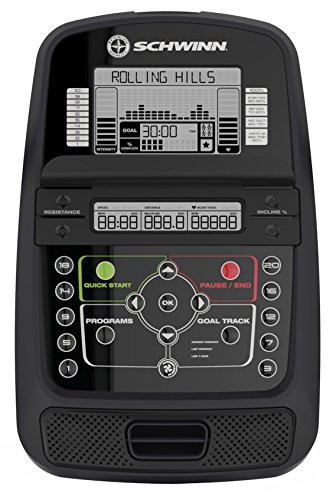 The console itself is just as impressive as before because it has a two-window LCD display that indicates a number of different metrics, including time, speed, distance, calories, RPM, heart zone indicator, % complete indicator, intensity meter, goal achievement and pulse, as well as the current resistance level and course profile.
Talking of which, there are 20 (eddy current brake) resistance levels in total, which can be controlled electronically using the buttons on the console, as well as 22 individual workout programs.
These are made up of 9 profile programs, 8 heart rate programs (for beginners and advanced users), 2 fitness test programs, a quick start program and 2 custom programs.
So there are plenty of workout options for people of all fitness levels because you can either cycle at your preferred level of intensity, or you can use one of the many different preset programs or create your own custom programs to add some variety to your workouts.
It is also easy to monitor your performance as well because this console has a USB port that will enable you to transfer your data to Schwinn Connect or a number of third-party fitness apps, including MyFitnessPal, GoogleFit, UA, Apple Health, Endomondo and MapMyRun/Ride.
In addition, this console has built-in speakers and an MP3 input that will enable you to play all of your favorite music, as well as a three-speed fan to keep you cool. There is also a media tray that you can use to place your phone or tablet device on if you want to watch a TV program or a movie whilst you are working out.
The bike itself has a solid frame that can accommodate users up to 300 pounds, and has a high-speed high-inertia drive system that delivers a smooth and comfortable workout experience. There should be no movement either because there are two integrated levelers on the bottom that will keep it stable.
With regards to comfort, this Schwinn 130 upright bike has a padded contoured seat that can be adjusted upwards and downwards to find the most comfortable riding position, and also has padded handlebars that can be adjusted to different angles.
So it really is suitable for people of all heights, which cannot be said about some of the other upright bikes in the same price range.
Finally, it is worth mentioning that this particular exercise bike is backed by a 10-year warranty on the frame, and comes with a 2-year mechanical warranty and a 1-year electrical warranty.
Negatives
If you do decide to buy this new improved Schwinn 130 bike, you clearly get a lot for your money because it is loaded with workout options and extra features.
However as with any cardio machine, there are a few minor faults that are worth highlighting in order to provide a balanced review.
For a start, the beeps of the console are quite loud and the volume cannot seemingly be turned down, so this may be an issue if you are using this machine early in the morning or late at night, for example, because it may disturb other people in your home.
In addition, the seat can only be adjusted upwards and downwards (not forwards and backwards), but this should still be sufficient to accommodate people of all heights in all fairness.
Finally, if you decide to place your phone or tablet on the media tray, you will inevitably cover the top window of the LCD display. Therefore you may not be able to see your performance data whilst watching TV shows or movies on your electronic device.
Final Thoughts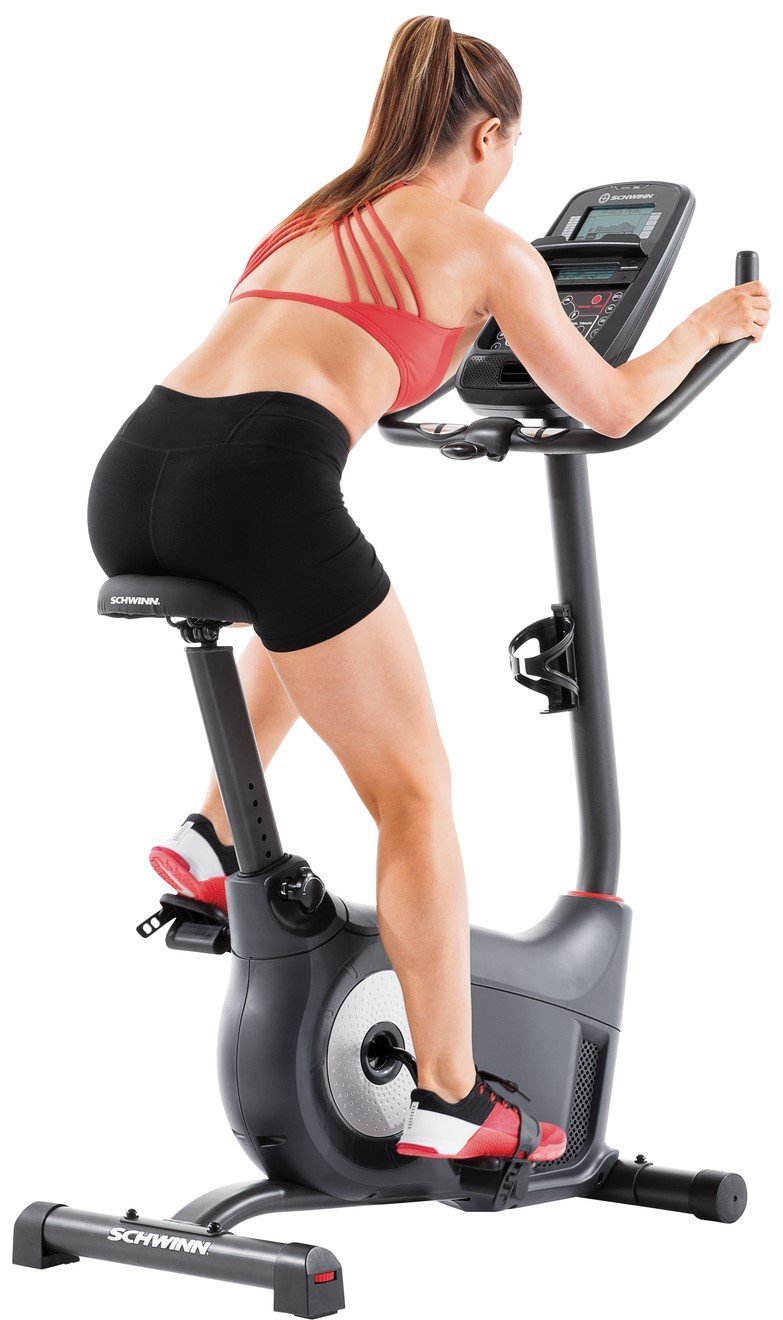 The new Schwinn MY16 130 Upright Exercise Bike does have a few flaws, but these are all minor issues that shouldn't necessarily put you off buying this machine because considering the relatively low price, it does provide you with numerous workout options with its 20 levels of resistance and its 22 training programs.
It also has plenty of extra features that you don't normally find on many of the cheaper upright bikes, such as a three-speed fan, a built-in sound system and a very comprehensive LCD display console with electronic resistance and program buttons.
Plus unlike many other upright bikes, it actually has a really comfortable seat, which means that you can easily work out for long periods without any pain or discomfort.
So as I say, this is an affordable exercise bike for the home that represents excellent value for money on the whole.