Introduction
There are lots of new exercise bikes being developed all the time, but one that has stood the test of time is the Phoenix 98623 Revolution Cycle Pro II Bike.
This has been on sale for many years now, and has received lots of positive customer reviews during this time because it is a strong, well-made machine that has a large weight capacity, and features a large flywheel that delivers a smooth and efficient workout.
Subsequently it is one of the top low-cost exercise bikes that you can buy, as you will hopefully discover for yourself in the rest of this review.
Key Features And Benefits
large 39.6-pound flywheel
solid construction
heavy-duty brake pad resistance system
two-way adjustable seat and handlebars
emergency stop brake system
racing style pedals
pedal forwards or backwards
includes water bottle holder and transport wheels
suitable for anyone up to 250 pounds
Product Dimensions / Weight
This may be quite a low-cost bike compared to some of the others, but with an overall weight of 113 pounds, it is clearly a very strong and sturdy machine and is still easy enough to move around because it comes with its own transport wheels.
If you would like to know how much space it will take up in your home, its exact dimensions (in inches) are 42.3 (L) x 24 (W) x 42.5 (H).
Positives
One of the main qualities of this Phoenix Revolution Cycle Pro II is the quality of the construction because this is quite a heavy bike that is made from strong materials, and is likely to last you a very long time.
Indeed some people have said that this machine was just as strong as some of the commercial bikes that they have used in their local gym.
However it is not just the build quality that makes this particular machine stand out because it also delivers a smooth and comfortable workout as well, which is equally as important.
You will see that it comes with a large flywheel at the front, which is one of the key features that you should look for when choosing an indoor cycling bike, and has a chain drive system that delivers a smooth workout.
In addition, it also has a wide range of resistance that you can adjust using the tension knob, and the actual resistance system has been designed to withstand regular use because it has two heavy duty brake pads.
Plus you can adjust the seat upwards and downwards, as well as forwards and backwards in order to find the perfect riding position, and you can also move the handlebars upwards and downwards if you require further adjustments.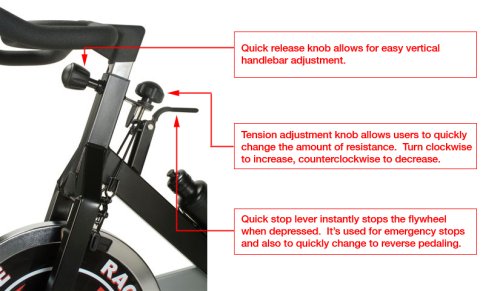 So there are plenty of positive aspects of this low-cost machine, but there are also a few negatives that I should point out as well.
Negatives
One of the biggest issues that I have with this Phoenix bike is that it doesn't come with an LCD display. I know that you don't really need one on a spin bike, but I, along with many other people, like to keep track of my performance during the course of each workout.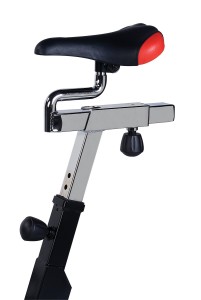 Another slight issue is the seat because many users have reported that it is very uncomfortable to sit on. So unless you are going to be standing up most of the time, you might want to buy a gel seat cover or replace it with a more comfortable seat.
Finally, because this machine uses a chain drive instead of a belt drive, it is a little noisier than some of the other exercise bikes (but is still fairly quiet). Plus as some women have reported, it doesn't appear to be particularly comfortable for shorter people who are less than 5 feet tall, for example, because of the way it is designed and the fact that you can't adjust the handlebars forwards or backwards.
Final Thoughts
This is quite an old model now, and you can now buy cheaper machines such as the Fitleader Stationary Bike and the Bladez Fitness GS II Bike, for example, that come with their own LCD displays so that you monitor your performance, and are equally as strong and sturdy.
Nevertheless considering the relatively low price of this Phoenix 98623 Revolution Cycle Pro II Exercise Bike, I would still say that it represents fairly good value for money if you are thinking of buying it because it delivers a smooth workout with a wide range of resistance, and is clearly a very solid machine.
Yes there are a few negative points, as I have discussed above, but this is to be expected with any bike in this price range. Overall it is still a really good machine if you are on a budget and cannot afford to buy one of the top-end bikes.
→ Click here to buy the Phoenix Revolution Cycle Pro II Bike