Introduction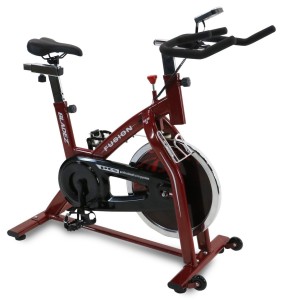 If you have been swept along by the surging popularity of indoor cycling classes, you might want to consider buying your own bike that you can use at home because this will work out a lot cheaper in the long run.
That's because some of the top low-cost models now cost about the same as 10-15 classes at your local gym, and in many cases are equally as good as the bikes that you might use in these classes.
One low-cost bike that has been getting a lot of positive reviews is the Bladez Fitness Fusion GS II Indoor Cycle, which is the machine that I want to review in this article.
Features And Benefits
heavy duty steel frame
ultra smooth 40-pound flywheel
includes LCD display
track time, speed, distance, calories, etc
dipped racing-style handlebars
4-way adjustable seat
3-piece pedal crank
sports pedals with toe baskets
easy to assemble
suitable for anyone up to 275 pounds
Product Dimensions / Weight
The exact dimensions of this indoor cycling bike (in inches) are 47.5 (L) x 20 (W) x 43 (H), and it weighs approximately 85 pounds when fully assembled (with a total weight capacity of 275 pounds).
Positives
The first thing to say about this GS II Indoor Cycle is that it is an improvement on the original Fusion GS Indoor Cycle. Subsequently there have been improvements made to the frame, seat and handlebars in particular.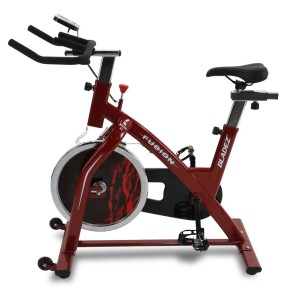 The frame itself has a new design with a new handlebar post and stem, and because it is made from steel, it is once again exceptionally strong and sturdy.
The handlebars are ideal for spinning-type workouts because you can use various different hand positions, and the seat is similar to a road bike because it is thin and narrow.
The major benefit of both the seat and the handlebars, however, is that they can both be adjusted forwards and backwards, as well as upwards and downwards. Therefore this bike can easily be used by people of all sizes with a few simple adjustments.
Another excellent feature of this bike is that it has a large 40-pound flywheel that guarantees a smooth and natural feeling workout with consistent momentum. Plus although it uses a chain drive mechanism, it is still exceptionally quiet according to customer reviews.
Like many indoor cycling bikes, this bike has an adjustable resistance knob with infinite resistance (as opposed to fixed resistance levels), so it is very easy to adjust the overall intensity throughout your workout. Plus you can simply push down on this knob if you want to make use of the emergency stop feature at any time.
In addition, this bike also has sports pedals with toe baskets so that your feet are fully secure throughout your workout, and unlike many other indoor cycling bikes, this one comes with its own LCD display console so that you can track time, speed, distance, total distance and calories.
Finally, this Fusion GS II bike is said to be extremely easy to assemble compared to most exercise machines, and is covered by a lifetime warranty on the frame and a 1-year warranty that covers the computer, parts and other items that are prone to wear and tear should anything go wrong.
Negatives
This is one of the more affordable low-cost indoor cycling bikes on the market, so it obviously doesn't have lots of extra features.
For instance, there are no workout programs of any description and it doesn't come with any pulse monitors to help you keep track of your heart rate.
In addition, it doesn't have fixed resistance levels, which some people prefer because it enables them to get the exact same workout every time.
It is also worth pointing out that although the seat and the handlebars have fore/aft and up/down adjustments, a few shorter people have said that they had difficulty reaching the handlebars comfortably, which is obviously not ideal.
Finally, a lot of people were disappointed with the seat on this bike because it is apparently hard and really uncomfortable, but that's the case with many indoor cycling bikes and you usually get used to them after a while. If you do buy this bike, however, and find this to be a problem, you can always buy a gel seat cover to rectify this problem.
Final Thoughts
The Sunny Health and Fitness bikes have long been one of the best choices for those people looking to buy a low-cost indoor cycling bike for their home. However this new and improved Bladez Fitness bike, which first went on sale in 2015, is worthy enough to be considered a serious rival.
This machine offers a smooth and consistent workout with infinite levels of resistance, and is very quiet in operation despite having a chain drive mechanism. It also has a strong and stable steel frame and unlike the Sunny bikes, this one actually comes with its own LCD display.
So despite having an uncomfortable seat and very few extras other than a water bottle holder and transport wheels, it is still a top quality machine for people on a budget because it offers a good all-round workout and should last a long time because of its build quality.
→Click here to buy the Bladez Fitness Fusion GS II Indoor Cycle