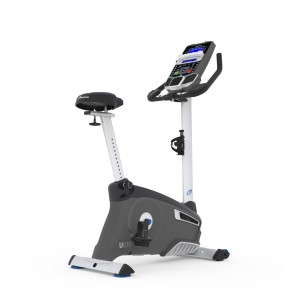 Many people assume that you need to spend at least $1000 if you want to buy a good quality exercise bike, but the Nautilus U616 Upright Bike is an example of a low-cost model that has some impressive features and delivers a really good workout.
This was originally Nautilus' top-of-the-line model before it was superceded by the U618 model, but it is still available for a very reasonable price, and is arguably one of the most impressive models in this price range.
Here is a list of some of the main features and benefits of this particular machine:
Features And Benefits Of The Nautilus U616
25 levels of eddy current resistance
29 workout programs
smooth and quiet in operation
easy to assemble
dual-track two-window LCD display
bluetooth goal tracking and data export
connects with 3 different fitness apps
4 user profiles
padded and contoured seat
adjustable angled handlebars
3-speed cooling fan
built-in speakers
water bottle holder
media tray
transport wheels
suitable for people up to 300 lbs (136 kg)
Product Dimensions / Weight
This particular machine weighs 68.6 lbs (31.1 kg) and its exact dimensions (in inches) are 41.8 (L) x 21.6 (W) x 57.6 (H) when it is fully assembled. So it is relatively light and easy to move around if required, particularly as it comes with its own transport wheels.
Pros
There are a number of reasons why you might want to consider purchasing this Nautilus U616 model to help you keep fit at home.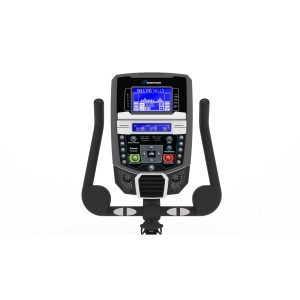 To begin with, this bike boasts a lot of useful features. For example, the impressive two-window backlit LCD display (pictured right) displays 13 different readouts and stores data for 4 different users.
It also has bluetooth connectivity, which means that you can export your performance data and monitor your progress using three different fitness apps (Nautilus Connnect, Nautilus Trainer and MyFitnessPal).
In addition, there is an MP3 port and some acoustic speakers built into this console that will enable you to listen to all your favorite music whilst you work out, as well as a media tray for your book, magazine or tablet and a built-in fan to cool you down.
However it's the quality of the workout that matters more than anything, and it's hard to find too many faults here either. That's because there are 25 levels of resistance to satisfy people of all fitness levels, and 29 preset programs for you to work through, which include 1 quick start, 12 profile, 9 heart rate, 2 fitness test, 1 recovery test and 4 custom programs.
Furthermore, the workout itself is said to be smooth and quiet, thanks largely to the high-speed high-inertia drive system and the weighted flywheel, and it is easy to find the most comfortable riding position because you can angle the handlebars, and adjust the seat up and down as well as forwards and backwards as required.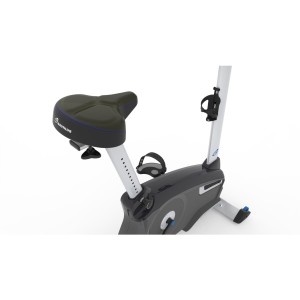 The seat is not bad either because it is supposedly a lot more comfortable than most other exercise bike seats, which is probably because it is extra large and is padded and contoured for maximum comfort.
Finally, the frame of the U616 bike is strong enough to support users up to 300 lbs and is backed by a 10-year warranty. There is also a 2-year mechanical warranty and a 1-year electrical warranty should anything go wrong.
Cons
It is actually hard to find any real faults because even the seat is a lot more comfortable than most, which is something that many users often complain about.
Some people have complained about the app connectivity in the past, saying that some of the apps that it connects to are only available on certain devices, but after doing some research, I understand that Nautilus Connect, Nautilus Trainer and the MyFitnessPal apps are all available on Android and Apple devices, so this shouldn't be an issue anymore.
Nautilus U616 v Nautilus U614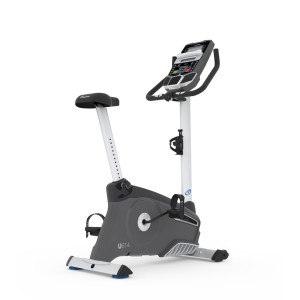 The U616 model is one of the best upright bikes from the Nautilus range, but it is also worth pointing out that there is a similar model available – the Nautilus U614 (pictured right) – that is a lot cheaper and has many of the same features, such as a cooling fan, a media tray, a water bottle holder, acoustic speakers, transport wheels and a USB and MP3 port, for example.
However the U614 only has 20 resistance levels and 22 workout programs (compared to this one that has 25 and 29 respectively), and doesn't come with bluetooth connectivity (although it does still have a data export facility and can connect to a few fitness apps).
In addition, the seat is a lot more basic on the U614 model and doesn't have fore/aft adjustments, so it is therefore a little more uncomfortable. It doesn't have a backlit display or oversized deluxe pedals either, like this one does. Furthermore it only has a contact pulse monitor, unlike this U616 model which not only has a contact monitor, but is also compatible with a telemetry chest strap monitor as well.
Nevertheless the U614 model is still a good alternative if you are on a budget and don't require some of these features.
Final Thoughts
It is fair to say that both the Nautilus U614 and the Nautilus U616 are very reasonably priced, and represent good value for money on the whole.
If you want a good quality upright bike with a wide range of resistance levels and workout programs, and don't really require the bluetooth facility, then you might want to buy the Nautilus U614 Upright Bike because this seems to be an excellent entry-level bike that will give you a smooth and quiet workout, and has lots of useful extras.
However if you would like even more workout programs and resistance levels, and would preferably like a more comfortable seat, better pedals and full bluetooth functionality, then you might want to buy the Nautilus U616 instead.