Introduction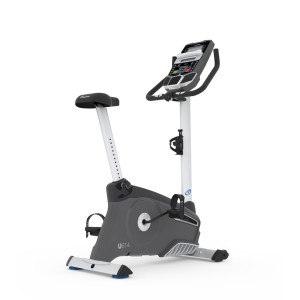 A lot of people are choosing to buy a spin bike these days because these offer a much more realistic riding experience and are obviously ideal for spinning workouts, but fitness companies are still producing some impressive stationary bikes that are well worth considering.
One such model is the Nautilus U614 Upright Bike because this is a relatively low-cost exercise bike that has some impressive features for a bike in this price range.
This bike first went on sale towards the end of 2014, but has received a lot of positive reviews on various different websites since then. So in this article I want to take a closer look at this upright exercise bike to see why it is so highly rated.
Key Features And Benefits
20 magnetic resistance levels
22 workout programs
2 user profiles
dual track LCD display
grip heart-rate monitors
adjustable padded seat and handlebars
built-in acoustic speakers and MP3 port
charging USB port and data export facility
compatible with 2 popular fitness apps
media tray for your book or tablet
3-speed cooling fan
smooth and quiet in operation
easy to assemble
accommodates users up to 300 lbs
Product Dimensions And Weight
According to the Nautilus website, this particular exercise bike weighs 68.1 lbs (30.9 kg) when fully assembled, and its dimensions (in inches) are 41.8 (L) x 21.6 (W) x 57.6 (H), so it is quite a light, compact machine that doesn't take up a great deal of space.
Positives
When you consider the low price of this machine, you have to say that Nautilus have really overdelivered on this one.
For a start, this Nautilus U614 Bike eclipses many other low-cost bikes by providing 20 resistance levels that will test people of all fitness levels.
Plus unlike many budget exercise bikes that don't tend to come with any workout programs at all, this one actually includes 22 workout programs (9 profile, 8 heart rate controlled, 2 fitness test, 2 user profiles and a quickstart program) so that you can vary your workouts and continue to challenge yourself.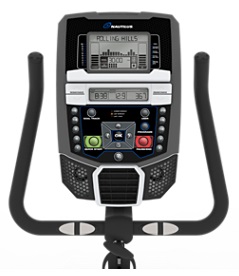 It also has a large dual-window LCD display (pictured right) that will allow you to monitor your time, speed, RPM, pulse rate, calories burned and distance covered in two different locations.
This display unit also includes an MP3 port and built-in acoustic speakers so that you can listen to your favorite music, as well as a 3-speed cooling fan and a USB port that can connect to the Nautilus Connect website and the popular MyFitnessPal app in order to track your performance and monitor your progress.
There is even a media tray so that you can read a book or a magazine during your workout, or watch all of your favorite TV shows and movies on your tablet, for example, which will make your workout a lot less tiresome.
In addition to this, the workout itself is said to be smooth and quiet thanks to the high speed, high inertia flywheel, and has a comfortable padded seat that can be adjusted up and down, and ergonomic handlebars that include built-in heart rate sensors so that you can monitor your pulse.
Finally it's also worth mentioning the warranties because this Nautilus U614 model comes with a 10-year warranty on the frame, a 2-year warranty on mechanical parts and a 1-year warranty on electronics.
Negatives
It's actually quite hard to come up with any negatives because for such a low-cost bike, it offers many of the same features that you might find on an exercise bike that costs twice as much.
Indeed it is hard to find any negative comments at all if you search online because most people seem to agree that this U614 model is a strong, sturdy and reliable machine that is smooth and relatively quiet in operation, offers lots of customizable workout options, and is relatively easy to assemble because it comes with clear easy-to-follow instructions.
It has even received praise for the quality of its speakers, because unlike some other machines that can sound a little tinny, these ones are surprisingly good quality.
Inevitably, there will always be some people who complain that the seat is a little hard, despite the fact that it is a padded seat, but this doesn't seem to be a common complaint. Indeed it can easily be replaced if you do find it to be a little hard yourself.
The only other issue is that it doesn't have a backlit display, which means that it can be quite hard to read all of the data if it is a little dark.
On the whole, though, it is fair that there are no major problems that could potentially act as a deal-breaker if you are considering buying this particular model.
Where To Buy The Nautilus U614 Upright Bike
If you would like to buy this U614 upright exercise bike from Nautilus, it is available from Amazon and a few other online retailers:
→ Click here to visit the product page at Amazon.com
Here you will find a short demonstration video that you might find useful, and you can of course read all of the customer reviews that have been posted so far.
Also Worth Considering
This is a very good exercise machine in its own right, but you can now buy an even better version of this bike if you are prepared to spend a little more.
The Nautilus U616 is similar in many ways to this model as it has a lot of the same extra features. However this top-end model comes with more resistance levels and workout programs, and has a larger and more comfortable seat that you can move forwards and backwards as well as up and down.
It also has deluxe oversized pedals and a backlit display console that is easier to read, and has the ability to sync performance data to some of the top fitness apps such as MyFitnessPal, Nautilus Trainer and Nautilus Connect using the latest bluetooth technology.