Introduction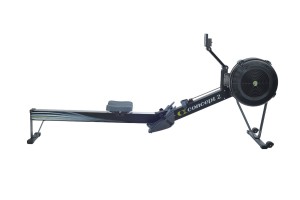 If you are looking to buy a top-end rowing machine for your home, there is every chance that the Concept 2 Model D Indoor Rowing Machine is right at the top of your wishlist.
That's perfectly understandable because this is the rowing machine of choice for many gym chains, and is often used by professional rowers to train on when they are not rowing on the water, which is another sign of its overall quality.
There's no getting away from the fact that this is an impressive machine, but in this article I want to take an in-depth look at this Concept 2 rower to see what makes it so special, and examine why you should consider buying this particular model.
Key Features And Benefits
smooth and quiet flywheel
strong and sturdy frame
responsive air resistance system
now includes Performance Monitor 5
track speed, distance, pace, calories and watts
adjustable monitor arm
includes pre-set workouts and games
Bluetooth Smart connectivity
wireless connectivity for person-to-person racing
can be stored in two pieces
suitable for people up to 500 pounds
5-year warranty on frame
2-year warranty on PM5 and parts
Product Dimensions And Weight
This is a heavy duty rowing machine that has a very solid construction, so it is naturally heavier than many other rowing machines at 57 pounds (26 kg), but is still a lot lighter than the WaterRowers and the Sole SR500 rower, for example.
It is also quite a lot bigger than many of the cheaper rowing machines because you will need a clear space of at least 9 feet x 4 feet in order to use this machine comfortably.
Pros
There are many reasons why you should consider buying this top-end Concept 2 Model D rower.
For a start, this is a commercial-grade machine that is built to last and capable of withstanding regular use without any problems. Indeed it has a weight capacity of 500 pounds, which means that pretty much anyone can use it.
It has a nickel-plated chain that only requires occasional oiling every so often, so it is very easy to maintain, and you should find that it is very easy to assemble straight out of the box.
Once assembled, you will find that the workout itself is smooth and quiet, and has a high performance air resistance system that responds to your every stroke.
So in other words, if you want to increase the resistance of your workout, you just need to increase the intensity of your rowing stroke. There is no need to mess with any resistance levers at all.
The only setting that you might want to adjust before you begin your workout is the damper setting (which controls the airflow to the flywheel) because this can be adjusted from 1 to 10, and will affect the feel of your workout.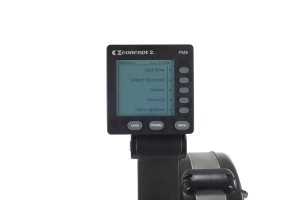 Another positive feature of this Concept 2 rower is that unlike older models, it now comes with the Performance Monitor 5 as standard.
This impressive monitor will track your performance data and give you key readouts such as distance, speed, pace, calories and watts, but also has Bluetooth and wireless capabilities that will allow you to connect to a wireless heart rate monitor and race against other people from around the world using a third-party app, for example.
It also has pre-set games and workouts built in that you might not to use to make your workouts more interesting.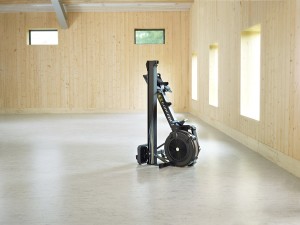 Finally, it is also worth mentioning that this machine can be separated into two pieces for easy storage if you are worried about it taking up too much space in your home.
Overall, though, it is the smoothness and the quality of the workout, along with the strength and durability of this machine that makes it stand out from all of the others. The fact that it now comes with the latest Performance Monitor makes this an even better investment because you now have so many more connectivity options.
Cons
It is very hard to find too many faults with this particular machine because having used this machine many times in the gym, I have never encountered any problems at all.
I guess you could argue that the monitor is a little on the small side, but you can always move it closer using the adjustable arm.
Some people would also argue that it takes up a little too much space with a footprint of 9 feet x 4 feet, but that's the sacrifice you have to make if you want a high performance commercial-grade rowing machine such as this one.
Final Thoughts
There are a few cheaper options available if you want to get a decent workout in the comfort of your own home, and enjoy all of the benefits that rowing has to offer.
However there is a reason why the Concept 2 Model D rower is a favorite with many gym owners and professional rowers, and that's because this machine is built to last and offers a perfect rowing workout that responds intuitively to your every stroke with its smooth and quiet air resistance system.
Yes it costs a little more than most other models, but it is well worth paying extra if you want a top quality machine that will last you many years.
→ Click here to buy the Concept 2 Model D Rowing Machine
Also Available – The Concept 2 Model E Rower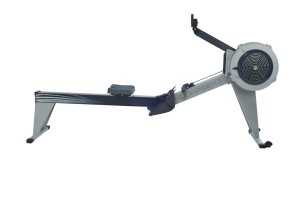 As you may have noticed, you can also pay a little bit more for the Model E Rowing Machine.
This one has a fully enclosed chain that requires less maintenance and a fixed monitor arm, but the key difference is that the Model E Rower is higher off the ground (20 inches) than the Model D Rower (14 inches), and a little bit heavier.
So if you have mobility issues and think you might struggle to get on and off the Model D rowing machine unaided, it might be worth paying more for the Model E rowing machine, but if not, you are probably better off going for the Model D instead.