Introduction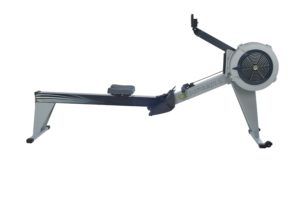 Many people choose to buy a Concept 2 rowing machine for their home because these gym-standard machines are built to last and deliver a really smooth and intuitive workout that works the whole body.
However it is important to note that there are currently two different models that you can buy – the Model D and the Model E rower – and although they may look very similar, they are a few key differences between then.
So as I have already reviewed the Model D rower, I thought it would be a good idea to review the slightly more expensive Model E Indoor Rowing Machine and take a look at this particular model in more detail.
Features And Benefits
provides full-body low-impact workout
ideal for toning, fitness and weight loss
smooth and quiet flywheel
intuitive air resistance system
includes backlit Performance Monitor 5
tall 20-inch seat height
nickel plated steel chain
separates in two pieces for easy storage
available in light gray or black
easy to assemble
suitable for anyone up to 500 pounds
Product Dimensions / Weight
If you have seen one of these Model E rowers in the gym, you will know that this is a large heavy-duty machine that takes up quite a bit of space. Its exact dimensions (in inches) are 96 (L) x 24 (W) x 20 (H), but you should have a clearance space of at least 9 ft x 4 ft to be able to complete your rowing strokes without hitting anything.
With regards to its weight, it is slightly heavier than the Model D rower with a total weight of 65 pounds, but it is still not as heavy as some of the other commercial-grade rowers that weigh over 100 pounds.
Positives
There are so many reasons why you should consider investing in this Concept 2 Model E rower that it is hard to know where to start.
One of the main benefits of this machine is that it is exceptionally well-made, with a super strong durable frame and a total weight capacity of 500 pounds, and is obviously designed for commercial use. So it should last a lot longer than many of the cheaper rowing machines that are available.
(If anything does go wrong, there is a 5-year warranty on the frame and a 2-year parts warranty).
Another key benefit concerns the quality of the actual workout because this machine has a flywheel that delivers a really smooth and quiet workout, and employs an intelligent air resistance system that responds to your every stroke.
You don't have to worry about adjusting the resistance yourself because if you want to increase the resistance, you simply need to increase the intensity of your rowing stroke, and ease off if you want to lower the resistance.
There is a damper setting from 1 to 10 that controls the airflow to the flywheel, but most people find a setting that they feel most comfortable with and leave it on this setting all the time.
Apart from this, it should be pointed out that this Model E rower is ideal for people who have any kind of mobility problems because it has a tall seat height of 20 inches, which is about the same height as a chair and makes it really easy to get on and off.
It also has adjustable footrests to accommodate different shoe sizes, and has an ergonomic handle with a 10 degree bend to ensure that you are able to row with a natural arm and hand position.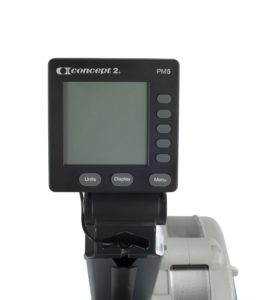 There are a few other benefits that are worth highlighting. For example, the Performance Monitor 5 is very impressive because it not only gives you detailed performance data, but it also has the ability to connect wirelessly to other Concept 2 rowing machines for races and training purposes, and can connect to a wireless heart rate monitor and a selection of fitness apps as well. It also has a backlight that makes it easy to read.
This Model E rowing machine is also easy to assemble in about 30-45 minutes because there are clear detailed instructions that are easy to follow, and it comes with a user manual and a performance monitor quick start guide that will show you how to use the monitor. Plus it can be separated into two pieces if you feel that it is taking up too much space in your home.
Finally, this machine is very easy to maintain because the nickel plated chain requires very little oiling and is fully enclosed to keep it cleaner for longer. So you can enjoy smooth and efficient workouts every time you use this machine.
Negatives
There are lots of user reviews of this particular rowing machine if you do a search online, and you will find that there are hardly any negative comments at all.
One minor flaw is that the monitor arm on this Model E rower is in a fixed position and cannot be adjusted, whereas it can be adjusted forwards and backwards on the Model D rower. However to compensate for this, you will find that the monitor arm is longer on this model so it should still be easy to read.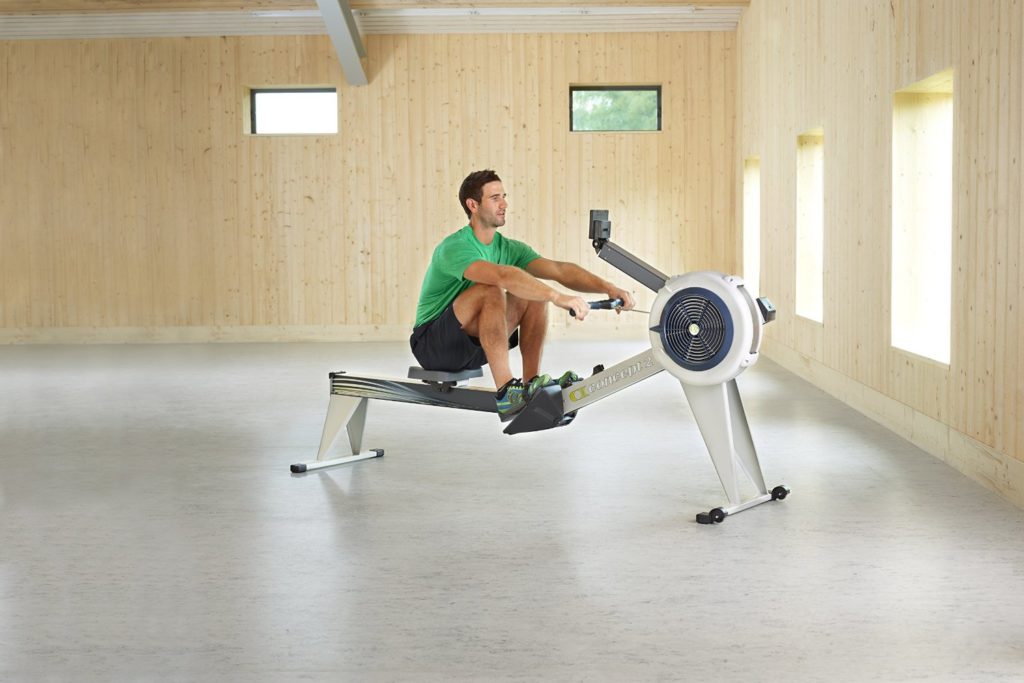 The size of this machine may also be an issue because this rower will obviously take up quite a lot of space in your home, but it can easily be separated into two pieces when it is not being used if this becomes an issue.
Final Thoughts
As a standalone machine, this Concept 2 Model E rower is undoubtedly a great investment because although it is not cheap to buy, it is designed to last a very long time.
The workout itself is second to none as well because it is smooth and quiet, and adjusts to each and every stroke so that you are in complete control of how much you want to push yourself.
The main difference between this model and the slightly cheaper Model D rowing machine is that this one has a much higher seat (20 inches vs 14 inches) and is therefore easier to get on and off.
It also has a nickel coated chain that requires less maintenance because it is fully enclosed, and has a longer monitor arm that is fixed in position, but it is the seat height that is the real difference between the two models.
So ultimately you have to decide whether you are prepared to pay more for the higher seat, or whether you would like to save yourself some money and buy the Model D instead.
→ Click here to buy the Concept 2 Model E Indoor Rowing Machine