Introduction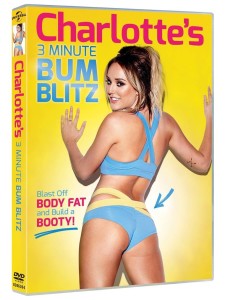 Charlotte Crosby's 3 Minute Belly Blitz DVD has been one of the top-selling fitness DVDs since it was first released at the end of 2014, and seems to have helped many women shed some of their unwanted fat and improve their overall fitness.
Therefore you may well be wondering if her follow up DVD – Charlotte's 3 Minute Bum Blitz – will be just as effective at burning fat and promoting weight loss.
As the title suggests, this new release aims to help you lose weight and build a firm and shapely bottom. So in this article I want to take a closer look at this new workout video to see what kind of exercises are included, and to see how effective it is likely to be in reality.
The Workouts
Charlotte Crosby has once again teamed up with Richard Callender, as well as David Souter, who is another professional trainer, and together they have created another series of workouts that are all based around short, high intensity workouts because these are very effective at burning fat.
Just like her previous Belly Blitz DVD, there are a series of 12 workouts altogether, each of which is just 3 minutes long. There are also some warm-up and cool-down exercises that you should do before and after your workouts.
This might not sound like much of a challenge, but these are extremely intense workouts that will really get your heart pumping and make you work up a real sweat.
Indeed you may well find that you can only do a few of these workouts per day to begin with because they are so physically demanding. That's perfectly normal.
The key is to build up your fitness slowly until you are able to all 12 in one go (or as many as possible), by which time you should find that you are losing a decent amount of weight and have a much more toned body as a result.
Bonus Features
In addition to the 12 main workouts that will burn fat from your entire body, there is also a 'Bum Blitz Extra' section included on this DVD, which features 10 minutes of additional exercises that are specifically designed to give you a more shapely bottom. So you may well find this useful if this is a problem area for you.
Demonstration Video
Charlotte Crosby has produced this short demonstration video that shows you some of the exercises that are included on this new 3 Minute Bum Blitz DVD:
Final Thoughts
It would be easy to assume that this is just a blatant attempt by Charlotte Crosby to make some extra money after the success of her first fitness DVD.
However looking at the intensity of the 12 three-minute workouts and the effectiveness of the additional bum blitz exercises (bearing in mind that these have all been devised by two well-respected personal trainers), these would appear to be equally as effective if you are looking to burn fat, improve muscle tone and build a shaplier bottom.
In fact a few people have said that this is even better than her first DVD, which is high praise indeed because this continues to receive very positive reviews.
So if you would like to buy Charlotte's 3 Minute Bum Blitz DVD and start performing these workouts yourself, you can order it now from this page at Amazon.
It is recommended that you perform these workouts 4-5 times per week, but I would imagine that just 2-3 times per week would be enough to start seeing some decent results over time, as long as you are eating sensibly as well.