Introduction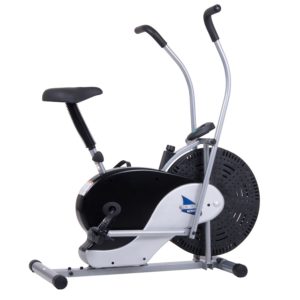 The Body Rider Fan Bike is a little different to your average upright bike because although it has adjustable resistance, it has a fan wheel at the front instead of a conventional flywheel, which helps to deliver a smooth and fluid workout and provides a gentle breeze to cool you down.
In addition, it also has rotating arms that are connected to the pedal system, thereby ensuring that you get a full upper workout every time you use this machine, unlike many of the other bikes that tend to have fixed handlebars.
This bike has been available to buy for a number of years now, but it is proving to be popular with home users once again because the latest model now comes with a softer seat that is said to be a lot more comfortable than previous models.
Features And Benefits
high momentum fan wheel
adjustable resistance knob
includes LCD display
track time, speed, distance and calories
adjustable cushioned seat
dual-action handlebars
providers upper and lower body workout
solid steel frame construction
suitable for users up to 250 pounds
Product Dimensions / Weight
As you might expect from such a low-cost bike, this Body Rider Fan Bike is quite a small and compact machine, with dimensions (in inches) of 45.6 (L) x 22 (W) x 45.5 (H).
With a total weight of 47.3 pounds, it is not particularly heavy either, but it is still strong enough to support users up to 250 pounds without any problems.
Positives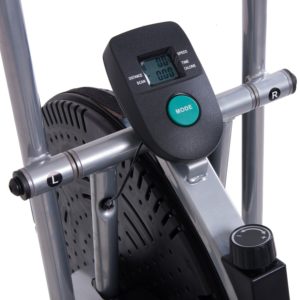 Any exercise bike is capable of giving you a decent cardiovascular workout that will help to improve your fitness, burn calories, lose weight and tone up your legs, but the BRF700 Fan Bike is one of the few bikes that will help to strengthen and tone your upper body and your core abdominal muscles as well.
That's because it has dual-action arms that move forwards and backwards as you pedal, with increased intensity as you increase the resistance.
There is a knob just below the LCD display that you can adjust upwards and downwards to make your workouts more (or less) challenging, and because this machine uses a fan resistance system instead of a magnetic resistance system, you will find that the fan wheel is smooth and consistent and generates a nice cooling breeze as you pedal.
The aforementioned LCD display is fairly basic, as is the case with many low-cost exercise bikes, but it will still indicate time, speed, distance and calories burned.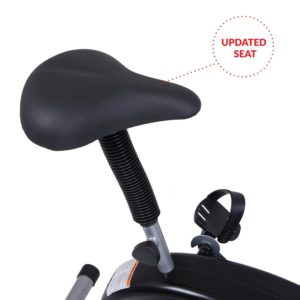 With regards to comfort, the makers of this bike have made a big effort to make this latest model a lot more user-friendly because after many people complained about the seat being too hard on previous models, this one has a softer seat with more cushioning.
So hopefully this means that users will no longer have to buy a replacement seat or a gel seat cover in order to use this bike without any pain or discomfort.
Another benefit of this Body Rider Fan Bike is that it has a solid steel frame construction that can support users up to 250 pounds, which means that many men and women will be able to use this machine.
Finally, although some assembly is required, many people have reported that it is relatively easy to assemble, and if anyone does go wrong with this machine, it is backed by a 1-year guarantee on the frame.
Negatives
It is worth remembering that this is still quite a basic machine with little in the way of extras. So there are no workout programs, for example, and no way to connect to any of your favorite fitness apps.
Indeed it doesn't even have any hand grip pulse sensors to help you record your heart rate, but that's not exactly a deal-breaker because these are notoriously inaccurate anyway.
Another drawback of this machine is that it is not exactly ideal for taller people who are over 6 feet tall because the seat can only be adjusted so much. It is still usable, but the pedal action may feel a little cramped and unnatural, particularly if you have long legs.
In addition, although it is fairly quiet in operation, it does have a fan resistance system that will inevitably make a little more noise than many of the bikes that have a magnetic resistance system.
Final Thoughts
If you are specifically looking to buy a fan bike, then the impressive Assault Air Bike is a much better option because it delivers a seriously intense workout and is strong enough to be used regularly in a commercial environment. Plus it has a much better display console with built-in workout programs.
However if you are looking for a much cheaper alternative, the new and improved BRF700 Body Rider Fan Bike is not a bad substitute because it is still a fairly strong machine that is capable of giving you a decent workout, and still has moveable arms that will work your abs muscles and strengthen your upper body.
→ Click here to buy the Body Rider Fan Bike
Demonstration Video