Introduction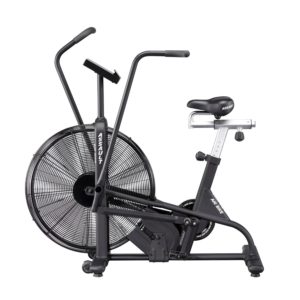 The Assault Air Bike Trainer could be described as an upright exercise bike, but in many ways it is a lot different to a conventional upright bike.
That's because this heavy-duty commercial-grade machine from LifeCore Fitness uses air resistance instead of magnetic or friction resistance, and therefore has a large fan wheel (similar to a standard house fan) instead of a flywheel.
Subsequently the level of resistance is determined by how fast you pedal, and you can make your workouts as hard as you want to them to be, which is why this bike is suitable for even the fittest of athletes.
In addition, it will also give you an upper body workout as well as a lower body workout, which isn't the case with most of the home exercise bikes that are available.
Features And Benefits
27-inch diameter steel fan
responsive air resistance system
provides upper and lower body workout
suitable for HIIT workouts and intense training
6-way adjustable seat
advanced LCD display
track time, distance, calories, watts, speed and RPM
pre-set and customized workout programs
smooth and powerful chain drive system
includes levelers and transport wheels
easy to assemble
can be used for home and commercial use
suitable for anyone up to 350 pounds
Product Dimensions / Weight
This Assault Air Bike is said to be very easy to assemble, and once you have put it together, it will have dimensions (in inches) of 51 (L) x 24 (W) x 49 (H).
The strength of the frame, along with the large air wheel, gives it a very solid and stable base, with a total weight of around 98 pounds.
Positives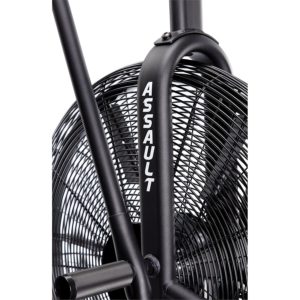 I have briefly discussed some of the benefits of this machine already, but it is worth looking at all of the key benefits of this Assault Air Bike in more detail to help you decide whether or not this bike is right for you.
To begin with, it is worth pointing out that this bike will give you a much more responsive workout than a typical upright bike. That's because there are no fixed resistance levels as such. If you want to make your workouts harder, you simply have to pedal harder, and vice versa if you want to make your workouts a little easier.
As a result, this machine will essentially provide you with infinite resistance. Therefore you will never outgrow this machine, no matter how much your fitness improves.
Another key benefit is that as well as improving your fitness level, assisting with fat burning and weight loss and toning up your legs, this LifeCore Fitness air bike will also give you a good upper body workout as well because the handlebars will move forwards and backwards in tandem with the pedals.
If you don't want to work your arms, you can simply rest your hands very gently on the handlebars, or remove them altogether and just use your legs.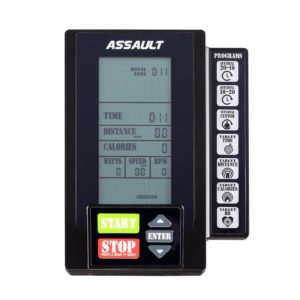 As well as being able to vary the resistance yourself, you can also use some of the pre-set programs that are available or customize your own programs. These include timed interval programs for HIIT workouts (20 seconds on and 10 seconds off, 10 seconds on and 20 seconds off), as well as target programs based on distance, calories or time, for example.
These can be chosen (or set) by pressing the buttons on the right hand side of the LCD display unit, which displays key data such as time, distance, calories, watts, speed and RPM all on one screen. Plus if you want to monitor your heart rate, it is equipped with a wireless heart rate signal to enable you to use your favorite wireless chest strap monitor.
With regards to comfort, this particular air bike has a fully adjustable seat to help you find the perfect riding position. As well as being able to adjust the seat upwards and downwards, you can also adjust it forwards and backwards and tilt it upwards and downwards as well.
The pedals are fairly basic, but they do have some grips on them to prevent your feet from slipping off during your workouts.
Finally, it is worth mentioning the quality of construction because this Assault Air Bike Trainer has a strong steel frame and has 20 sealed cartridge bearings and oversized pivots to ensure that it is suitable for a commercial setting.
This gives it an overall weight capacity of 350 pounds, and guarantees that it can be used over and over again by multiple users in a gym or an army training camp, for example, without developing any problems.
Negatives
As is the case with any exercise machine that uses a responsive resistance system, one slight drawback is that you can't get the exact same workout from one day to another, like you can on an upright bike that has fixed resistance levels.
In addition, because the handlebars will always rotate forwards and backwards, you cannot simply rest your hands on them, like you would on a normal exercise bike. You have to either grip them very lightly, as I mentioned earlier, or remove your hands altogether.
Another slight problem is that the LCD display isn't backlit, so you may have trouble reading the display in a room that isn't well lit.
Finally, you may find that the seat is not as comfortable as you might like, in which case you may have to buy a replacement seat or buy a gel seat cover if you find that it is too uncomfortable to use.
Final Thoughts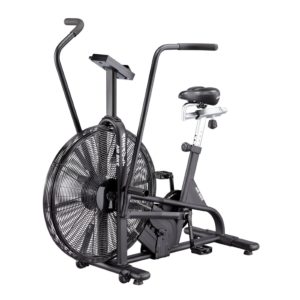 The good thing about this bike is that it is perfect for people of all fitness levels, but it is particularly beneficial if you are someone who really wants to push yourself hard with some intense CrossFit or HIIT workouts.
That's because it offers unlimited resistance and has a range of programs that you can use for timed interval workouts and for targeted workouts based on time, distance or calories.
Plus because of the quality of the parts and the overall construction, it is strong enough to be used for many years in both a home and commercial environment, which cannot be said about many of the other exercise bikes in this price range.
So you shouldn't be put off by the unconventional look of this particular exercise bike because it is exceptionally strong and will really push you a lot harder than a standard upright bike.
→ Click here to buy the LifeCore Fitness Assault Air Bike Trainer