If you have never used a rowing machine before, you might automatically assume that this particular exercise machine mainly targets your arms and your legs.
However whilst you can indeed strengthen and tone your arms and legs, it is worth pointing out that rowing is also a very effective abs workout that can help you develop that treasured six-pack that so many people dream about.
There are two simple reasons why this is the case, which are as follows: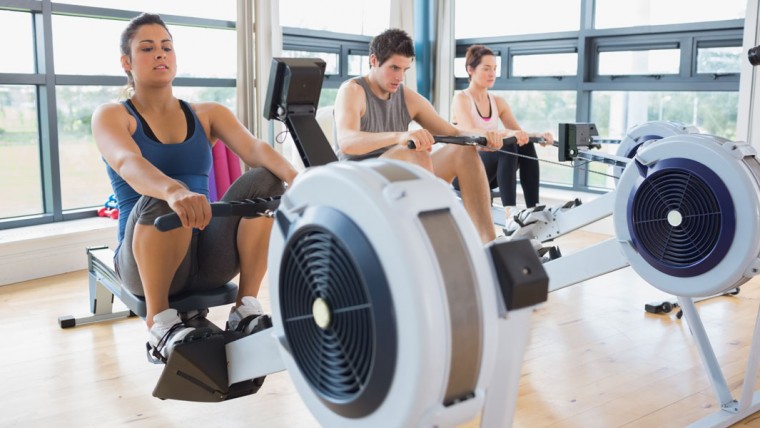 1. Rowing Targets Your Core Muscles
When you complete your rowing action, you are actually engaging the core muscles in your mid-section because these help to prevent your lower back from collapsing and stabilize your back so that it remains in an upright position.
So whilst you won't necessarily develop an impressive six-pack after just a few days or weeks, you will be strengthening your core muscles and adding some definition to your abs if you row on a regular basis, providing of course that you maintain good form with each and every stroke and don't round your back, which can happen if you have bad posture to begin with.
It is also worth remembering that the harder you work, the more you will engage these muscles.
2. Rowing Is An Effective Fat-Burning Exercise
As any personal trainer will tell you, the truth is that you can do as many sit-ups and crunches as you want, but unless you have a low body-fat ratio, your abs are going to be covered in a layer of fat and no-one will ever get a chance to see them.
Therefore because rowing is an intensive cardio workout that can burn as much as 13 calories per minute, you can burn nearly 400 calories in one 30-minute session and up to 800 calories per hour, which will really help to shed some excess body fat and reveal your abdominal muscles.
Of course the number of calories that you can burn depends on a number of factors, such as your body weight and the intensity of your workout, for example, but you should be able to burn at least 200 calories without too much exertion.
Final Thoughts
So when you consider that a rowing machine can tone up and strengthen your arms, legs, shoulders and back, in addition to strengthening and toning your core abdominal muscles and helping you to burn fat, lose weight and improve your fitness, it is easy to see why indoor rowing machines are so popular.
If you would like to buy one of these indoor rowers for your home, here are some of the best ones you can buy, but you can always use one of the machines in your local gym if you prefer because these are often ignored by many gym members in favor of the exercise bikes, treadmills and weights.
Plus you will often find that many of the top gym chains will have a range of Concept 2 Rowers for you to use, which offer the smoothest and most comfortable workouts, and are relatively expensive if you were to buy one yourself.