Introduction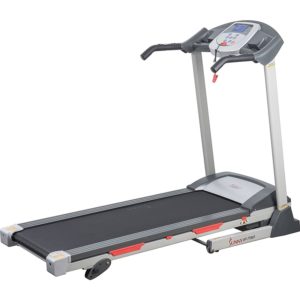 Sunny Health & Fitness' cardio machines are consistently amongst the top-sellers because many of these machines are extremely well made and suitable for people on a budget.
With regards to treadmills in particular, the classic Sunny Health & Fitness Treadmill has always been very popular, but the new Sunny Health & Fitness SF-T7603 Motorized Treadmill has also been getting some good reviews.
This is not as large as some of the treadmills that you may have used in your local gym, and it certainly doesn't have the same range of workout options and features. This is, however, a small and compact machine that is a lot easier to set up in your home, and is one that should still be capable of giving you some decent walking and running workouts.
Features And Benefits
9 built-in workout programs
3 levels of incline
speed settings up to 9 MPH
2.2 HP motor
easy folding mechanism
easy-to-read LCD display
track time, speed, distance, calories and pulse
hand grip pulse sensors
built-in handrail controls
easy to assemble
suitable for users up to 220 pounds
Product Dimensions / Weight
This treadmill has exact dimensions (in inches) of 62 (L) x 27 (W) x 47 (H), and the actual running track is 49 (L) x 16 (W).
The total weight of this machine is 103 pounds, which is pretty much standard for a treadmill of this size.
Positives

One of the main benefits of this Sunny SF-T7603 Treadmill is that it is extremely easy to put together, according to many users, because most of it is already pre-assembled, and all the tools you need are included in the box.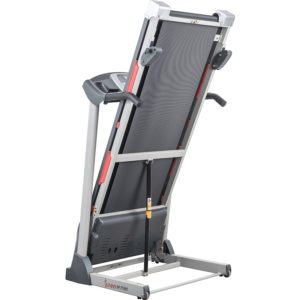 In addition, you don't necessarily have to keep it lying around once you have put it together because it has an easy fold mechanism that makes it simple to fold into an upright position, and a soft drop hydraulic system that makes it easy to unfold when you want to start using it again.
With regards to the workout options, this machine has 9 built-in user programs that will help add variety to your workouts, and there are 3 levels of incline that you can use to vary the angle of the running track and adjust the intensity of your routines.
Plus there are speed settings from 0.5 to 9 MPH so that you can walk at slower speeds or run at higher speeds as required.
Another nice feature of this SF-T7603 Electric Treadmill is that as well as having pulse sensors, it also has handrail controls on the sides. Therefore it is easy to start and stop the motor / running track, and adjust the speed if you don't want to use the main control panel.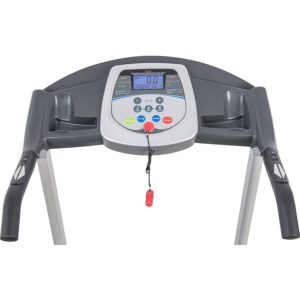 Talking of which, this control panel has an easy-to-read LCD display that indicates time, speed, distance, pulse and calories burned. So it is very easy to track your performance during the course of your workout.
Finally, although the weight capacity is not as high as some of the other treadmills in this price range, many people have commented that this is still a strong and sturdy machine that appears to have a solid construction.
Negatives
One of the obvious drawbacks of this Sunny Health & Fitness treadmill is that it has a limited weight capacity of 220 pounds. Therefore although many women should be able to use this machine without any problems, it is not suitable for larger men (or indeed women) who exceed this weight limit.
Another slight flaw is that if you want to adjust the incline, you cannot just press a button, like you might on some of the top-end machines. With this machine you have to get off and adjust it manually, which could be a problem if you need to keep changing the incline setting.
Apart from this, the only other problem is that the running track is only 16 inches wide, which still shouldn't be an issue for most people, but it may be a little narrow for those people who have a slightly wider running action.
Final Thoughts
Overall, you would have to say that the Sunny Health & Fitness SF-T7603 Motorized Treadmill is a fairly basic machine, but it is still worth considering if you don't want to pay top dollar for a mid-range or a top-end treadmill.
That's because it has 3 levels of incline and 9 user programs to give you a good variety of workout options, and has a decent top speed of 9 MPH to accommodate walkers and runners alike.
It is also really easy to assemble, which is a key selling point because many treadmills can take several hours to assemble due to the complexity of the job at hand, and is really simple to fold away when it is not being used.
So as long as you don't weigh more than 220 pounds, and don't have an excessively wide running action, this is a pretty decent entry-level treadmill for the home.
→ Click here to buy the Sunny Health & Fitness SF-T7603 Electric Treadmill