Introduction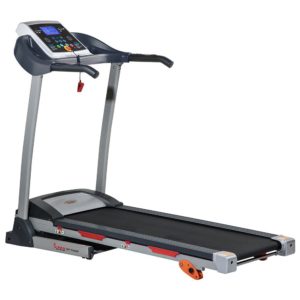 Sunny Health & Fitness have produced a number of good quality rowing machines and exercise bikes for people on a budget, but they have also produced a few decent looking treadmills as well.
One of their most popular models is the Sunny Health & Fitness SF-T4400 Treadmill because this is an affordable machine that delivers a decent workout, and doesn't take up a lot of space in your home.
This machine is available in a choice of two different colors – gray or pink – and has received a lot of favorable reviews since it first went on sale in 2015. So let's take a look at the features and benefits of this machine, as well as the main pros and cons that people have commented on.
Features And Benefits
15.75 inches x 48.82 inches running surface
2.20 Peak HP drive system
3 incline settings
9 workout programs
speed settings from 0.5 MPH to 9 MPH
large LCD display
track time, speed, distance, calories and pulse
easily adjustable handrail controls
hand grip pulse sensors
includes holder for your smartphone / tablet
can be folded away when not being used
includes safety lock and power save function
suitable for anyone up to 220 pounds
Product Dimensions / Weight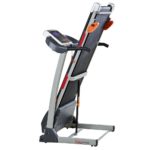 This particular treadmill has dimensions (in inches) of 62.2 (L) x 26.8 (W) x 47.3 (H) when it is fully assembled, with a running surface of 48.82 (L) x 15.75 (W).
It is quite a heavy machine with a total weight of 103 pounds, but it can easily be folded away for storage when it is not being used.
Positives
First of all it should be pointed out that this Sunny SF-T4400 Treadmill is not a commercial-grade machine that has lots of advanced features.
However it does have enough features, and enough workout options to satisfy those people who want to get a decent walking or running workout at home, but don't necessarily want to spend a lot of money in the process.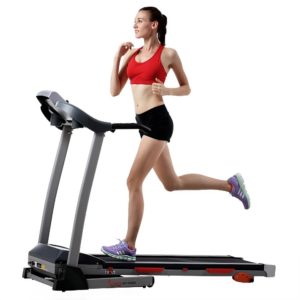 That's because this machine has 3 manual incline settings that you can use to adjust the difficulty of your workouts, and also comes with 9 built-in workout programs to help you vary your routines even more.
It also has a powerful 2.20 Peak HP drive system that is smooth and quiet, and has speed settings between 0.5 and 9 MPH (with increments of 0.1 MPH). So you really can go as fast or as slow as you want.
You will find that there are conveniently placed controls on the handrails that you can use to adjust the speed, as well as start and stop buttons. These handrails also have some hand grip pulse monitors to record your heart rate and display it on the LCD display.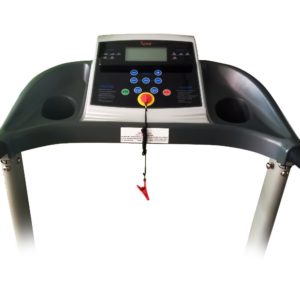 Talking of which, you can see that the LCD display on this SF-T4400 Treadmill is large and easy to read, and displays all of your key performance data, such as time, speed, distance covered, calories burned and pulse.
The display console itself also has buttons to control the speed and change the program, and includes a holder for your smartphone or tablet so that you can listen to music or watch TV shows whilst working out.
Finally, the other positive feature of this machine is that it is easy to fold away when you have finished using it, which is rarely an option with many of the more expensive treadmills.
Negatives
Of course, one of the negative points is that this is very much an entry-level treadmill. Therefore there are only 3 levels of incline, and as some people have pointed out, even the highest setting is nowhere near as challenging as some of the more expensive models.
In addition, as with many other treadmills in this price range, you cannot adjust the incline during your workout. You have to actually step off the machine and adjust it manually, which is a bit of a pain.
Another slight issue relates to the actual weight capacity because this machine can only be used by people up to 220 pounds, which suggests that it is not actually that strong. It only comes with a 1-year warranty as well, which is a slight concern.
Finally, as this is a compact space-saving treadmill, the actual running surface is a little smaller that some of the top-end machines. Therefore it may not be suitable if you are over 6 feet tall with a long stride length.
Final Thoughts
If you are looking for a relatively cheap treadmill that you can use at home, and don't necessarily need a machine that offers intense power incline settings, then this machine may be worth considering (as long as you weigh less than 220 pounds).
That's because it is smooth and quiet in operation, and has 3 incline settings and 9 workout programs, as well as a good quality display.
→ Click here to buy the Sunny Health & Fitness SF-T4400 Treadmill
If, however, you are already in pretty good shape and like to push yourself hard, you might want to consider paying a little bit more for a mid-range or top-end treadmill that has power incline settings and a greater level of intensity.
You might also want to consider buying a more expensive model if you are tall with a long stride length, as I mentioned above.