Introduction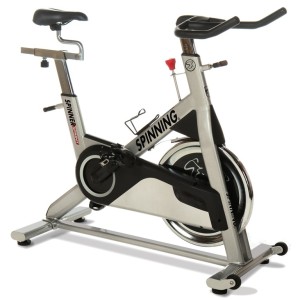 Mad Dogg Athletics are the company that first came up with the concept of spinning workouts, and they actually own the trademarks to 'spinning' and other similar terms.
They also produce their own line of indoor cycling bikes that are suitable for home and commercial use, and it is the Spinner Sprint Indoor Cycle that I want to review today because this is one of their top-selling models.
This particular exercise bike is designed for home use and is one of the models that we named as one of the top indoor cycles on the market. So in this article I want to discuss all of the pros and cons of this particular model, and highlight some of the reasons why this premium authentic spin bike is a good investment.
Key Features And Benefits
43-pound weighted flywheel
fully adjustable seat
ergonomically designed handlebars
durable leather brake pad
optimized Q-factor
smooth and quiet in operation
commercial grade construction
includes 4 workout DVDs
includes water bottle holder
Product Dimensions And Weight
The overall weight of this machine is 55 kg (121 lbs) and its product dimensions (in inches) are 55 (L) x 20 (W) x 48 (H).
Positives
The Spinner Sprint Indoor Cycling Bike is an authentic spin bike that has been designed and manufactured by Mad Dogg Athletics, so it is no surprise that this is a high quality machine.
To begin with, it has a large 43-pound flywheel that delivers a smooth and fluid workout, and a smooth chain drive system that is relatively quiet in operation.
The non-slip handlebars are ergonomically designed to offer maximum comfort because they are tilted at a fixed angle of 5 degrees, and can be adjusted upwards and downwards if required.
The seat is also fully adjustable because it can moved up and down and forwards and backwards, which once again makes it easy to find the most comfortable riding position.
This is not a cheap bike by any means, so you would expect a solid durable construction, and that's certainly the case with this particular model because it has a solid steel frame, and includes seat and head tubes that are designed to minimize any seat or handlebar movement when you are working out.
In addition, it has a leather brake pad that offers reliable braking and is designed to last a very long time, as well as a minimized Q-factor that is supposedly the best of any indoor cycling bike, which basically means that the pedals are close together so as to avoid any discomfort in your hips, knees and ankles.
Finally, it is also worth mentioning that this is one of the few spin bikes that comes with its own workout DVDs for you to follow along to.
These titles, which are all just over an hour long, include Ultimate Energy, Train and Tone, Turn and Burn and Maximum Results, and guarantee that you will always have a wide range of different workouts to perform.
So this mid-range indoor bike has lots of positive features that will help you get a challenging, but comfortable workout, as well as a few welcome extras, such as the 4 workout DVDs and the water bottle holder, for instance.
Negatives
With regards to the negatives, there are not really too many issues with this particular spinning bike.
One or two people have commented that they had to replace the seat because it was a little too uncomfortable to sit on for long periods, but this seems to be a common complaint with most exercise bikes, and as it's a spin bike, you might not be sitting on it for very long anyway.
Plus although many people won't feel the need to use an LCD display if they are performing spinning workouts at home, it would be nice to have the option to track your performance if you really wanted to.
Final Thoughts
Overall, you could argue that the Spinner Sprint Premium Authentic Indoor Cycling Bike is significantly better than many of the cheaper bikes under $500, but maybe not quite as good as some of the top-end bikes because these will generally have a quieter maintenance-free belt drive instead of a chain drive, and may also come with an LCD display.
The price certainly reflects this fact because it lies somewhere between the two. So if you are looking for a really good spin bike, but can't afford a Keiser M3I or a Schwinn AC Performance Plus Bike, for example, this is an excellent choice.