Introduction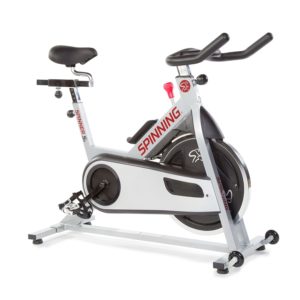 Mad Dogg Athletics (the founders of spinning and the owners of the Spin and Spinning trademarks) have produced several top quality spin bikes for the home, including the Spinner Sprint bike, which is one of the mid-range indoor cycling bikes that we most recommend.
However with so many companies developing cheaper alternatives, they seem to have responded to this competition by developing a few more affordable models for those people on a budget, one of which is the Spinner S3 Indoor Cycling Bike.
This machine comes with four spinning DVDs and is designed to help you perform spinning workouts in the comfort of your own home, without having to go to the gym or attend a spinning class.
Features And Benefits
authentic spin bike from Mad Dogg Athletics
extra-wide saddle with multiple adjustments
large adjustable handlebars
perimeter-weighted 31-pound flywheel
contoured flywheel cover and two-tone chain guard
fully adjustable resistance
rust-resistant steel frame
narrow Q-factor for added comfort
includes water bottle holder and transport wheels
includes four free Spinning DVDs
suitable for riders between 4'10 and 6'7
accommodates users up to 250 pounds
Product Dimensions / Weight
This particular spinning bike has exact dimensions (in inches) of 43 (L) x 18 (W) x 27 (H), so it has a smaller footprint than some of the other indoor cycling bikes that are available.
However it should be noted that with a total weight of 96 pounds, it is a very strong and robust machine that can support anyone up to 250 pounds without any problems.
Positives
The first thing to say about this Spinner S3 bike is that it has been developed by the same company that came up with the whole Spinning concept and philosophy. So you know that you are buying a bike that has been designed by leading industry experts who know what their customers want.
Subsequently it has a large 31-pound perimeter-weighted flywheel that delivers a smooth pedal motion without generating a lot of noise.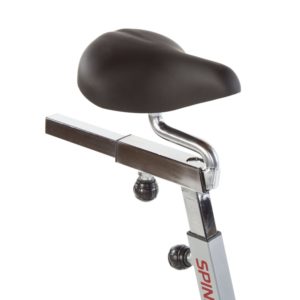 It also has an extra-wide padded seat that provides a little more comfort than most other seats, and can be adjusted forwards or backwards and upwards and downwards to find the most comfortable riding position.
Plus the large commercial-sized handlebars can be adjusted upwards and downwards to accommodate users of different heights, and are said to have very comfortable grips.
Indeed unlike some models that cannot be used by people who are particularly tall or short, this bike is suitable for anyone between 4'10 and 6'7.
It is also worth mentioning the Q-factor on this bike as well because the distance between the pedals is purposely narrow to provide a more comfortable riding experience.
So it is safe to say that this machine provides you with a smooth and comfortable ride, but there are a few other benefits that are worth highlighting as well.
For example, you will see that this S3 machine has stabilizer feet to minimize any movement during your workout, even when cycling very fast in a standing position.
It also has a conveniently placed water bottle holder to help you stay hydrated during your workouts, and has transport wheels attached should you wish to move it from one room to another.
Finally, because this bike is a recognized Spinning bike, this bike also comes with four free official Spinning DVDs that will help get you started. These include Ultimate Energy, Train and Tone, Turn and Burn and Maximum Results.
Negatives
You will find that none of the official Spinning bikes come with an LCD display because they are not really needed when you are training indoors and doing spinning workouts. All you really need is a watch or stopwatch if you are doing interval workouts or cycling for a certain length of time.
So if you are someone who likes to fully analyze your performance data, then you might want to consider buying another bike that does come with its own LCD display.
One other negative point is that although it has secure toe cages, it doesn't give you the option of clipping your cycling shoes to the pedals, which is a nice feature that is commonly found on many other bikes.
Final Thoughts
Overall, it would appear that you can now buy a professional-grade spin bike from the founders of the whole Spinning concept without spending a huge amount of money.
That's because this S3 Spinner bike offers a smooth and comfortable riding experience with its 31-pound flywheel and its strong and stable frame, and is adjustable enough to be used by anybody between 4'10 and 6'7, and anyone up to 250 pounds.
So if you are looking to buy a machine that looks and feels just like an outdoor road bike and can be used to perform intense spinning workouts in both a seated and standing position for fitness, toning and fat-burning purposes, this machine is well worth considering.