Introduction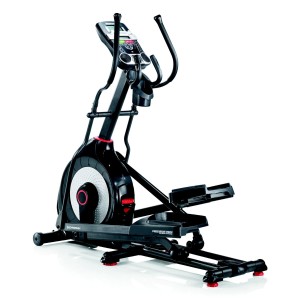 Elliptical machines are one of the largest exercise machines that you can buy for your home, but that doesn't necessarily mean that you need to spend thousands of dollars when you buy one of these elliptical trainers.
You will find that there are a few really good quality low-cost and mid-range machines available that will give you a great fully-body workout, one of which is the Schwinn 430 Elliptical Machine, which is the one I want to review in this article.
This machine is a few years old now, but it continues to prove popular with home users because it is consistently one of the top-sellers. So let's take a closer look at this particular model.
Features And Benefits
20 resistance levels
22 workout programs
10-degree incline ramp with 6 positions
20-inch stride length
high speed high inertia flywheel
smooth and quiet in operation
large two-window LCD display with 13 readouts
includes speakers, USB port and 3-speed fan
suitable for anyone up to 300 pounds
comes with 10-year frame warranty
Product Dimensions
According to the official Schwinn website, this particular machine has dimensions (in inches) of 70.1 (L) x 28.2 (W) x 63.2 (H). So as with any elliptical trainer, it will take up quite a lot of space in your home, but it is still quite a compact machine compared to many others.
Positives
Although this Schwinn 430 Elliptical is nowhere near as expensive as some of the top-of-the-range models, it still scores pretty highly in terms of features and performance.
With regards to the features, it has lots of extras that you might find useful, such as a media tray for your iPad, tablet or smartphone, a 3-speed cooling fan, a USB charging port and built-in speakers, for example.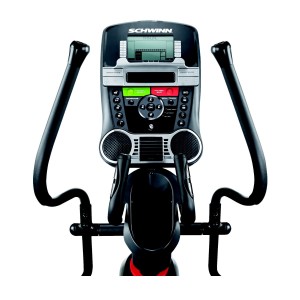 It also has an impressive two-window LCD display that displays up to 13 different readouts, including time, speed, distance, calories, RPM and pulse. So it is very easy to monitor your performance, and because it is compatible with Schwinn Connect and Myfitnesspal, you can export your data and keep track of your performance over time.
Plus there are user settings for two people, which is obviously ideal if this machine is likely to be used by more than one person.
What really makes this machine stand out from many others in this price range, however, is the fact that it comes with 20 different resistance levels and 22 workout programs because this is on a par with some of the gym-standard machines.
You should find that along with the 10-degree incline ramp, which offers 6 different positions, you will have more than enough workout options with all of these resistance levels and workout programs to choose from.
In addition, with regards to performance you should find that this Schwinn 430 Elliptical Machine is smooth and quiet in operation thanks to its high speed high inertia flywheel.
It is also comfortable to use because it has a 20-inch stride length and large cushioned footplates, as well as moving and static handlebars (which is where the grip pulse monitor is located).
Finally, this particular model also comes with some generous warranties should anything go wrong with this machine. For instance, there is a 10-year warranty on the frame, as well as a 2-year mechanical warranty and a 1-year electrical warranty.
Negatives
There is no denying that this Schwinn 430 Elliptical Trainer has received a lot of positive feedback from those people who have used this machine, but for the sake of balance it should also be pointed out that it has also received a few negative comments as well if you look online.
Whilst many people are happy with the performance of this running machine, others have complained that this machine has started making some strange noises, and have had problems with one or two missing or defective parts.
Of course these problems are generally covered by the respective warranties, and it should be emphasized that many people haven't had any problems at all, but it is still worth highlighting some of these potential issues nevertheless.
Finally, although it does have an incline ramp of 10 degrees, this is a lot less than some of the top-end models (which can often go up to 35 degrees), and it is worth bearing in mind that it may not be ideal for people of all heights because the stride length is fixed at 20 inches. However you will generally have to pay a lot more if you want these advanced features.
Final Thoughts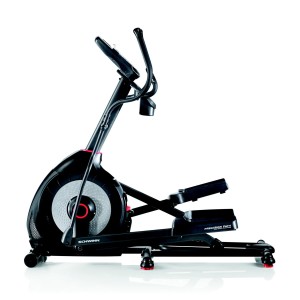 Overall, the Schwinn 430 Elliptical Machine is one of the most cost-effective ellipticals that you can buy for your home.
It has lots of resistance levels and workout programs, making it suitable for people of all fitness levels, and has a 10-degree incline ramp with 6 positions to add even more variety to your workouts.
You can work both your upper body and your lower body at the same time, or you can simply hold on to the static handlebars and concentrate on giving your legs a good workout.
Plus as I mentioned earlier, it has a lot of extra features that you don't usually find on many of the elliptical machines in this price range.
It's just a pity that a small number of people have had issues with noises and defective parts because otherwise this would be a truly outstanding machine.