Introduction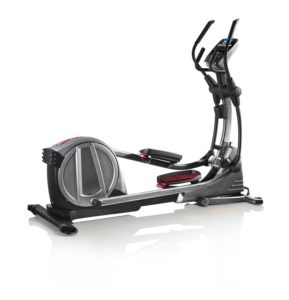 ProForm have a reputation for producing some top quality treadmills, but they have also created a range of elliptical trainers for those people who want to get a complete upper and lower body workout.
So in this article I shall be reviewing one of their most popular models – the ProForm Smart Strider 735 Elliptical Trainer – to see if this is equally as good as many of their treadmills, and to see if you should consider buying this machine for your home.
This particular elliptical can be classified as a mid-range model because it is clearly an upgrade on many of the entry-level machines, but is not as expensive as some of the premium commercial-grade machines.
Features And Benefits
20 digitally controlled magnetic resistance levels
22 individual workout programs
power adjustable incline up to 10 degrees
5-inch backlit LCD display
CoolAire workout fan
compatible with iFit
global Google Maps routes
iPod-compatible sound system
18-pound inertia-enhanced flywheel
upper body workout arms and pulse sensors
adjustable oversized foot pedals
commercial-grade steel construction
space-saver design
very easy to assemble
suitable for anyone up to 300 pounds
Product Dimensions / Weight
This particular elliptical trainer from ProForm has a footprint (in inches) of 80 (L) x 32 (W) x 65 (H) according to the ProForm website, and has a total weight of 190 pounds, which is an indication of the quality and strength of the steel frame construction.
Demonstration Video
Positives
You will find that this 735 E elliptical has a lot more features than a standard elliptical trainer.
For a start, it has 22 individual workout programs that have been designed by a certified personal trainer. So you will always be able to vary your workout routines.
Indeed there are 20 digitally controlled magnetic resistance levels to enable you to make your workouts as easy or as hard as you like, and there is also a power incline feature that lets you adjust the angle of the ramp up to 10 degrees to help you burn more calories and target different muscle groups.
What I really like about this particular machine, however, is that it makes use of the latest technology to give you a much better workout experience.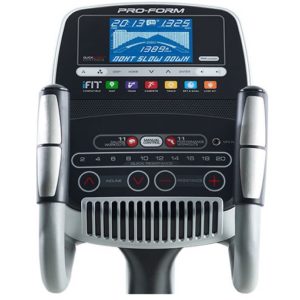 That's because as well as coming with a 5-inch LCD display that displays all of your workout data, such as time, speed, distance, calories and pulse, it is also fully compatible with iFit.
Therefore you will have instant access to automatic tracking features, custom-built workouts and real-life global routes thanks to Google Maps, which is a really cool feature that will make your workouts a lot more fun and a lot more realistic, particularly as the level of incline will be adjusted automatically as the terrain changes.
In addition, the console has a built-in sound system that can connect to your iPod or iPad so that you can play all of your favorite music through the dual speakers, and has a two-speed cooling fan to prevent you getting too hot during your routines.
With regards to the quality and comfort of the actual workout, you will find that this ProForm Smart Strider 735 has a commercial-grade steel frame construction that is backed by a lifetime warranty, and is suitable for anyone up to 300 pounds. So it is exceptionally strong and sturdy.
It is also smooth and quiet in operation thanks to the silent magnetic resistance system and the 18-pound inertia-enhanced flywheel, and has soft-grip handles and oversized foot pedals that are fully adjustable to give you a comfortable workout experience.
This machine has non-moving handles that you can use if you just want to work your lower body, but it also has soft-grip workout arms that will help you tone your arms and burn a few more calories.
Finally, there are two practical benefits that are worth highlighting. First of all, it is one of the few elliptical trainers that you can actually fold into an upright position if you don't have a lot of space in your home, and secondly, you will find that this machine is really easy to assemble, which cannot be said about many other home ellipticals.
Negatives
As is the case with any iFit-compatible exercise machine, you will have to purchase the iFit module separately if you wish to make full use of all of the workout options and real-life routes that are available with this app.
So in addition to the cost of the ProForm 735 elliptical, you will also have to pay around $144 per year if you want to get the most out of your workouts and use this machine to its full potential.
Another slight negative is that the flywheel is a little light for an elliptical in this price range, and could potentially offer an even smoother workout if it had a larger flywheel.
Otherwise the only other flaw, if you can call it that, is that the pulse sensors are located on the inner handles instead of the workout arms, which basically means that you won't be able to monitor your pulse if you are using the moving handles. You will have to switch to the inner handles every so often if you want to check your current pulse rate.
Final Thoughts
Despite having a few minor flaws, the ProForm Smart Strider 735 Elliptical is definitely one of the most feature-packed mid-range ellipticals that you can buy for your home, and has everything that you could want from a home elliptical.
The ability to connect to iFit and train using real-life routes from all over the world, where the incline automatically adjusts to reflect these different terrains, is of course the one stand-out feature, but this is still a really good machine even if you don't use this feature.
As well as having 20 magnetic resistance settings and 22 workout programs that have been designed by a certified personal trainer, this elliptical trainer delivers a smooth and quiet workout and has an impressive power incline ramp that can be adjusted up to 10 degrees to target your calves, glutes and quads and get a more intense workout.
Plus with a solid steel frame construction that is backed by a lifetime warranty, you are getting a strong and durable machine that is easy to assemble and easy to fold away, and very comfortable to use.
→ Click here to buy the ProForm Smart Strider 735 E Elliptical Trainer