Introduction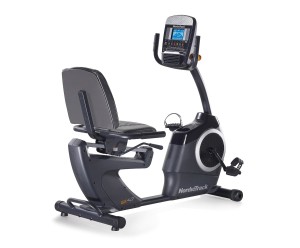 NordicTrack are known for making some good quality ski machines and incline trainers, but they have also started to produce some very good exercise bikes as well.
In this article I want to take a closer look at one of their latest models – the NordicTrack GX 4.7 Exercise Bike – because this is a recumbent-style bike that is suitable for home use.
This machine offers a low-impact cardio workout and is said to be suitable for people of all ages and fitness levels. So here is a guide to the features and benefits of this machine, as well as the general pros and cons:
Features And Benefits
22 magnetic resistance levels
24 workout apps
oversized cushioned seat
step thru design for easy access
5-inch LCD display
dual heart rate sensors
responsive one-touch controls
ergonomic foot pedals
built-in sound system
self-adjusting cooling fan
water bottle holder
compatible with iFit
suitable for anyone up to 300 lbs
Product Dimensions / Weight
According to the official NordicTrack website, the dimensions of this bike (in inches) are 49.8 (L) x 25.4 (W) x 56.8 (H), and it weighs 145 pounds when fully assembled.
Positives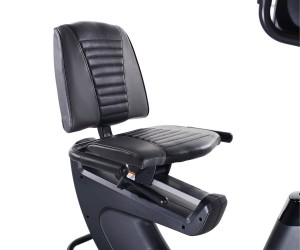 As with any recumbent bike, this GX 4.7 bike has a backrest that provides a lot more comfort than an upright or spin bike, and because it has a step thru design, it is much easier to get on and off.
Therefore it is ideal for anyone who has any kind of mobility issues, and it is also suitable for people of all heights because the whole chair unit is capable of sliding forwards or backwards to find the best position.
You will also find that this machine offers a very challenging workout because there are 22 magnetic resistance levels that will provide a test for people of all fitness levels.
There are also 24 workout apps for you to choose from, which includes 12 calorie and 12 speed workout apps.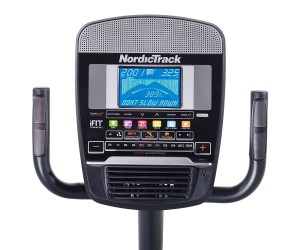 This particular recumbent bike has a large 5-inch screen that will display all your performance data (speed, time, distance, pulse and calories burned), and has responsive one-touch controls so that you can adjust the resistance really easily.
It also has speakers built into this console so that you can listen to your favorite music, as well as a cooling fan that will keep you cool whilst you are working out.
Plus for added comfort, the seat has lumbar support and the pedals are ergonomically designed and come with adjustable straps.
I should also mention that this machine is compatible with iFit and Google Maps because this is one of the key benefits.
By purchasing the iFit module you will be able to cycle the Tour de France routes, for example, and map your own routes from all over the world (viewable on the screen in front of you). So it will open up a world of possibilities, and will make all of your workouts a lot more fun. Plus the resistance will automatically adjust to the terrain, which is a really cool feature.
Finally, this recumbent bike comes with a lifetime warranty on the frame and a 1-year parts and labor warranty should anything go wrong during this time frame.
Negatives
One obvious drawback of this GX 4.7 machine is that although the makers of this bike proudly boast about its iFit compatibility, it is not included as standard. You will need to purchase the iFit module separately (which costs $99 at the time of writing and includes a 1-year membership) if you want to make full use of this facility.
Apart from that, there are no obvious faults with this NordicTrack recumbent bike, but there have been instances of defective parts in some cases, which is a slight concern.
Final Thoughts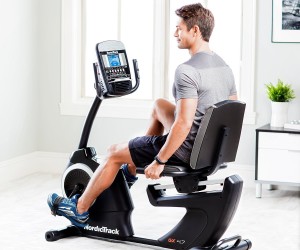 This new GX 4.7 recumbent bike from NordicTrack might not be as expensive as some of the other bikes on the market, but it is loaded with features and offers excellent value for money for such a low-cost machine.
I particularly like the iFit compatibility because this will enable you to cycle real routes from around the world and will make your workouts a lot more interesting and enjoyable. Plus I like the fact that it has lots of resistance levels and workout apps because this means that you will always be able to make your workout as tough as you want it to be.
So providing everything works as it should and the reports of defective parts are isolated instances, this could potentially be a good recumbent bike to buy for your home.