Introduction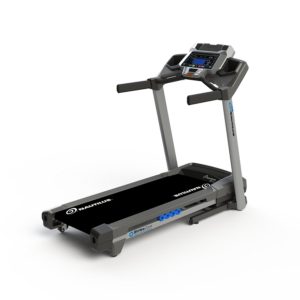 If you are looking for a treadmill that you can use at home that has a large and comfortable running track and offers a wide range of speed and incline settings, you don't necessarily need to spend $2000 or more on a gym-standard machine.
Some of the treadmills that are available from the likes of Schwinn and Nautilus, for example, will give you a comfortable pain-free workout and endless different workout options at a fraction of the price.
To demonstrate this point, I want to give you an in-depth review of one of the top-selling and most affordable models – the Nautilus T614 Treadmill – to show you what you can get for your money.
Features And Benefits
2.75 CHP motor
speed settings up to 12 MPH
incline settings up to 12%
22 workout programs
StrikeZone impact absorption system
high resolution blue backlit LCD display
time, distance and calories goal tracking
quick access speed and incline buttons
export data to Nautilus Connect / Myfitnesspal
media shelf for your phone, book or tablet
3-speed cooling fan
in-console speakers and MP3 input port
USB charging port
user profiles for up to 4 people
SoftDrop folding system
includes transport wheels and rollers
suitable for users up to 300 pounds
Product Dimensions / Weight
This Nautilus home treadmill has exact dimensions (in inches) of 72.2 (L) x 35.2 (W) x 57.6 (H) when it is fully assembled, and weighs approximately 200 pounds.
If you want to move it around, there are transport wheels attached to the rear of the machine that will make this a lot easier.
Positives
Unlike some of the entry-level treadmills that only have two or three incline settings and a relatively low top speed, this Nautilus T614 machine provides you with multiple workout options because it has incline adjustments up to 12%, and speed settings up to a maximum of 12 MPH.
It also has 22 individual workout programs, including manual, quick goal, train, weight control, heart health, interval and custom programs, which many of the cheaper models don't have, and you can set yourself goals based on time, distance and calories.
So regardless of your current fitness level, you will always be able to give yourself a challenging workout on this machine regardless of whether you manually set your own speed and incline levels, or whether you use one of the programs. Indeed you can even create your own programs if you so wish.
If you are not using one of the programs, the speed and incline settings can easily be adjusted by pressing one of the buttons on the console, which is another of the key features of this T614 treadmill.
That's because the console on this particular machine has an extra large high resolution blue backlit display that is clear and easy to read, and displays all of your key performance data. This data can then be exported to the Nautilus Connect website or to Myfitnesspal if you want to analyse your performance in more detail.
It also has a media shelf that will hold your phone or tablet device if you want to watch a movie, for example, or a book or a magazine if you would prefer to read whilst working out, and also features an MP3 port and some built-in acoustic speakers to enable you to play all of your favorite music.
There is also a built-in three-speed fan that will help to keep you cool whilst you are walking or running on this treadmill.
The running track on this Nautilus T614 treadmill is a little larger than some of the cheaper models (55 inches x 20 inches), so you are not going to feel cramped or restricted when walking or running on this machine, and it has a StrikeZone impact absorption system that will provide a more comfortable workout experience and prevent injury.
The treadmill is driven by a 2.75 HP motor and is said to be smooth and quiet in operation, although as with any treadmill, there will always be a little bit of noise, particularly when running at higher speeds.
Finally, it is worth pointing out that you can fold it away fairly easily when it is not being used thanks to the SoftDrop folding system, and if anything goes wrong with this machine, it is backed by a 10-year warranty on the frame and motor, and a 2-year mechanical and electrical warranty.
Negatives
With regards to the negatives, one of the first things to say about this machine is that it doesn't have Bluetooth connectivity, like the later T616 and T618 models. However this isn't necessarily a major concern because you can still export your data through a USB connection.
Another slight negative concerns the speakers because although they enable you to hook up your phone or iPod and play all of your favorite tunes, the sound quality is not the best, according to some users.
In addition, although the inclusion of a fan is a nice touch, it is said to be a little loud and not as cool and refreshing as it could be, which is often the case with many of these built-in fans.
Otherwise there doesn't appear to be any major problems with this Nautilus treadmill, particularly with regards to strength and performance.
Final Thoughts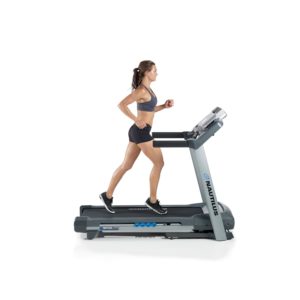 The Nautilus T614 Treadmill gives you a lot more for your money than an entry-level model, and in many ways is just as good as some of the top-end models.
It certainly delivers in terms of the number of workout options because as mentioned above, it has a wide range of speed and incline settings that you can use (up to 12 MPH and 12% incline respectively), and offers 22 workout programs for weight loss, heart rate training and interval training, for instance. You can also set yourself goals based on time, distance and calories, which is another nice feature.
As well as this, it also has a large cushioned running track that will enable you to do walking and running workouts without experiencing any joint pain, and has plenty of useful extra features to make your workouts more enjoyable.
So if you are looking for a good quality mid-range model that really over-delivers, the T614 treadmill is definitely one that you might want to consider buying.