Introduction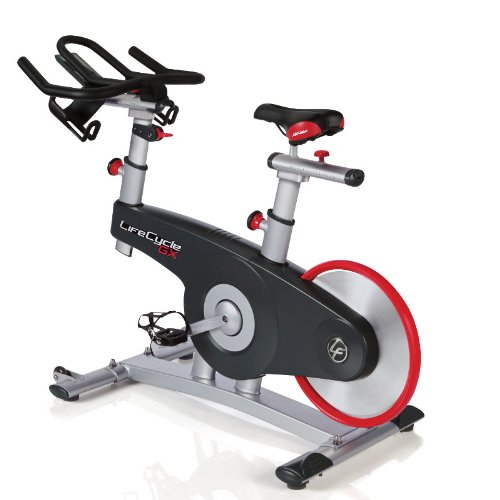 A lot of indoor cycling bikes are more than good enough for home use, but are not really strong enough to withstand regular use in the gym.
However the LifeCycle GX Group Exercise Bike (with Console) is a premium top-end bike that is said to be suitable for group cycling classes, gyms and health clubs because of its strength, durability and performance.
So in this article I want to take a closer look at this particular model to see how it compares with other top-of-the-range models, such as the Keiser M3i Indoor Cycling Bike and the Schwinn AC Performance Plus Indoor Cycling Bike, for instance, which are two other bikes that are commonly found in many gyms.
Features And Benefits
robotically welded steel frame
rust prevention e-coating
45-pound flywheel
dual magnetic resistance breaking system
smooth and quiet multi-ribbed belt drive
four-way adjustable seat and handlebars
includes free computer console
track time, speed, distance, calories, cadence and pulse
dual-sided SPD pedals
easy to assemble
suitable for home use, gym use and group classes
5-year frame warranty
3-year parts warranty
Product Dimensions / Weight
This exercise bike has product dimensions (in inches) of 54.6 (L) x 23 (W) x 39.5 (H) when it is fully assembled, and has a total weight of 111 pounds.
Positives
The first thing to say about this LifeCycle GX Bike is that it has clearly been designed to last a long time because it has a robotically welded steel frame with a special rust-resistant e-coating to protect the frame from dirt, dust and sweat.
So it is strong enough to be used regularly in a gym or a group cycling class, for example, and it is actually perfect for users of all heights because there are multiple adjustments that can be made to both the seat and the handlebars to find the best riding position.
Indeed you will find that both the seat and the handlebars can be adjusted forwards and backwards, as well as upwards and downwards, and these adjustments are really quick and easy to make, which is beneficial when many people are going to be using this bike every day.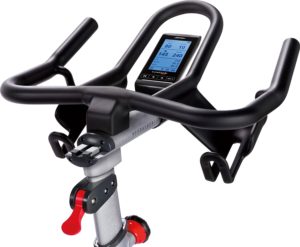 Unlike some of the other top-end machines that require you to purchase a computer console separately if required, this LifeCycle GX Indoor Cycling Bike comes with a free computer console as standard, and displays all the information you need, such as time, speed, distance, cadence, calories burned, resistance level and pulse.
It should be noted that there are no built-in pulse sensors, but this data will be displayed on the console if you connect it to a chest strap heart monitor.
With regards to the comfort of the actual workouts, I have already pointed out that it is easy to find the most comfortable riding position.
However in addition, this LifeCycle bike has dual-sided SPD pedals that can be used with trainers or clip-on cycling shoes, and has a high performance 45-pound flywheel and a belt drive that delivers a smooth and quiet workout.
So the fact that it is smooth and quiet in operation once again makes it ideal for home and gym use, particularly as it has a dual magnetic resistance braking system that is easy to adjust using the resistance lever, and is wide-ranging enough to challenge people of all fitness levels.
Finally, it should be noted that this GX Cycle comes with a generous 5-year warranty on the frame and a 3-year warranty on the parts, which is reassuring when you consider the relatively high price of this machine.
Negatives
Even the very best exercise bikes have a few negative points, and that applies to this LifeCycle GX Bike as well.
There are no major issues as such, but I could certainly understand it if some users found the seat to be a little uncomfortable, and it would definitely be nice to have a chest strap heart rate monitor included as standard, or some hand grip pulse sensors at the very least, considering how much you are paying for this machine.
However the seat can easily be replaced with a more comfortable one, or you could buy a gel seat cover if you find this to be a problem, and chest strap heart monitors are not really that expensive if this is something you require.
Otherwise the only other slight issue is that there are no built-in workout programs, as is the case with a lot of indoor cycling bikes, and the console isn't able to connect to any external fitness apps, like the one that comes with the Keiser M3i Indoor Cycle, for example.
Final Thoughts
I used the LifeCycle GX Indoor Cycling Bike in a gym in Bangkok when I was staying there for a few months, and it is definitely a top quality machine.
I particularly liked the micro adjustments that are available because you can adjust the seat and the handlebars in small increments until you find the most comfortable riding position, and unlike some users, I didn't find the seat to be uncomfortable at all.
One thing I noticed was that this bike is exceptionally quiet in operation and there was no movement whatsoever, even when I was cycling at a fast pace in a standing position.
I also liked the fact that you could adjust the resistance using a lever instead of a conventional dial, and the resistance level was always displayed on a single screen, along with all of the other performance data.
So when you consider that it has a wide range of resistance settings and a really solid build construction, this bike would appear to be every bit as impressive as the Keiser M3i and Schwinn AC Performance Plus bikes if you are looking to buy a top quality machine for your home or gym.
→ Click here to buy the LifeCycle GX Group Exercise Bike
Demonstration Video