Introduction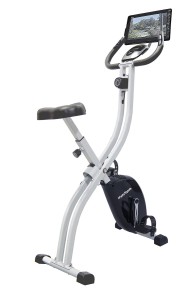 If you are looking for a low-cost upright bike that won't take up much space in your home, and can be folded away when not being used, then you might want to consider buying the Innova Health and Fitness XB350 Folding Upright Bike, which is a relatively new bike that first went on sale in 2014.
This particular model comes with its own universal tablet holder, which means that you no longer have to endure long, monotonous workouts because you will be able to use your iPad, Android or Kindle device at the same time.
So let's take a closer look at this upright exercise bike, starting with a list of some of the main features of this particular model:
Features And Benefits
8 levels of magnetic resistance
large padded seat that can be adjusted upwards and downwards
large non-slip pedals
LCD monitor that tracks time, speed, distance, calories and pulse
hand pulse monitor incorporated into handlebars
universal tablet holder that is suitable for iPad, Android and Kindle devices
can be folded away when not being used
suitable for anyone up to 250 lbs
Product Dimensions / Weight
The great thing about this particular exercise bike is that it weighs just 42 pounds, which makes it very easy to move around from room to room.
It also takes up very little space when it is fully assembled – 44″ (L) x 22″ (W) x 63.4″ (H) – which makes it ideal if you live in an apartment, for example, where space is at a premium, particularly as it can be folded away once you have finished using it.
Pros And Cons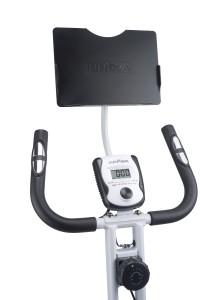 As you can see, this XB350 model basically has everything you need from a low-cost upright exercise bike.
It has multiple levels of resistance so that you can make your workouts as easy or as hard as you like, it has a good quality LCD display so that you can monitor your performance, it has a built-in heart rate monitor, and it has a fully adjustable padded seat so that you can find a comfortable riding position.
In addition, it also delivers a smooth, quiet workout based on some of the customer feedback, and is perfect for the home because it doesn't take up very much space at all and can be folded away when it is not being used.
However what really sets this Innova Health and Fitness bike apart from other exercise bikes in this price range is that it comes with its own universal tablet holder that will hold your tablet device firmly in place and keep you entertained during your workout.
With regards to the drawbacks, you could argue that it could benefit from having some workout programs and it would be nice to have a water bottle holder included.
However it should be remembered that this is a very basic low-cost upright bike, and is still excellent value for money when you take into consideration all of the features and benefits listed above, particularly as it is suitable for a both men and women due to its large 250-pound weight capacity.
Where To Buy The Innova Health And Fitness Folding Upright Bike
If you would like to buy this folding upright exercise bike from Innova Health and Fitness, it is currently available to buy from Amazon.com, where you will also be able to read lots of customer reviews that have been posted so far.
→ Click here to visit the product page
Also Available With Backrest
If you suffer from any kind of back problems when using an upright exercise bike, you may be interested to know that you can now buy the new Innova XBR450 model, which has the same kind of features but comes with a backrest for extra support, and has a seat that can be moved forwards and backwards as well as up and down.