Introduction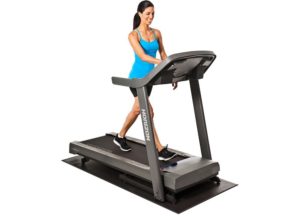 If you have ever thought about buying a new treadmill for your home, you may well have noticed that a lot of the low-cost machines have their limitations, particularly with regards to the build quality, the range of incline settings, the size of the running track and the maximum top speed.
That's why it is often a good idea to pay a little bit extra for one of the mid-range machines that are available because these will give you a lot more workout options than an entry-level model, and as well as having more features, they are also likely to last a lot longer as well.
This certainly applies to the Horizon Fitness T101-04 Treadmill because this particular model has multiple workout programs and incline settings up to 10%. Plus it is also a very well-made machine that has a large cushioned running desk to prevent any discomfort, and a range of useful extra features, as you will see below.
Features And Benefits
incline settings up to 10%
speed settings up to 10 MPH
30 workout programs
large cushioned running track
2.25 continuous duty CHP motor
quiet in operation
MP3-compatible surround sound speakers
includes cooling fan and tablet holder
can be folded away when not being used
easy to assemble
lifetime warranty on frame and motor
suitable for anyone up to 300 pounds
Product Dimensions / Weight
This Horizon Fitness treadmill has dimensions (in inches) of 70 (L) x 34 (W) x 55 (H) when it is fully assembled, but it can also be folded away for storage to a size of 46 (L) x 34 (W) x 61 (H).
In addition, the running track on this machine is a decent size at 55 x 20 inches, and the weight of this machine is 165 pounds.
Positives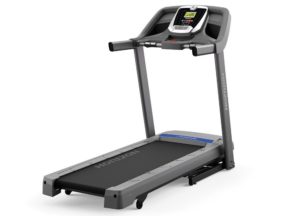 There are lots of reasons why you might want to consider buying this Horizon T101 treadmill instead of some of the cheaper machines that are available.
To begin with, this machine is exceptionally strong and sturdy and has won awards for its quality and reliability, which is backed up by the fact that it comes with a lifetime warranty on both the frame and the motor.
Furthermore, it is also really easy to assemble, unlike many other home treadmills where you could be looking at a 2-3 hour job.
What really sets this machine apart from many of the entry-level models, however, is the range of workout options, as well as the extra features that are included.
You will find that this T101-04 treadmill comes with 30 built-in workout programs, which include calorie, distance, intervals and step programs as well as a manual program. So you will always be able to mix up your workouts to make them more interesting.
Plus there are incline settings up to 10% should you wish to make your workouts a lot more intense, and speed settings from 0.5 to 10 MPH to ensure that both walkers and runners can use this machine without any problems.
With regards to the actual running deck, the one on this machine is 20 inches wide and 55 inches long, as mentioned earlier, which should be more than big enough to accommodate most people.
The key feature here, however, is that it has Variable Response Cushioning, which basically means that it absorbs any impact and reduces the pressure on your feet, knees, ankles and hips.
This treadmill is powered by a 2.25 HP continuous duty motor that is very quiet in operation and responds immediately to any changes in speed, and has something called Feather Light Lift, which means that it is very easy to fold away when not being used.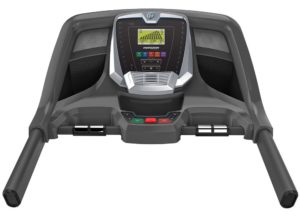 Finally, this treadmill has a 4.5-inch yellow and green LCD display that indicates calories, distance, pulse, incline, speed and time, and has a number of buttons nearby to change your settings and programs quickly and easily.
There are also some nice extras, which include a cooling fan to keep you cool during your workout, MP3-compatible speakers that enable you to play your favorite music and a tablet holder for your smartphone or tablet device.
Negatives
One obvious negative is that because this is a slightly older model, there are no bluetooth or wireless capabilities. Therefore it cannot connect to any of your favorite fitness apps to help you analyze your performance data in more detail.
Another slight issue is that you need to keep applying lubricant to this machine on an ongoing basis to prevent it getting too noisy and to keep it running at peak performance, but that's not too much of an inconvenience in all fairness.
Apart from this, the only other drawback is that this is a really heavy machine (165 pounds), so it is not that easy to move around once it is fully assembled.
Final Thoughts
Some of the top-of-the-range treadmills will have a slightly higher top speed and a little more incline settings than this particular model. However unless you are an elite runner, you should find that this mid-range treadmill has enough workout options to meet all of your requirements.
That's because it has so many more incline settings and workout programs than many of the cheaper models, and benefits from having a cushioned running track, a quiet and responsive motor and a strong and sturdy frame that is backed up by a lifetime guarantee.