Introduction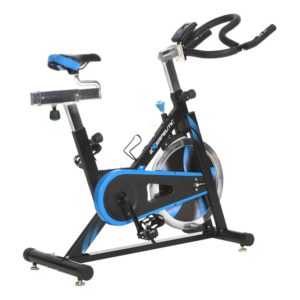 Exerpeutic are quite a well-known brand in the fitness industry because they have produced a number of affordable exercise bikes for people on a budget.
They tend to focus more on recumbent and upright bikes, rather than indoor cycling bikes, but they recently developed the LX905 model, which received a lot of positive reviews, and have also developed a similar looking bike that is slightly stronger – the Exerpeutic LX7 Indoor Cycle Trainer.
This machine comes with its own computer monitor, unlike a lot of indoor cycling bikes, and has built-in pulse sensors to help you monitor your heart rate.
Many people can benefit from using this bike, but it is specifically targeted towards those people who want to replicate the feeling of cycling outdoors, and get a really intense cardio workout that will help with fitness, toning and weight loss.
Features And Benefits
40-pound flywheel with chrome rim
solid 3-piece crank system
realistic chain drive system
adjustable multi-grip handlebars
hand-grip pulse sensors
LCD computer display
track time, speed, distance, calories and pulse
4-way adjustable seat
aluminum alloy pedals with toe cages
double direction pedaling capability
floor stabilizers and transport wheels
water bottle holder
can be used in a standing or seated position
suitable for anyone between 5'2 and 6'2
accommodates users up to 300 pounds
Product Dimensions / Weight
The exact dimensions of this particular machine (in inches) are 47 (L) x 20 (W) x 49 (H), so it is quite a compact machine, and it has a total weight of 90 pounds when it is fully assembled.
If you ever want to move it around, there are transport wheels attached that will make this task a lot easier.
Video Demonstration
Positives
One thing you will immediately notice about this LX7 indoor cycling bike is that it has a very cool blue, silver and black design. However there are many other reasons why you might want to consider buying this particular exercise bike.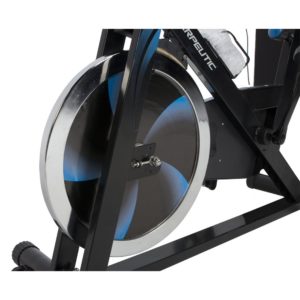 For a start, it has an impressive 40-pound flywheel that delivers a smooth and consistent pedal motion, and is driven by a relatively quiet chain drive system that is similar to an outdoor bike.
Therefore you are guaranteed to get a smooth and quiet workout, and it will feel as if you are actually riding a standard road bike, particularly as it can be used in both a seated position and a standing position.
You can use this bike for indoor road training during the winter, for example, or you can simply pedal away for 20, 30 or 45 minutes in a seated position, for instance, like you would on an ordinary upright bike.
You can also crank up the resistance using the resistance knob and switch to a standing position for short bursts to enjoy the additional benefits of high intensive interval training (HIIT) if you prefer.
The aluminum alloy pedals have secure toe cages that make it easier (and safer) to pedal at high speeds, and can be used to pedal backwards if you want to vary your workouts and work your leg muscles in a different way.
The handlebars are covered in soft foam for extra comfort, and have multiple grip positions for you to use. They can also be adjusted upwards and downwards to three different positions.
If you are still not happy with the riding position, there are also four adjustments that you can make to the seat (forwards, backwards, upwards and downwards) to help you find the most comfortable position.
Subsequently, this bike can be used by anyone between 5'2 and 6'2, and because of the high quality build construction, it is also suitable for anyone up to 300 pounds, which makes it stronger than many other entry-level indoor cycling bikes.
This machine comes with its own LCD computer display to help you track time, speed, distance and calories, and if you place your hands on the pulse sensors that are built into the handlebars, it will also display your heart rate as well.
Finally, it also has transport wheels attached if you ever need to move it around, and has frame stabilizers to prevent any wobbling from side to side. Plus it comes with a water bottle holder to make it easier to stay hydrated during your workouts.
Negatives
The seat on this bike is cushioned and ergonomic, but some people have complained that it is not particularly comfortable. So even though you may be cycling in a standing position at times, you might want to buy a gel seat cover if you find it to be uncomfortable.
Apart from this, the only other issue is that the display is small and fairly basic, but considering that many other bikes don't have any kind of display at all, it is hard to complain because it will still give you all of the standard metrics, such as time, speed, distance and calories.
Final Thoughts
With a weight capacity of 300 pounds, this is one of the strongest entry-level bikes on the market, and with its stylish look and finish, it is one that will look great in anybody's bedroom, garage or living room.
However the key point is that it will also provide users with an intense workout in both a seated and a standing position, which is one of the most important criteria, and is generally comfortable to use, making it ideal for cyclists, fitness fanatics and people who enjoy doing interval training workouts at home.
So when you consider that this is one of the few entry-level indoor cycling bikes to come with its own computer display, it is fair to say that Exerpeutic have developed a pretty good machine on the whole.