If you have already checked out our list of the top indoor cycling bikes, you will see that the Diamondback Fitness 510IC Indoor Cycle was named as one of the top mid-range exercise bikes.
So I thought it would be a good idea to review this bike properly and tell you a lot more about it because not only is it one of the more attractive exercise bicycles, but it is also a highly rated machine that some say is just as good as some of the top-end spin bikes.
Here is a quick run-down of some of the main features and benefits:
Features And Benefits
16 computer-controlled resistance levels
14 individual workout programs
solid steel frame
super quiet drive system
heavy duty 32-lb flywheel
fully adjustable seat and handlebars
multiple handlebar grips
built-in hand pulse monitors
backlit LCD console
track time, distance, speed, calories, RPM and pulse
includes water bottle holder
smooth and quiet in operation
suitable for anyone up to 300 lbs
Dimensions / Weight
This machine isn't exactly the lightest on the market because it has a solid and sturdy steel frame, and weighs approximately 126 lbs. However this does at least mean that it should last you a very long time, and if you do want to move it around at any point, it shouldn't be too difficult because there are transport wheels attached at the front.
With regards to the dimensions, its exact measurements are 46 x 42 x 23 (inches).
Pros And Cons Of The 510IC Indoor Cycle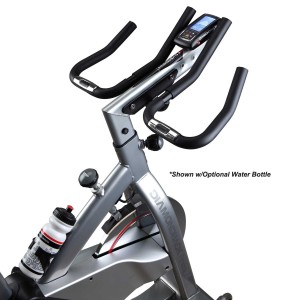 There are lots of things I like about this Diamondback Fitness bike.
For a start there is the solid steel frame that is clearly built to last, but I also like the fact that it comes with its own LCD console, unlike some of the cheaper models, and has a few nice features such as built-in pulse sensors on the handlebars, multiple handlebar grips and a water bottle holder.
Plus with regards to the actual workout you can expect to get on this indoor bicycle, it doesn't disappoint on that score either.
That's because it comes with 16 resistance levels, which can be adjusted very easily using the console and will challenge people of all fitness levels. There is also a choice of 14 individual workout programs that you can use, including 4 heart rate programs, and overall it is said to offer a very realistic riding experience.
You should find that it delivers a super quiet workout thanks to its heavy duty flywheel, and is generally very comfortable to use because you can adjust the seat up, down, forwards and backwards, and move the handlebars until you find the most comfortable position.
There are, however, a few drawbacks that are worth highlighting. As with most exercise bicycles, the seat isn't exactly the most comfortable in the world. So you might have to replace it if this is a problem for you.
Additionally, the handlebars can be quite cumbersome to adjust, which isn't a problem if you only need to adjust them once to suit your own personal requirements, but it's not ideal if the bike is going to be used by more than one person.
Finally, whilst it is great that you are able to adjust the resistance using the console, it does nevertheless mean that if the console stops working for whatever reason, you won't be able to adjust the resistance. Therefore you would have to try and get a replacement from the manufacturers, ie Diamondback Fitness.
To be fair, though, these are very small complaints, and I would say that for the price of this bike, the Diamondback Fitness 510IC really is excellent value for money when you weigh up all of the pros and cons.
User Feedback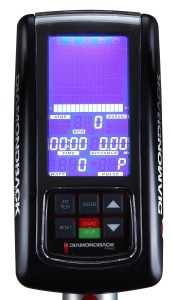 The general feedback seems to support this view because many people have had a lot of positive things to say about this Diamondback Fitness bike if you check out some of the comments and testimonials that have been posted online on various sites.
Lots of people have complimented this bike on the smoothness of the workout, and the different variations of workouts and resistance levels that are available.
They also seem to like the fact that the resistance levels can be adjusted with a click of a button, and don't seem to have encountered any problems with the console display.
Indeed some users have said that this bike is just as good as the ones that they have used in their local gym, which is a massive compliment.
The only common problem that a few people have encountered, as mentioned above, relates to the handlebars because you need to remove four sets of screws in order to reposition them. It's not hard to do, it's just a little time-consuming if you have to adjust them all the time.
Demonstration Video

Here is a video that shows this bike in action, and talks you through all of the main features that I have listed above:
Where To Buy The Diamondback Fitness 510IC Indoor Cycle
If you would like to buy this Diamondback Fitness 510IC Indoor Cycle, it is available from this page at Amazon.com. You can also find lots of customer reviews on this page.
I should end this review by pointing out that there is an enhanced version of this bike that you can buy – the 910IC model – that has more resistance levels, more workout programs and a larger flywheel. However I haven't included this particular bike in the list of the best indoor cycles because it has received a lot of mixed reviews.