Introduction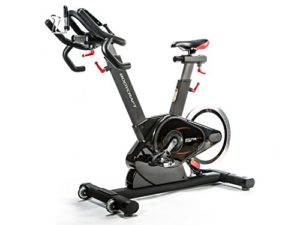 There are very few indoor cycling bikes that come close to the Keiser M3i in terms of looks and performance, but the BodyCraft SPR Indoor Club Group Cycle is a serious contender.
This particular model is BodyCraft's most contemporary design, and it is not only suitable for everyday use at home, but it can also be used in health clubs, gyms and group cycling classes because of its overall strength and performance.
Furthermore, unlike some of their other models, you will see that this bike comes with its own computer console so that you can track every single aspect of your performance.
Features And Benefits
state-of-the-art eddy current magnetic resistance
16 fixed resistance settings
quiet maintenance-free belt drive system
four-way adjustable handlebars with multiple grips
four-way adjustable saddle
aluminum alloy pedals with toe cages
interactive computer display
track watts, speed, calories, distance, RPM, time and pulse
quickstart and programmable time and distance goals
precision perimeter weighted aluminum flywheel
built-in levelers and transport wheels
heavy duty rust-resistant steel frame
accommodates users up to 350 pounds
suitable for home use, club use and cycling classes
Product Dimensions / Weight
This indoor cycle has dimensions (in inches) of 52 (L) x 22 (W) x 47.5 (H) when it is fully assembled, so it will take up quite a bit of floor space in your home (or gym), and you can tell that it is a very solid machine because it has a total weight of 127 pounds.
Positives
One of the main benefits of this BodyCraft SPR bike is that it has been built and warranted for club use. So if you were buying this machine for your home or gym, it could easily be used by multiple users every single day without any problems.
The frame itself is double-coated to prevent rust and corrosion, and is exceptionally strong and durable with a weight capacity of 350 pounds.
It is also made from the highest quality components because the perimeter weighted aluminum flywheel spins on the very best SKF bearings available, and it is driven by an automotive grade Kevlar reinforced French Hutchison 5PK V-Ribbed Belt that will last for years and years with no maintenance required.
Subsequently, this belt drive system ensures a smooth, quiet and consistent performance that is on a par with any of the top indoor cycling bikes that you may have used before.
With regards to the resistance, this SPR bike employs state-of-the-art BodyCraft Eddy Current Technology that is fully responsive and maintenance-free because there are no brake pads to replace.
Unlike many other bikes, there is a lever with 16 magnetic resistance levels instead of a continuous resistance knob, which many people prefer because this makes it easier to repeat your workouts using the same resistance settings.
This resistance system is really intuitive and will respond instantly as soon as you move the lever upwards or downwards.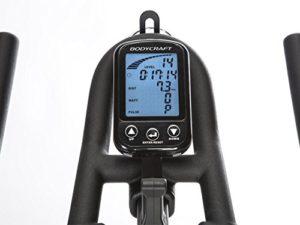 If you want to track your performance, this advanced model comes with a top quality computer display that will display all of your performance metrics really clearly on a blue backlit screen.
So it is really easy to keep track of speed, distance, time, calories, pulse, RPM and watts, as well as your current resistance level.
You can also use this computer monitor to set yourself goals based on time or distance, which is another nice feature.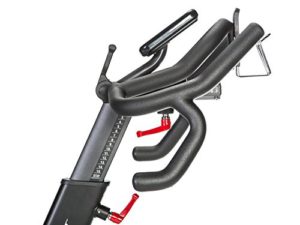 Another key selling point of this SPR indoor training cycle is that pretty much anyone can use it (up to 350 pounds) because there are numerous adjustments that can be made to both the seat and handlebars.
Both of these can be adjusted forwards, backwards, upwards and downwards to help you find the most comfortable riding position (with clear markings to help you remember your settings), and you can also choose from multiple hand-grip positions as well.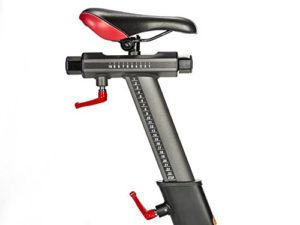 This bike has a 10.5" (L) x 6.75" (W) high-performance racing saddle that is elastomer cushioned to provide a little more comfort, and has 9/16" aluminum alloy pedals with toe cages to keep your feet in place while you are riding.
There are four heavy-duty levelers attached that will prevent any movement while you are pedalling at high speed, and if you ever need to move this bike around, there are two transport wheels on the front that will make this job a lot easier.
Finally, it is worth noting that this bike has some very generous warranties for both home users and gym owners. For example, it is backed by a lifetime frame warranty and a 5-year parts warranty if used for home use, and is backed by a 10-year frame frame warranty and a 3-year parts warranty if used commercially.
Negatives
As with any exercise machine, there are a few negatives that are worth highlighting. For example, one of the most obvious drawbacks is that this is quite a large and heavy bike compared to some of the cheaper models that are available.
Another slight issue is that although the computer display is capable of displaying your pulse rate, it doesn't actually come with a Polar heart rate monitor as standard. You will need to buy one separately.
Similarly, if you are a serious cyclist who prefers to use clip-on pedals instead of the standard foot pedals, these too will need to be purchased separately.
Finally, although the racing saddle is good quality, it is not going to feel particularly comfortable if you are cycling in a seated position for long periods of time, as with any road bike. Therefore you might need to replace it with a more comfortable saddle or buy a padded seat cover if this becomes a problem.
Final Thoughts
Apart from a few very minor issues, the BodyCraft SPR Indoor Club Group Cycle would be ideal for a gym or cycling studio, particularly as it includes an interactive computer display that many people will find useful, and is definitely good enough for home use if you are looking to do lots of high intensity interval workouts or train during the winter, for example.
This particular exercise bike has a really modern design with its rear flywheel and multi-grip handlebars, and is clearly built to last because it has an extra strong rust-resistant frame and is made from the highest quality parts and components.
However it is the ultra-smooth high-performance belt drive system and the responsive eddy current magnetic resistance system that help to provide some of the best workouts that you will get on an indoor cycling bike.
→ Click here to buy the BodyCraft SPR Indoor Cycling Bike