Introduction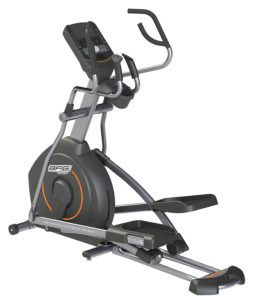 As you may already know, an elliptical machine replicates a natural walking or running motion without putting any strain on your joints, making them ideal for people of all ages who are looking to improve their fitness, lose some weight and tone up their upper and lower body.
However some are obviously better than others. The cheaper models can easily break within 3-12 months if they are being used regularly, and may only have a limited number of workout options, whereas the top-end models are more likely to last many years and will have numerous resistance levels, incline settings and workout programs, as well as lots of extra features to help keep you motivated.
So in an ideal world, you really want to find a top-end model that has a solid construction and has multiple workout options and programs, but doesn't necessarily cost thousand of dollars, and thankfully I have managed to find one that fits the bill perfectly – the AFG Sport 5.9AE Elliptical.
Features And Benefits
heavy-duty 23-pound flywheel
smooth precision drive system
20 resistance levels
20 power incline settings
43 workout programs
multi-window LED displays
Bluetooth wireless connectivity
free downloadable workout tracking app
Bluetooth speakers and cooling fan
USB charging port
free wireless heart rate chest strap
ergonomic cushioned handlebars
oversized foot plates
20-inch stride length
10-inch step-on height
natural stride motion
easy on the joints
suitable for users up to 325 pounds
lifetime frame warranty
Product Dimensions / Weight
The exact dimensions (in inches) of this particular elliptical are 76 (L) x 34 (W) x 57 (H) when it is fully assembled, and it has a total weight of 201 pounds (with a weight capacity of 325 pounds).
Positives
The first thing to say about this 5.9AE elliptical machine is that it has a precision drive system and a heavy duty 23-pound flywheel that help to deliver a smooth and quiet workout experience.
You will find that this machine has a natural range of motion, regardless of whether you are walking or running, and has a signature design based on extensive biometric research that ensures maximum comfort, with no pain in your hips, knees or ankles.
The glide path is 20 inches, which is just about ideal for the majority of people, and as well as having an overlapping pedal rotation, it also has oversized foot pedals and cushioned handlebars for extra comfort.
So everything has been designed to make your workouts as smooth and as comfortable as possible, and the good news is that you are not short of workout options either.
That's because there are 20 magnetic resistance levels for you to choose from, as well as 20 different incline settings should you wish to reproduce the feeling of walking or running uphill and push yourself even harder.
If that wasn't enough, there are also 43 individual workout programs, which include manual, weight loss, distance, calories and interval programs.
You can adjust all of these settings electronically using the buttons on the large console unit, which has multiple LED displays to track all of your performance metrics, and is very clear and easy to read.
It will even display your pulse rate if you place your hands on the hand grip sensors, and if you want an even more accurate reading, you can use the wireless chest strap monitor that is included free with this machine.
As well as having multiple displays, this console has built-in speakers that are Bluetooth enabled so that you can stream all of your favorite music wirelessly using your phone or tablet device, as well as a USB charging port and a built-in fan that will help to keep you cool whilst you are working out.
The console itself is also Bluetooth enabled so that you can track your progress over time using the free fitness app, which you can download to your iOS or Android device.
Finally, it is worth pointing out that this 5.9AE elliptical trainer is backed by a lifetime warranty on the frame, and includes a 3-year parts warranty and a 1-year labor warranty in case it develops any faults.
Negatives
There is only really one slight drawback with this machine and that's the stride length. As mentioned above, this AFG 5.9AE elliptical has a fixed stride length of 20 inches, which should be absolutely fine for the majority of people, but may not be comfortable for those people who are really tall or really short, for example.
Otherwise, the only other issue is the actual weight of this machine because at 201 pounds, it is not going to be particularly easy to move around once it is fully assembled. Therefore you might have to leave it in the same place all the time.
Final Thoughts
Overall the AFG Sport 5.9AE Elliptical has everything that you could possibly need from an elliptical trainer.
It has a really solid construction, it has multiple resistance levels, workout programs and incline settings (20, 43 and 20 respectively) and it has some cool extra features, such as Bluetooth-enabled fitness tracking, Bluetooth speakers and a cooling fan.
Plus it also has a really smooth and quiet drive system, and has been designed to be as comfortable as possible with cushioned handlebars, oversized foot plates and a natural stride motion that is easy on the joints.
So if you don't necessarily want to spend top dollar on a top-end elliptical, this mid-range model is a decent alternative because it is equally as impressive in many respects.