Introduction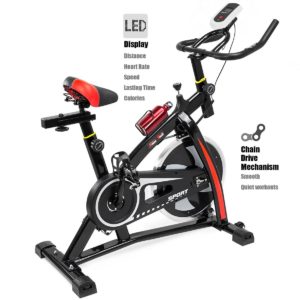 XtremepowerUS have produced a range of products for the home and garden over the years, but they have now entered the fitness market with the launch of a brand new indoor cycling bike.
The XtremepowerUS Indoor Cycle Trainer is clearly designed to be a low-cost bike for people on a budget based on the low price point, but you could easily use this machine for indoor cycling training and for interval-style workouts to help you improve your fitness, lose weight and stay healthy.
As with any low-cost exercise machine, there are of course a few drawbacks. However the early customer reviews have largely been very positive and if you continue reading this review, you will be able to read about all the main pros and cons to help you decide whether or not to buy this budget machine.
Features And Benefits
easy-to-use resistance system
weighted 22-pound flywheel
chain drive mechanism
smooth and quiet in operation
includes LCD display and built-in pulse sensors
track time, speed, distance, calories and pulse
fully adjustable seat and handlebars
includes free water bottle and holder
built-in transport wheels
durable steel frame
easy to assemble
suitable for users up to 440 pounds
Product Dimensions / Weight
The exact dimensions of this XtremepowerUS Indoor Cycle Trainer are 40 x 35 x 9.6 inches, according to the product page at Amazon, and it weighs approximately 61 pounds.
Positives
One of the main benefits of this XtremepowerUS exercise bike is that it has a very strong and durable steel frame that can accommodate anyone up to 440 pounds, which is substantially more than many other indoor cycling bikes.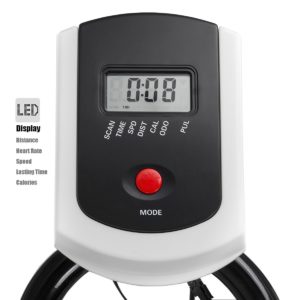 In addition, it also has a pretty good LCD display for such a low-cost machine because it has multiple readouts, including time, speed, distance, calories burned and pulse rate (taken from the pulse grip sensors on the handlebars).
Some of the modern-day indoor cycles don't even come with an LCD display, so this is obviously a useful feature to have.
With regards to the actual workout, you will find that this machine has a 22-pound flywheel and a chain drive mechanism that delivers a smooth and quiet workout.
Plus it also has an ergonomically designed seat that can be adjusted forwards and backwards within a 2-inch range and upwards and downwards to a height of 29.5 – 37.5 inches. The handlebars can also be adjusted upwards and downwards to help you find the most comfortable riding position.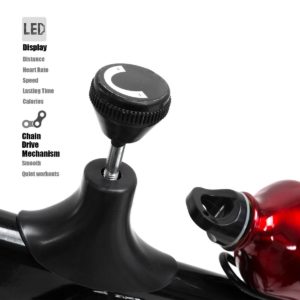 There are no fixed resistance levels on this bike, as is the case with many other indoor cycling bikes, but this is a good thing because you can increase or decrease the resistance smoothly and efficiently by adjusting the resistance knob during your workouts.
Indeed because this is more of an indoor training bike than a standard upright bike, you can do a range of different interval workouts on this machine, like you would in a group cycling class, for example, because you can cycle in both a seated and a standing position.
Finally, it is worth pointing out that this indoor cycling bike is said to be really easy to assemble, which cannot be said about many of the modern exercise machines, and comes with a few added extras, such as built-in transport wheels that makes it easy to move around and a free water bottle and holder to keep you hydrated during your workouts.
Negatives
One of the main issues with this particular model relates to the size of the actual frame because despite having a fully adjustable seat and handlebars, it is not really suitable for tall people.
Many people have complained about this design fault, and so if you are 6 feet tall or over, you might want to consider buying a different model because this machine is definitely more comfortable for shorter men and women.
It has also been pointed out on a few different sites that the seat isn't the most comfortable, despite having an ergonomic design, but this can easily be replaced with a more comfortable one if necessary.
Finally, with a weight of 22 pounds, the flywheel on this machine is a little lighter than some of the other entry-level bikes in this price range, but that shouldn't be too much of an issue.
Final Thoughts
Considering that this is one of the least expensive indoor cycling bikes on the market, this is still quite an impressive looking machine.
Yes there are a few minor flaws, with the main one being the size of the frame, but if you are not overly tall, this could still be a good investment.
That's because it has a very strong frame that can support anyone up to 440 pounds, and can be used to perform indoor cycling workouts in both a seated and standing position for fitness, health and toning purposes, whilst at the same time delivering a smooth and quiet workout.