Introduction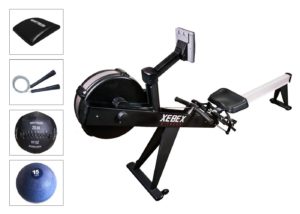 It is always quite exciting when a company launches a new top-end rowing machine because many people will naturally want to see how it compares with the Concept 2 rower, which is considered by many to be the industry leader.
So with that in mind, let me introduce you to the Xebex Air Rower from GetRX'd because this is a large heavy-duty air resistance rower that is similarly priced, and suitable for both home use and commercial use because of its high quality construction.
I have to admit that I have only recently discovered this indoor rower because it is not generally one of the top-selling machines, and hasn't been seen in any of the gyms that I have visited in the last year or so.
Nevertheless, it has been getting some very positive reviews from those people who have actually purchased it, and does appear to be a quality machine.
Features And Benefits
responsive air resistance system
10 adjustable damper settings
smooth and quiet flywheel
heavily padded seat and handle
20-inch seat height for easy access
one touch foot pedal adjustments
large console display
track time, distance, calories, watts, pulse and strokes
workout programs based on time, distance and calories
easy to assemble
can be folded away when not being used
95-pound heavy duty frame
suitable for users up to 500 pounds
includes free conditioning pack
Product Dimensions / Weight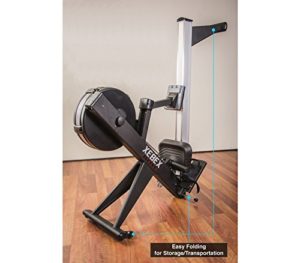 The total weight of this Xebex Air Rower is 95 pounds, which is a sign of the overall build quality, and it is quite a substantial machine because it is 7'3 from the front stabilizer to the rear stabilizer, and 8'4 from the end of the fan to the rail when it is fully assembled, with a width of 20 inches.
If space is an issue, the good news is that it can be folded to less than half its usual size when it is not being used.
Positives
As mentioned above, one of the key benefits of this Xebex rowing machine is that it is exceptionally well-made with a really strong 95-pound frame that can accommodate users up to 500 pounds.
Indeed it has actually been robotically tested with 1,000,000 pulls to test its durability, and passed this test without failure.
This machine is also convenient to use because it can be rolled on four wheels if you ever need to move it around, and folded in two if you require a little bit of extra space.
However there are many other reasons why you might want to consider buying this particular rowing machine.
For a start, it has a really responsive air resistance system that is guaranteed to give you a really good workout every time because if you want a more intense workout, you can simply row a little faster, and you just have to lower your pace if you want an easier workout.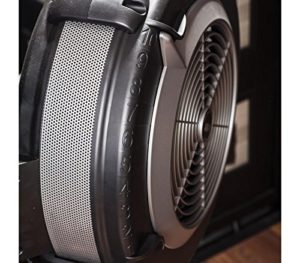 However you can also fine-tune the resistance by adjusting the damper settings, which in this case range from 1 to 10, as shown in the photo.
A damper setting of 1 will make it feel as if you were rowing with your oars close to the surface of the water, and will therefore be a lot easier, whilst a damper setting of 10 would be similar to rowing with your oars a lot deeper in the water, and will give you a really challenging workout.
So you will always be able to work yourself hard when using this machine, and if you want to set yourself some targets, you can use the programmable console to set targets based on calories, distance or time with a 500m pace option.
There are also programmed interval settings that you might find useful, as well as a 'Just Row' option that will get you up and running.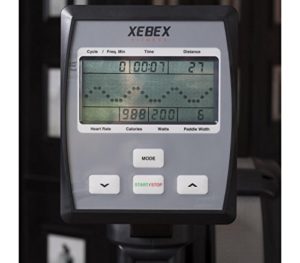 The console display is large and easy to read, and will tell you all your key performance metrics, such as time, distance, calories, watts, strokes per minute, stroke distance and heart rate (if you connect it to a 5K frequency chest belt).
The calories, distance and watts readouts are measured using a formula that is unique to Xebex rowers, so they should hopefully be more accurate than many other indoor rowing machines.
With regards to comfort, this machine comes with a padded handle and a large seat that is molded for a better fit and heavily padded so that it is comfortable to sit on for long periods.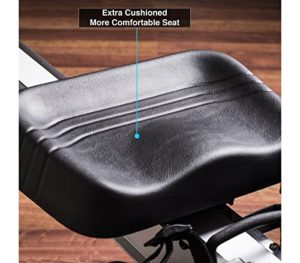 Plus it is also 20 inches off the floor, which ensures that it is very easy to get on off, particularly for those people who have any kind of mobility problems.
It is also worth mentioning the foot pedals because these have adjustable straps that will keep your feet securely in place during your workouts, and have one-touch adjustments to help you find the most comfortable foot position.
Finally, it should be pointed out that this Xebex rower is very easy to assemble in about 30-45 minutes because there are clear illustrated instructions and all of the necessary tools are provided, and if anything goes wrong with this machine, it is backed by a 5-year guarantee on the frame and a 2-year parts guarantee.
Negatives
It is hard to find too many faults with this rower because it is exceptionally strong and provides a smooth and fairly quiet rowing experience that maintains momentum with every stroke.
However there are a few very small issues that you should be aware of.
First of all, although it might not be obvious from the photos, this is a seriously large machine that will take up a lot of space in your home because the maximum length from the end of the fan to the end of the rail is 8'4, which is just over 100 inches.
It can of course be folded in half and put away for storage when it is not being used, but when you are performing your workouts, it may be inconvenient for the other people that you are living with.
Another slight issue concerns the workout programs because a few people have complained that they are a little complicated to use, and are not made any clearer by the instructions. So you may have to figure out how to use the programs yourself, or contact GetRX'd if you require any help.
This may not necessarily affect you, however, because other people have contradicted this by saying that it is fairly easy to set yourself targets using the console.
Final Thoughts – Xebex Air Rower v Concept 2 Rowers
Overall, this Xebex Air Rower appears to be every bit as impressive as the Concept 2 rowers, with some users suggesting that this one is even better.
It is easy to see why because this machine is equally as strong with a weight limit of 500 pounds, and is also suitable for both home use and commercial use.
Furthermore, it also has a fully responsive fan resistance system and flywheel that will increase in intensity as you row harder, as well as damper settings from 1 to 10 so that you can adjust the air flow and control the resistance even further to suit your needs.
What I like about this machine, however, is that it is easy to get on and off because of the 20-inch seat height (which is the same height as the Model E but 6 inches higher than the Concept 2 Model D), and is arguably a little more comfortable because it has a lot of padding on both the handle and the seat to prevent any discomfort during those longer workouts.
Plus it also comes with a host of extras, including a back saver pad, an EZ speed rope, a premium 20-pound wall ball and a 15-pound slam ball.
So although you could argue that the console is a little more advanced on the Concept 2 rowers because it has Bluetooth connectivity and the ability to race against other users, this rower is equally as impressive in every other respect, and possible a little better in terms of overall comfort.