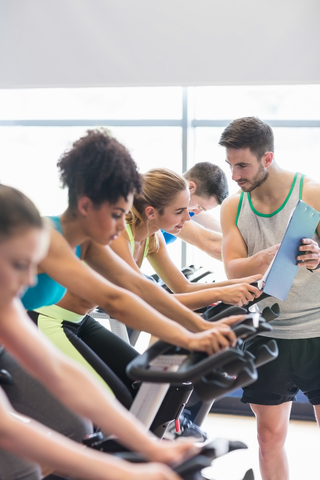 Spinning classes and group cycling classes generally are consistently fully booked because both men and women are using these high intensity cycling workouts to lose weight and tone their bodies.
The reason why they are so popular is because a single 45-minute workout can potentially help you burn 500 calories or more. Therefore if you attend these spin classes on a regular basis, you can start to see results fairly quickly.
However because these group cycling classes can be quite expensive, there are certain things you should do if you want to get the most out of your workouts, and one of the most important things you should do is to develop a relationship with your spin class instructor.
Here are some of the reasons why:
They Will Help To Set-Up Your Bike Correctly
A lot of people jump on an exercise bike and begin their workouts without making any kind of adjustments to the bike, but this is a very bad idea because both the seat and the handlebars should be adjusted to give you the most comfortable riding position throughout your workout.
This is not always easy to do yourself because you may not know how high you should have your seat or how close you should be to the handlebars. If you arrive at your class slightly early, however, you can ask your instructor to help you set-up your bike correctly so that you can have a comfortable pain-free workout.
Familiarity Acts As Motivation
If you have introduced yourself to your instructor and they now know your name and maybe a little bit about you, you will generally have a lot more motivation and will inevitably push yourself a little harder.
That's because if you hide away at the back of the class, you may just go through the motions every time, but if your instructor is calling out your name every so often during your workout and giving you encouragement, you may well find yourself working a lot harder to please them, just as you would if you had your own personal trainer.
They Can Give You Feedback And Advice
The final reason why it is a good idea to get to know your spin class instructor is because they can help you get more out of your workouts. For example, if you are getting a few aches and pains during and after your workouts, they can tell you what you are doing wrong and how you can improve your technique or riding style.
Similarly, if you feel that you are not burning enough calories during your workouts and not getting the results you are looking for, they may be able to give you a few pointers that will help you to increase the intensity and burn more fat.
So the point is that you shouldn't be afraid to introduce yourself to your instructor right from the start. Every instructor wants everyone in their class to achieve their own personal goals and objectives and enjoy each and every workout without experiencing any pain or discomfort, and this is far more likely to happen if they know you by name and know a little about you.