I recently reviewed a popular exercise bike that doubles up as a work desk and basically allows you to exercise your legs throughout the day, and the reason why I did that is because I believe that far too many of us are sitting down for far too long and doing untold damage to our bodies.
You can find out more about this multi-purpose exercise bike by clicking here, but the main purpose of today's article was to highlight some of the reasons why sitting down is so bad for you.
So here is an infographic that has some interesting facts and statistics about the dangers of sitting down for long periods: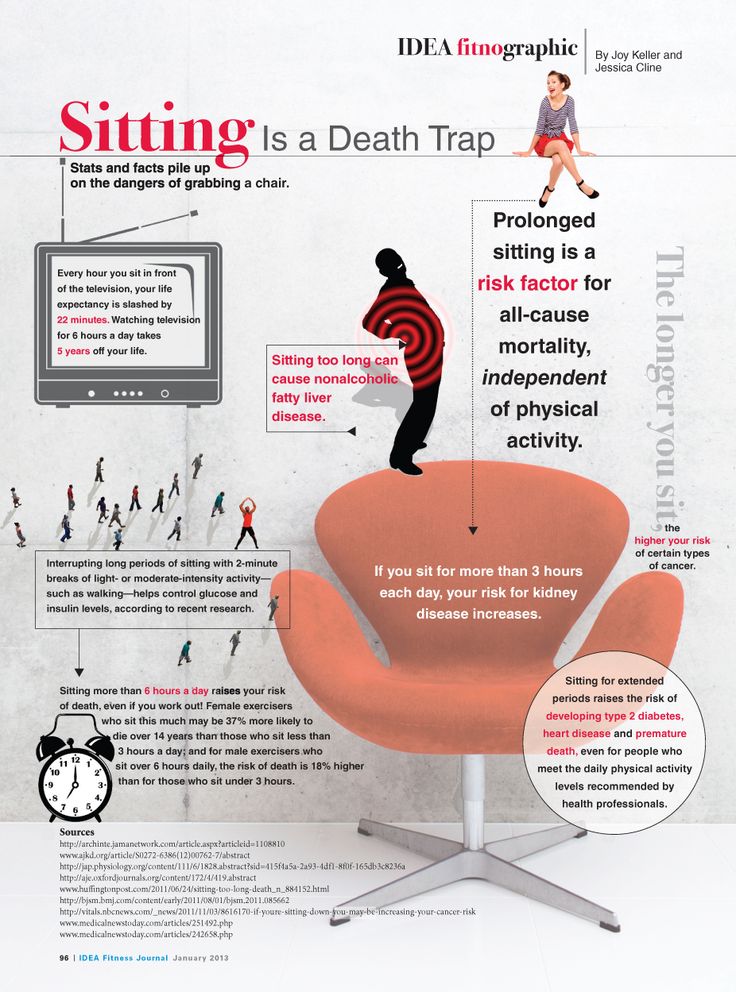 As you can see, this paints a pretty bleak picture if you have an office job, for example, or if you work at home all day, like I do.
It's particularly worrying that you can increase the risk of developing type 2 diabetes, heart disease and premature death just by sitting down for long periods, and that this still applies to people who meet the daily exercise requirements.
It's also quite concerning that your risk for kidney disease increases just by sitting down for 3 hours or more per day, and that it also raises the risk of non-alcoholic fatty liver disease and certain types of cancer.
Finally, the one statistic I found interesting was the one concerning watching TV because this is something that many of us are guilty of. Apparently every hour sat in front of the TV reduces your life expectancy by 22 minutes and watching 6 hours of TV per day takes 5 years off your life.
So what can you do if you lead quite a sedentary lifestyle and are worried about these statistics?
Well ideally you should try walking 10,000 steps every day if you can because this will help to improve your health and keep your weight down, and is not that hard to do, but you could instead buy yourself an exercise bike that has a built-in work desk, like the one I mentioned earlier, so that you can cycle throughout the day.
Alternatively, you can simply do what I do and takes lots of regular breaks throughout the day. I spend long hours hunched over a computer, but I always work out 5 or 6 times a week when I'm away from the computer, and always try to get up and walk around every 30 minutes or so when I'm working. Sometimes I will also throw in a few bodyweight exercises as well, such as push-ups and sit-ups, for example, just to raise my heart rate.
The key point is that you need to get up and move around as often as you can, and try to actively walk more at the very least. Sitting down for 3-5 hours at a time is not doing you any good at all, and may even be taking years off your life without you realising it if these facts and statistics are to be believed.